Sailing vacations in Croatia travel guide
Croatia is used to sailors. A thousand years ago, Venetian ships came creeping across the Adriatic and claimed the Dalmatian coast as part of Venice's empire. A millennium later and Croatia is the one with the fleets. It's a well-established sailing hub, and any visiting Venetians are only here as tourists. Yacht charter has operated in the region since the 1980s, and the industry has grown enormously since Croatia gained independence from Yugoslavia in the mid-1990s.

There are Roman ruins and Venetian forts. There are national parks and natural wines. There are over 1,000 islands – that's over 1,000 reasons to go sailing in Croatia.

Now, Croatia's sailing is one of the country's worst-kept secrets – there are sophisticated marinas all along the coast providing good sailing infrastructure. Beginners on their first flotilla are welcome, as are adventurers who want to combine sailing with everything from sea kayaking to stand-up paddleboarding. There's nothing nicer than breezing along a pine-scented coastline in your own boat and stopping in a terracotta-topped port town after the many day trippers have cleared off. Sailing is one of the best ways to enjoy the Croatian coastline.
Our Croatia sailing Vacations
Go on a sailing vacation in Croatia if...
You like island exploration. Like Greece, Croatia has easy island-hopping and interesting ports to visit on each. Croatia also has a greater proportion of well-serviced marinas and a lighter cuisine.
You appreciate clear, clear water – it's what the Dalmatian Coast is famous for.
You're a beginner or intermediate – or even an expert sailor – there's sailing suitable for all abilities around the Central Dalmatian Islands.
You like seafood. You'll be dipping in and out of little fishing ports. Octopus salad is a speciality.
Don't  go on a sailing vacation in Croatia if...
You get seasick. Whilst you'll be cruising in sheltered areas at a calm time of year you'll be on board for the majority of the vacation. You need plenty of your own space. Sailing boats are very space efficient and it's not particularly practical to chill in your cabin. You like to stay put. Sailors have itchy feet and you'll usually only stop somewhere for a few hours – or one night. Croatia has plenty of great places to explore. You like looking your best. No floppy hats and flippy skirts here – the wind will make short work of them.
What do sailing vacations in Croatia entail?
You might have seen the kinds of vessels that these vacations use: gleaming white fibreglass boats, between 8 and 15 metres long, with two sails – a mainsail and genoa (a smaller sail at the front). These sailing yachts look great, but you have to be prepared for compact conditions. Below deck, they're very space efficient, with cabins in the bow and stern, and a saloon and galley (kitchen) in the center. Catamarans (twin-hulled boats) usually have more room below.

There are usually shared heads (bathrooms) with toilets that you might need to flush with a hand pump. There's electricity run on a generator – which isn't available when you're sailing with the engines off. You don't come on board to stay connected to the outside world – if there's WiFi, you'll have to pay extra and it might be patchy if there at all. Water is even more of a precious resource, and you'll be encouraged to have short showers.

One option is to share a skippered sailing boat with a small group of others, in which case solo travelers will probably share their cabin with a member of the same sex. These shared boats accommodate between eight and 11 travelers. It'll feel like you're living a little bit on top of each other, but once you're out on deck you'll find plenty of space to sunbathe. You'll have an experienced local skipper on board who knows the area, and either owns the company or gets paid a good, fair local wage. Alternatively you can charter your own boat.

Often you'll all cook together on the yacht – but don't miss a chance to sample food at traditional konobas (Dalmatian diners, similar to tavernas). People are often pleasantly surprised by Croatian coastal cuisine – think seafood and rice dishes, as well as Italian-influenced pastas.
Types of sailing vacation
If you've got four or five days you can go on a short, activity-packed sailing trip out of Dubrovnik and see some of the Elaphiti Islands. If you've got a week you can sail as part of a flotilla from Split to Krka National Park, or join a skipper who will take you across the Central Dalmatian Islands to Vis.
Some sailing vacations have in-built activities on board. Kayaking excursions, paddleboarding and hiking can be woven around short passages of sailing. It's really easy to combine water sports with sailing – usually you can do one where you can do the other, after all. You'll normally need to be able to swim at least 50 metres to participate.
Flotilla
and
bareboat
sailing in Croatia are for those who can already sail, and feel ready to embrace the open water unsupported. They're great for confident sailors. To charter a boat on flotilla or to bareboat, you need your RYA Day Skipper certificate to prove you're worth your salt. Bareboating is generally for more advanced skippers, whilst flotilla perfect if you need a bit more support.
You can gain a RYA Competent Crew or a RYA Day Skipper qualification whilst sailing in Croatia. Both courses take less than a week of sailing to complete, leaving you with a day either side to sightsee on the Dalmatian coast with your course mates. You'll usually book a berth on a boat, rather than chartering the whole yacht, and learn in a small group of around five people. Croatia is a great place to qualify to sail. The route is beautiful, the winds are gentle and the weather is lovely.
What to bring on a sailing vacation
You don't need to bring all that much on a sailing vacation. You'll spend most of your time lolling on deck in a swimsuit once you've set the sails. Some casual clothes for evenings in local restaurants, and some trainers for hiking up the hilly islands in search of churches and monasteries are nice additions. You might want some deck shoes if you're planning to help with sailing the boat and some sailing gloves to protect your hands. Speaking of protection: sun protection is important. Get yourself some biodegradable sun cream – as this doesn't damage coral reefs, a hat and some sunglasses. If you can locate polarized sunglasses, even better, as they eliminate glare when you're looking at the sea. Bring some evening entertainment – a deck of cards for a ferocious game of snap (light sleepers might want ear plugs).

If you're worried about seasickness there's an arsenal of potential treatments available over the counter: acupressure wristbands, ginger capsules, caffeinated seasickness tablets. Alternatively, you could get a prescription for a patch that you stick behind your ear: some people swear by it.
Our top Croatia sailing Vacation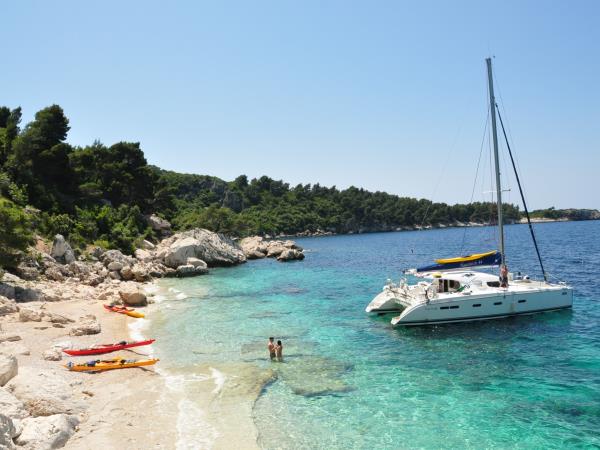 A multi-activity adventure sailing cruise in Croatia
From
€

580

to

€

790
4 days
ex flights
Small group travel:
2023: 26 Jun, 11 Jul, 24 Jul, 25 Jul, 29 Jul, 3 Aug, 5 Aug, 10 Aug, 14 Aug, 15 Aug, 17 Aug, 21 Aug, 22 Aug, 24 Aug, 28 Aug, 29 Aug, 31 Aug, 7 Sep, 18 Sep, 19 Sep, 20 Sep, 21 Sep, 23 Sep, 24 Sep, 25 Sep, 26 Sep, 27 Sep, 28 Sep, 30 Sep, 1 Oct, 2 Oct, 3 Oct, 4 Oct, 5 Oct, 7 Oct, 8 Oct, 9 Oct, 10 Oct, 11 Oct, 12 Oct
If you'd like to chat about Croatia sailing or need help finding a vacation to suit you we're very happy to help.

When is the best time to go on a sailing vacation in Croatia?
Croatia's main tourist season runs from May to October; island restaurants tend to close their doors for winter. Some sailing companies run cruises out of season, in April and November, but most trips are from May to October. If you want to charter your own boat, May to October is the period to do it, as the weather is at its safest and most predictable. Summer can be unenjoyably busy in Croatia – especially around Dubrovnik, Split and the Central Dalmatian Islands. Events like Yacht Week, boozy sailing cruises for up to 40 party yachts in high summer, should be avoided at all costs. It's best to sail in the shoulder seasons and avoid the cities. You can always pop over to the next port and find relative peace.
Sailing vacations in Croatia, month by month
In April and May Croatia's coastline gets fresh breezes of up to 25 knots. Some sailing trips are running in April, but the majority, including flotillas and bareboating, will start in May. In spring, when water traffic is lower, you're more likely to see dolphins when you're underway. In early summer between June and July, Hvar's lovely lavender fields are in bloom – they'll beat the island's bars any time, which can be ridiculously busy at this time of year. In mid July, Dubrovnik Summer Festival opens with a fizzle of fireworks. This arts festival takes over the town and runs for just over a month. There are plenty of open air performances, but Dubrovnik will be very busy and as a result we advise against visiting the city at this time. Parts of Trogir Summer Festival, a festival for music, are held within the walls of Kamerlengo Castle, a 15th-century fortress, in July and August. June, July and August see a series of 'yacht weeks', a brash flotilla of some 40 party yachts, blasting music, trailing inflatables, following each other round to ports and spilling out of nightclubs. It's got bigger every year and dominates places like Hvar and Bol. You won't want to go anywhere near them. If you're bareboating, ask at the base about quieter places to visit. This is also the time of year when the maestral (or 'mistral') comes out to play. This northwesterly wind builds throughout the day and provides exciting sailing conditions. In August, which is peak season, most towns push their mooring fees up by 10 per cent. You'll also see a lot of Italian yachts pottering over the border. It's better to visit outside of peak season, when you'll get cheaper moorings and quieter cruising. September is a lovely time to go sailing because the water will be a pleasant temperature for swimming. Your skipper will probably have trouble keeping you on the boat, you'll be jumping in as much as possible. In October, Croatians will be relaxed and recovering from the busy summer. However, winds are rising again – you're more likely to be visited by the 'bura', a very strong wind, and the temperature is falling. Not all restaurants will be open. Vis Regatta closes the sailing season in mid October. It's a fierce competition – with some 150 high-performance boats whizzing between Vis and Split. If you're cruising nearby then the sight of all the spinnakers hoisted on the horizon is pretty inspirational. In November there are still some sailing trips running, but most operators are finished for the season.
More about Croatia sailing