Bareboating vacations in Croatia
Think of it as biking without stabilisers. On a bareboat trip you get the boat and nothing else – save a briefing at the start of your trip, a cruising guide and some suggested itineraries. It takes a bit of planning to put a bareboating trip into action, but luckily the weather here is nearly always on your side. Enjoy exploring sunny shores at your own pace. You'll need a qualified sailor on board, but you can always hire a skipper to accompany you, in which case you don't need any qualifications at all. Bareboating trips in Croatia clock in at seven days long as standard, but you could extend your charter. After all, this is bareboating – for the time you're on board, this is your boat.

Croatia offers some great open water sailing for more experienced crews.

Skippering your own boat unsupported requires a bit of experience. Usually to charter a bareboat you'll need a RYA Day Skipper or International Certificate of Competence (ICC). On these bareboat charters you won't be permitted to sail at night, so you'll need to be moored up one hour before sunset. In Croatia the sun sets as late as 8.30pm at midsummer. This gives you plenty of time in the day to get where you want to go: expect to do around six hours of navigation a day – but this is your vacation, if you want to sail more, there's nothing stopping you.
Our Croatia sailing Vacations
What does bareboat sailing in Croatia entail?
Your charter vessel will be a fibreglass boat that's less than eight years old and their capacities range from two to 11. Usually these vacations run from Saturdays to Fridays. When you join the vessel on Saturday afternoon you'll be given a full briefing of the boat equipment, and an important safety briefing. You'll be given a cruising guide, with information about mooring facilities in the most popular ports, and then you're on your own. Spend the night sleeping in the marina.

Your new floating home will be very space efficient downstairs, but that's ok, as you'll spend most of your time on deck. When choosing the right size yacht for your bareboat sailing vacation, it's best to err on the small side. Yes, you'll get less space below, but when you're maneuvering into one of the Central Dalmatia Island's tiny town quays in front of a curious crowd, you'll be glad you're a little smaller.
Provisioning in Croatia is fairly easy. There are small supermarkets in most towns, and larger supermarkets near the marinas. Buy local produce, and top up with fresh bread and fruit as you go – smaller ports will be happy for the custom, and the food will taste better, too. Your boat has a simple galley with a hob, but there's usually no oven (some skippers have been known to bake bread in their engine rooms…a long time spent at sea can make you very resourceful). It's probably better to spend your evening meal on shore at a local konoba (restaurant).

Croatia has a very good sailing infrastructure – even better than that in Greece. Expect to pay small mooring and anchoring fees wherever you go. The government invested a lot of money into its marinas, making its facilities really good. However, as you sail into the islands you'll find less facilities available, and less moorings that you can book ahead of time, so in peak season you might want to arrive at your night spot early to avoid disappointment.
When to go bareboating in Croatia
Bareboat charters run in the summer months from May to October. May and October can have stronger winds and Croatia's weather is generally most settled in summer. The 'bura', a strong wind, is more common in late autumn, but in summer you can occasionally expect the mistral. This cool wind can get very strong and when it descends you'll get exciting sailing. More experienced sailors will be in their element, battling against the elements.
Where to go bareboating in Croatia
Most of Croatia's bareboat charters operate out of Split (Marina Agana) or Dubrovnik. Head out towards Vis Island from Split – around Croatia's most westernmost island is some of the country's best open water sailing, and you'll be rewarded for your efforts to get here by the chance to explore the Dalmatian coast's most blissful island, with its pretty beaches, spangled water and rocky inlets.

Croatia's Central Dalmatian Islands are a well-trodden path, but if you're looking somewhere off the beaten track you can also head north of Split to the Kornati archipelago. Less visited by flotilla and other group sailing trips, this dense group of islands includes a national park. Its bare hills roll out of the water in quick succession, beige, barren and bewilderingly beautiful. You'll need a pass to visit, which you should apply for in advance through your charter company.

If you want to sail to Montenegro on a bareboat charter, the best place to pick up your boat is in Dubrovnik. You'll need to let your charter company know in advance that you plan to sail this route, as they'll need to give you a letter of authorisation. On arriving in Montenegro you'll need to pay for a "Vignette" (cruising permit) for your time there. Once customs are cleared, most boats head straight for the Bay of Kotor, one of the most beautiful cruising areas on the Adriatic.
Our top Croatia sailing Vacation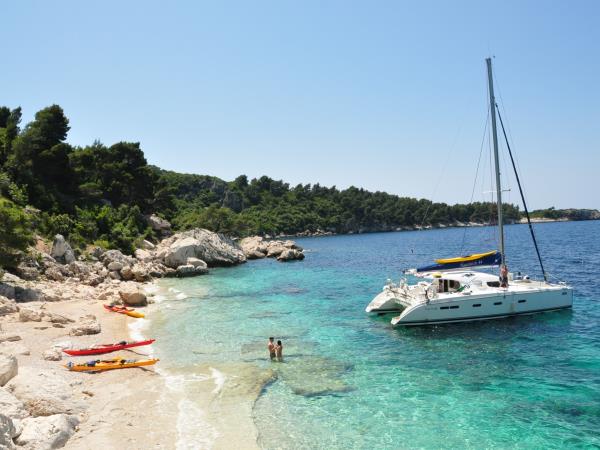 A multi-activity adventure sailing cruise in Croatia
From
€

580
4 days
ex flights
Small group travel:
2023: 3 Oct, 4 Oct, 5 Oct, 7 Oct, 8 Oct, 9 Oct, 10 Oct, 11 Oct, 12 Oct
If you'd like to chat about Croatia sailing or need help finding a vacation to suit you we're very happy to help.

Bareboating in Croatia advice
Lucy Wade, from our specialist sailing vacation company Sunsail, breaks down bareboating:
Bareboat itineraries
"The suggested itineraries that we have included within the details of our trips are just an indication of what the customers can do and see whilst out on one of our bareboat charters. This is completely flexible and can be amended to the customer's preference. On arrival at the base they will have a full chart briefing with the base staff, where they find out what the destination has to offer including top snorkelling locations, most beautiful beaches and best places for land based activities. They can decide if they would like to amend the route that has been suggested or keep it how it is."
Booking your berths
"On bareboat charters the moorings/berths are not pre-booked unlike the flotillas. This may mean in peak season, we will suggest arriving earlier in your chosen destination for the evening to avoid disappointment."
More about Croatia sailing