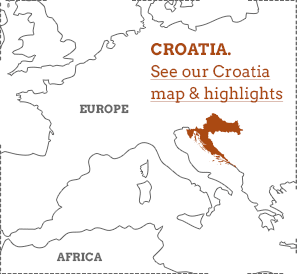 Our Croatia vacations help relieve the pressure on over-visited destinations such as Dubrovnik by getting you offshore to the islands or inland to less-known national parks ideal for exploring on self drive vacations. Croatia's craggy coastline is best discovered on small ship cruises that visit peaceful islands and communities that far larger vessels miss, or on family activity vacations where you're rarely out of the warm sea. Croatia can be reached without flying if you have time, but carbon footprints are minimised anyway, since our partners seek out family-owned hotels and restaurants that source as much of their seafood and wine from the local area as possible.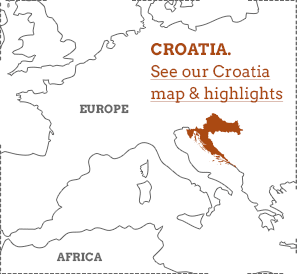 Our top Croatia vacations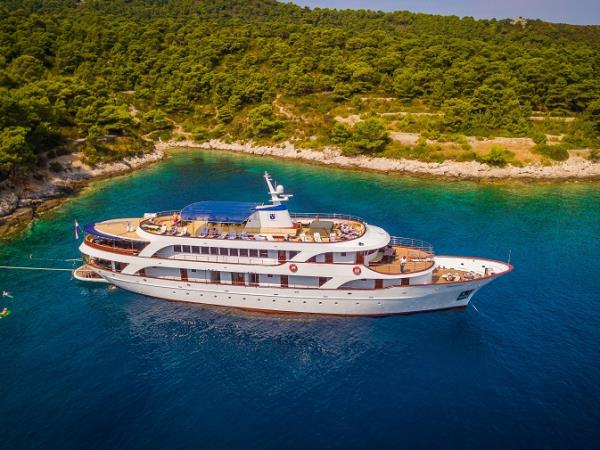 8 days
ex flights
Cruise Split to Dubrovnik in luxury via Croatia's islands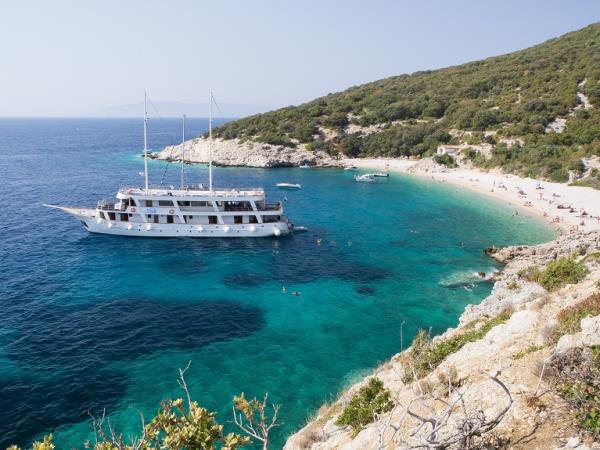 8 days
ex flights
Cruise Croatia's beautiful islands on a small cruise ship
Small group
2022: 16 Apr, 23 Apr, 30 Apr, 7 May, 14 May, 21 May, 28 May, 4 Jun, 11 Jun, 18 Jun, 25 Jun, 2 Jul, 9 Jul, 16 Jul, 23 Jul, 30 Jul, 6 Aug, 13 Aug, 20 Aug, 27 Aug, 3 Sep, 10 Sep, 17 Sep, 24 Sep, 1 Oct, 8 Oct, 15 Oct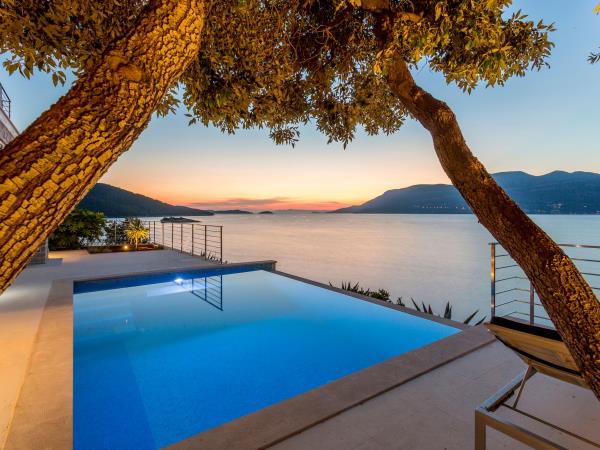 8 days
ex flights
Croatia multi activity Private family luxury vacation
Best time to go on vacation to Croatia
Croatia has a mild climate all year. In July and August, however, the mad Med kicks in quicker than you can say factor 50. Consequently, there is an international summit meeting of sunbathers in peak season, with throngs of international tourists entering one giant Eurovision Sun Contest. So the vote from our jury in terms of best time to visit Croatia is early June, or September to October. Or even earlier – Easter is the beginning of the swimming season for local people, plus a time for decorating with pisanice painted eggs.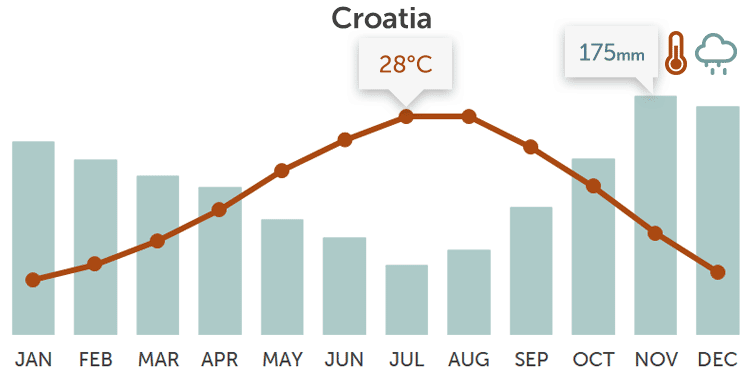 Map & highlights
Dubrovnik, in the south, is clutched by walls that have protected its churches, synagogue and marble streets through many wars. It's justifiably popular; go out of season to really enjoy it. You can day-trip to the nearby Elaphiti Islands, but you're better off staying a couple of nights on sleepy, sandy Lopud. Korcula and Vis are larger islands, so you can explore pine forests and vineyards by bike or kayak cruise-free coves. Up north, the Istrian Peninsula presents terracotta-topped Rovinj. If you can prise yourself away from the coast, dive into Plitvice National Park and its waterfalls and turquoise pools.
1. Dubrovnik
Dubrovnik lives up to the hype. A medieval walled city is usually enough, but one that overlooks a coastline that would usurp every shade of blue and green of any artist's palette, makes it memorable in the extreme. Painstakingly restored since the war ended, this city has earned its UNESCO World Heritage status. Makes Barcelona look boring and Paris a bit pedestrian. Escape the cruise crowds at Pile Bay.
2. Istrian Peninsula
Istria avoided much of the wartime devastation and also got ahead of the game when it comes to tourism. There is a big boutique and baroque vibe, which isn't for everyone, but don't let that put you off. Inland are peaceful, verdant hilltops. Explore the hill towns and coastal villages by bike – you'll have endless excuses to rest as they are all so beautiful. There is a huge Italian influence here historically. Combine with a trip to Slovenian Istria.
3. Korcula
Korcula has a Gothic-Renaissance Cathedral in the main square. As you do. On an island. Korcula town has a fortified center, cobbled alleys and stone houses, giving it the nickname "mini Dubrovnik". Supposed birth place of Marco Polo, it begs the question, why would anyone want to leave such a paradise? It does get cruise ship visitors but most stick to shoreline cafes. This is one for cycling or walking, exploring pine forests, vineyards and, of course, wines.
4. Lopud
Lopud island is a day trip special, but this is really worth an overnighter. It's that combination of arriving into a pretty port, rambling through lush woodland to find a perfect sandy beach (Sunj is the one to seek) on the other side and having a car-free ambience to boot. It's a knickerbocker glory of an island; each layer is as delicious as the last. You won't want to get the last ferry back, so look into local family owned hotels and check in for life.
5. Plitvice National Park
Plitvice is, fundamentally, fresh. After all that coastline, this is a land of 16 freshwater lakes and 90 waterfalls. A landscape you can literally plunge into, its beauty is almost Narnia-esque. UNESCO thought so too when it gave it World Heritage status. Post a pic of you zipwiring across lakes or chilling at a guest house perched on a remote riverbank and your mates will think you are in Costa Rica, not Croatia.
6. Vis
Vis is bliss. If the tourism board hasn't used that strapline yet, they are missing a trick. As well as having the picture postcard aquamarine coves, kayaking and hiking, it has a passionate slow food movement. In fact, slow is the key on Vis. Go with the local pace, active by day, siesta by midday and fiesta til midnight. And with its own local red wine, Plavac, on tap, you can't fail to imbibe the blissful vibe.
Croatian islands
Over 1,000 islands dot-and-dash the Croatian coast – so where do you begin? Our guide to the
top 10 islands in Croatia
is a good place to start. The Elaphiti Islands near Dubrovnik are the most-visited by day-trippers, but if you stay overnight in Sipan or Lopud you'll get sunset dinners in snoozing villages with islanders and yachties. Families often focus on Vis, where cliffs and kayaking waters sit well away from the cruise ship terminal, while Hvar specialises in picturesque fishing towns. Mljet National Park is a forested retreat where you can hike to lakes and a Benedictine monastery.
Small ship cruising in Croatia
'Small' is key when it comes to cruising in Croatia – the industry has a bad rep, thanks to the mega ships that clog up Dubrovnik with thousands of passengers. But Croatia is a seafaring nation and often the best way to see it is under sail. Small ship cruises are slow travel. They stick to Croatia only, slipping through dolphin waters and dropping anchor in sunset-facing bays with barely a ripple. With a maximum of 40 shipmates (on yachts, it's more like 10), you'll eat at harbour restaurants and explore vineyards, supporting island communities without overwhelming them. Read our
Croatia cruising guide
.
Family activity vacations in Croatia
Croatia and Italy have a shared sea, history, cuisine and way of life – but there's also something very Italian about how Croatians welcome families. Most restaurants and hotels are kid-friendly, and the best family activity vacations in Croatia are less kids' club and more kayaking, white water rafting, caving and cycling. Many trips root you to an island to minimise traveling, too. They're also the most relaxing activity vacations you'll find: while some days are all-go, your free days and evenings can be spent lounging with a glass of Plavac Mali (or a peach mocktail) by the water.
Adventurous destinations
Some people like to kick back and watch Croatia roll by; some like to dive straight into it. High-energy
adventure vacations in Croatia
take you from Dubrovnik to Zadar, weaving over the Bosnia and Herzegovina border to Mostar and then back to Krka, Velebit and Plitvice Lakes national parks, where you can canoe along rivers and hike up to waterfalls. Other trips stick to one adventurous destination: sea kayaking from Dubrovnik, perhaps, or biking, boating and scuba diving around Vis island. You can find out more about the most adventurous places in Croatia in our
multi activity travel guide
.
Water activities
It doesn't matter if you're exploring the islands and Venetian cities along the Adriatic Coast or the lake-spattered national parks – it's really, really hard to resist getting out on the water.
Sea kayaking in Croatia
is as good as paddling gets, thanks to the sheer number of islands (most uninhabited) and craggy, cracked-open scenery.
Sailing in Croatia
is like stepping back to the Renaissance, when the Adriatic Sea fluttered with white-sailed trading ships. Stand up paddle boarding is gaining popularity, or you could simply swim in warm, glassy waters that feel like they've flowed from the Tropics.
Types of vacations & vacations in Croatia
Activity vacations are the most common type of vacation in Croatia – and they can be as leisurely or as action-packed as you like.
Cycling vacations
swoop along curvy coastal roads and peninsula vineyards, before taking you on ferries to islands laced with cool, piney forest paths.
Walking vacations
are your chance to go off-piste with a Croatian guide who'll take you for lunch at villages that make their own
basa
cheese or to little-known inland national parks. There are also self guided trips, if you fancy adventuring on your own. Read our
cycling in Croatia
and
walking in Croatia
travel guides for more.