Responsible tourism in Croatia
---
Travel right in Croatia
Croatia is top of the travel list for a lot of people as it is still considered one of those 'get there before they ruin it' places to go on vacation. Yes, tourism is very new here as the wars only ended in 1995, but the Istrian peninsula in the North remained pretty much untouched by the wars. Also, they learned from the mistakes of emerging vacation hangouts of the time, such as Bulgaria, and didn't take a develop or die approach to tourism. A favourite with the sailing community for many years before the wars, they knew that aiming more upmarket and protecting all that is good about the country was the way to go. There are 444 protected areas in total including eight national parks. One form of development they need to control, however, is the cruise industry which may not be pouring concrete onto the coastline, but it is pouring out a lot of messy mass tourism and fuel.

The other major oversight when it comes to tourism in Croatia is the inland factor. Packed with forests, mountains and lakes, you can escape the crowds and hike into a hinterland just crammed with culture. And the cruises can't get you there either. Although they probably would if they could.
People & culture
---
Cruise crowds & understanding history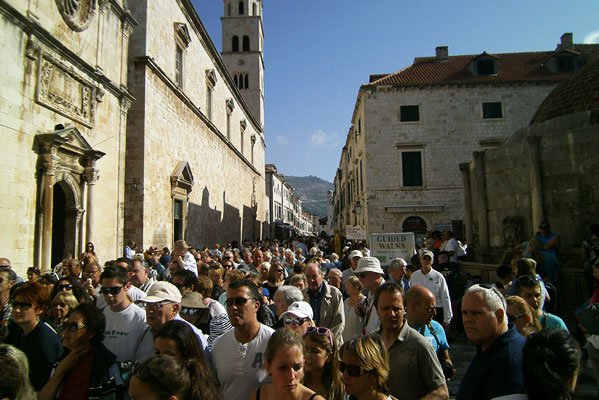 Cruise crowd control

Cruises aren't always what come to mind when you think of Croatia. In fact it's more an image of peaceful sailing ships circumnavigating remote islands that has us begging to book. However, just like its neighbouring Venice which has a somewhat dysfunctional relationship with cruise ships, Croatia hosts many of these floating hotels, and this is starting to create a lot of anchor angst, to say the least. In Dubrovnik's old town, where the population is about a thousand people, they can sometimes have three giant cruise ships unloading in a day, with as many as 10,000 passengers crowding into the streets like a tidal wave. Some of the islands, such as Hvar and Korcula are also cruising for a bruising.
The port authorities have carried out sustainability reports and limited the average number of cruise ship passengers to a meagre 8,000, although in peak season they are allowed to exceed this. So it is all still a bit of a moveable feast it would seem. If the cruise ship passengers were feasting on land, however, it might keep the local people happier, but they pour out after breakfast and go back at 3pm, stopping only for coffees and ice cream. As a result, a lot of the local cafes have become fast food outlets, and craft shops are junk souvenir shops, losing not only their culture but also their cash.
There is an understandable fear of losing cruise ship tourism as it means big business. However, many people, locals and land based tourists alike, want to curb it. There is no doubt that many cruise passengers want to embrace the local culture and marvel at the historic buildings, but the country needs them to leave an economic footprint too, not just one made by overcrowding. You won't be alone in requesting the Ministry of Tourism to have a rethink on cruise ships. You can contact them on their
website
, and reassure them that you believe tourism in Croatia really doesn't need a bigger boat.
Wars are rarely civil
The wars in Croatia were very recent, and it is highly recommended that you read a little before you go, including our own
brief history
section. Tourism plays a huge role in keeping the peace as the region gets back on its feet economically by sharing and celebrating its shared natural heritage. Many local people want to talk about it as they say it helps them move on, but some don't, so you need to gauge this with sensitivity. And a few tips. Don't refer to it as a civil war. It was a collection of wars about territory and independence and calling it civil will not go down well. If you are going to bring it up then, ironically, this is one time when you can simply mention 'the war'. It also doesn't go down well with many Croatians to call it a Balkan country, or former Yugoslavia. Being called Eastern Europe won't get you points or prizes either. Especially as they haven't had anything to do with Russia since 1948. Croatia is much more Med than red. Just call it Croatia, fuel a strong sense of national pride and you will be welcome.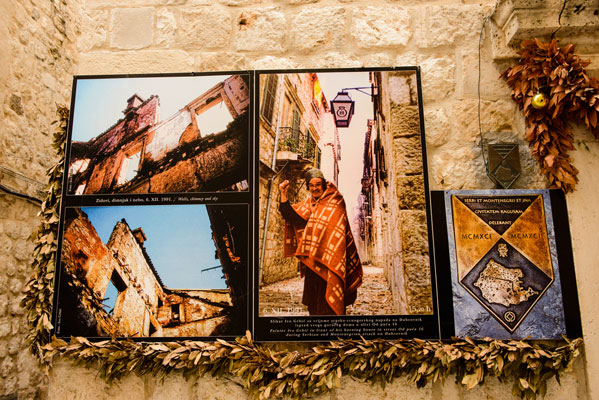 Ivana from Adria Active: "Don't talk too much about the past, as people are still sensitive regarding the 1990's. Remember that a lot of these people have been through the war, and so it is nice to be a little bit humble when talking about. Because you never know what happened to somebody's family. This applies mostly to the Dubrovnik region that was affected the most. And if you do want to talk about it, inform yourself about it before you go"
Responsible tourism tips
---
Travel better in Croatia
The Eastern region of Croatia, from Zagreb and beyond, is often left off the tourism map, such as the agricultural heart of Slavonia. This region was badly hit during the wars of the 1990's and the east of the country suffered huge loss during the floods of May 2014. So not only are they worth supporting, they are a cultural artery for the country as well as a landscape of wineries and wetlands, with the Nature Park Kopacki Rit at its heart. The main towns of Osijek and Vukovar are quaint and culturally rich.
Waste disposal is an issue everywhere, but multiply that by ten when it comes to islands. It is costly and tricky for businesses to get rid of rubbish here, so don't arrive with lots of packaging, water bottles and so on. A bit of creative packing will not... go to waste.
Smoking is an issue in Croatia. It is one of the rare countries which banned it and then, realising that the cafe and bar economy was suffering, reversed the ban. So you can still smoke in enclosed public places, although they do need to have ventilation, but still, this can be a big shock for many tourists.
Xania Wear from Wear Active is one of our suppliers on the blissful island of Vis: "Vis was closed to tourism for many years as it was a military base, and so we now struggle with a few of the impacts of tourism. The main one is litter as we are only at the early stages of recycling".

Irena from one of our suppliers, Huck Finn Adventure Travel makes a great point to help tourists be a little more host friendly rather than host-ile: "It bothers me a little when travelers don't respect private property. It feels like some people think that if they paid for a vacation in a town or village it gives them the right to wander into people's private gardens. As if they don't realise that these are someone's homes. We do not usually put up private property signs and gardens are sometimes enclosed, other times not, but it is always clear what is private property".
Although the Croatian government has put stringent rules in place when it comes to developing large scale hotels clinging to the shore, there was a rush of foreign investment in property, especially after Croatia joined the EU. There is also a strong tradition of property being kept within the family in Croatia, handed down from generation to generation, so if you want to keep things local when choosing accomodation in Croatia, do your research. With just a bit of effort, you can find out if your accommodation is really locally owned or if it is run by absent landlords, cashing a big monthly tourism cheque in another country.
When you go by car between Split and Dubrovnik you go through Bosnia. It doesn't make any difference if you are hiring a car, and it shouldn't affect the price, but do check. For border crossings you will need your passport though.
If you are sea kayaking, beware of a change in weather conditions. People do get rescued on what seem like a perfect day, just because of a change in the wind and they can't get back to shore. They get hot, tired and dehydrated. So, don't overestimate your ability, bring plenty of water and a hat and, if you are inexperienced, don't go more than 400 metres from the shore.
Croatia is hot, and so like many places you might be tempted to crank up the air conditioning. The classic faux pas is to do this, and then ask for extra bedding. There are basic techniques for keeping a room cool, such as keeping curtains closed during the day, keeping a through flow of air and take a quick cold shower if it all gets too much.
It goes for every place you visit, but do try and learn two or three words in the language. Croatia's independence is still relatively recent and also new to the EU, and so it is respectful to their identity to learn to say hi, bye and cheers. In the 60's there was a big movement to gain autonomy for the Croatian language when the country was part of Yugoslavia, and so by learning a few words you are at least taking your hat off to those who fought to protect it.
If you are shopping, stay clear of the cheap red coral jewelry. Although the harvesting of red coral is protected and regulated under the Nature Protection Act, it is hard to police, and so if it is cheap, the chances are it is not so cheerfully sourced.
As tempting as it might seem to go wild camping on all those islands, it is illegal to camp outside any official campsite in Croatia. You risk a fine of up to 3000 Croatian Kuna, or around £300 sterling.
Ivana Grzetic from Adria Adventure is one of our Dubrovnik based suppliers: "In our local culture it is not very nice for us to see tourists who get really drunk. We see lots of groups of men and women in Dubrovnik who get drunk to the point where they do know where they are or what they are doing. Or falling asleep on the street in the middle of the night. For us, culturally, it is a shock, because for us, being really drunk like that is really a shameful thing."

Marijana Filipovic from one of our suppliers, Cycling Croatia: " I teach each client at least two words in Croatian. Just to fit in, and also I think it is nice and they seem to appreciate it."