Local travel tips
Xania Wear, co-founder of our vacation specialists WearActive, shares her Croatia travel advice: "You can't really island hop on a vacation in Croatia. In Dalmatia you have to go back to the mainland and then get another ferry out. So, people underestimate how long and difficult it is to get from one place to another."
Tomi Coric is a cycling guide and founder of our activity vacation experts Epic Croatia. He says: "The Peljesac Peninsula is a winegrowing area between Dubrovnik and Korcula Island. The route through the peninsula vineyards is great – one of my favourites. I also really like the countryside between Dubrovnik and the Montenegro border. It's nice and green, with cypress trees, villages, small farms and vineyards."
Local culture tips
Croatia travel advice from Ivana Grzetic, from our experts Adria Adventure: "Don't talk too much about the past, as people are still sensitive regarding the 1990s. So, remember that a lot of these people have been through the war, and so it is nice to be a little bit humble when talking about. Because you never know what happened to somebody's family. This applies mostly to the Dubrovnik region that was affected the most. And if you do want to talk about it, inform yourself about it before you go."
Xania Wear of WearActive, one of our island vacation specialists, shares a local secret: "The Vis Regatta at the beginning May is a very local island event with Croatian skippers at the helm which not only includes sailing, but also concerts, local food and an environmental day. We love it."
Planning tips
Iva Stefan, from our Croatia activity vacation specialists Huck Finn Adventure, recommends staying in the Elaphiti Islands instead of day-tripping there: "Hiking on Kolocep Island is a true authentic local experience. You walk in pine woods along high cliffs, observing the horizon. The Adriatic Sea below is turquoise… Once you get down to the seaside, you can take a swim on a sandy beach. The best thing is, you probably won't meet anyone on your hike before you reach the village."
Xania Wear of WearActive says: "It gets really hot in summer, so we try to encourage our guests to go with what is natural for your body in this climate. To do what local people do. So we get up early in the mornings, and then have a siesta because that is what everybody is doing. Some families resist this a little because they want to do as much as possible during their vacation time. Or they might want to have their evening meal at seven, yet it is still pretty hot here at that time and it is the best time to go swimming. And local people would eat later here. So, we encourage people to break out of their normal routines a little."
Tips on Split vs Dubrovnik
Powell Ettinger, director at our specialists Small Cruise Ship Collection, says: "I prefer Split to Dubrovnik myself. It's pretty, it's a big city, it's more lived-in than a cartoon style city. It does have a fantastic center, but then there are normal things and normal people around, doing normal things. It's not so reliant on tourism."
Local people tips
Ivana Grzetic from our Croatia specialists Adria Adventure says: "A lot of people who work in tourism come from the north – which is what we call the hinterland, such as Slavonia. They don't have tourism in their blood, like we do in Dubrovnik, and so sometimes they might come across as rude, but they don't mean to. Often they have come from a completely different profession, and so they are still getting used to how tourism works. And don't forget to buy an ice cream from a local slasticarna, the Croatian equivalent of the Italian gelateria."
Our top trip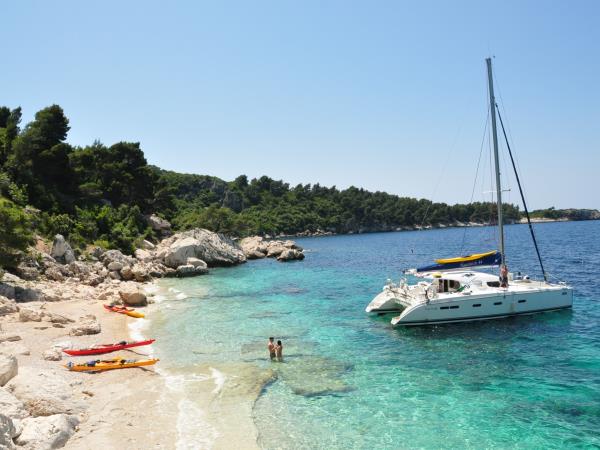 A multi-activity adventure sailing cruise in Croatia
From
€

580

to

€

790
4 days
ex flights
Small group travel:
2024: 20 Apr, 21 Apr, 22 Apr, 23 Apr, 24 Apr, 25 Apr, 27 Apr, 28 Apr, 29 Apr, 30 Apr, 1 May, 2 May, 4 May, 5 May, 6 May, 7 May, 8 May, 9 May, 11 May, 12 May, 13 May, 14 May, 15 May, 16 May, 18 May, 19 May, 20 May, 21 May, 22 May, 23 May, 25 May, 26 May, 27 May, 28 May, 29 May, 30 May, 1 Jun, 2 Jun, 3 Jun, 4 Jun, 5 Jun, 6 Jun, 8 Jun, 9 Jun, 10 Jun, 11 Jun, 12 Jun, 13 Jun, 15 Jun, 16 Jun, 17 Jun, 18 Jun, 19 Jun, 20 Jun, 22 Jun, 23 Jun ...
If you'd like to chat about Croatia or need help finding a vacation to suit you we're very happy to help.

Health & safety in Croatia
HEALTH
If you are camping or hiking in summer, be wary of ticks. Carry tweezers so you can remove carefully, apply a deterrent and then a reef-safe suncream afterwards.
Tap water is top quality in Croatia, so you can ease off on the bottled stuff.
A European Health Insurance Card (EHIC) allows many European citizens to access Croatian public healthcare at a reduced cost, or sometimes for free. Extra insurance is always handy.
Rabies can be found in dogs, bats, and other mammals in Croatia, so avoid touching animals.
It gets seriously hot in summer, so ensure you stay hydrated and wear a hat. The wind is deceptive on the coast and some don't realise how hot they are getting.
SAFETY
If you are sea kayaking or sailing, always wear a buoyancy aid and ensure it is fastened properly. Especially with children, who can slip out of them easily. If you are hiking, let someone know where you are going and when you plan to be back. Since the end of the wars in 1995, there are still thousands of landmines in Croatia. Not in tourist areas, thankfully, and areas which are suspected to have mines are marked with mine warning signs. So, talk to a local if you are going off the beaten path. Watch out for Bura wind warning signs, mostly in the Velebit area and in the winter months. The coasts are very rocky, so rubber shoes are a must, and also carry antiseptic spray and plasters to the beach, as cuts do happen.
Croatia tips from our travelers
At Responsible Travel, we think the best people to advise our travelers are often... other travelers. They always return from our tours with packing tips, weather reports, ideas about what to do – and opinions about what not to.

We have selected some of the most useful Croatia travel tips that our guests have provided over the years to help you make the very most of your vacation – and the space inside your suitcase.

We would also recommend trying the house brandy at all of the restaurants you visit...each place had a completely different version of brandy and they were all delicious!

Expect adequate hotels rather than luxury. Take a travel kettle if you want an early morning cuppa – there was no tea or coffee making facilities in any of the rooms. – Nick Ward

Take time to explore the parts of Dubrovnik that the tourist masses miss – we loved the sudden quiet down at Pile bay, just metres from the noise and congestion of Pile Gate. – Sue McDonald

The only tip I would give is that the restaurants in the bay of Rukavac do not take credit cards, so we were unable to pay our restaurant bill the first night. Many places on Vis didn't take cards so you'll need to keep getting cash out. You also definitely need water shoes, as the beaches are mostly pebble. We used very high factor 50 'once' sunscreen on our upper bodies and none of us burnt. – Fiona Brenninkmeijer

Beware Hvar town is nightclub land. Seeing the town is a must but I think a stay at Starigrad town would have been better. – Sue Howles

My jaw dropped at the first view of Dubrovnik, but better was to come. The islands were absolutely beautiful, i.e. Korcula, Sipan and Mljet. But most of all I loved my experiences with the people of Croatia... they were honest, friendly, approachable and yet not in your face. I could not say enough about how much we enjoyed our experience. – Anne McCarthy

If you are staying on Sipan and Lopud make sure you stay on Sipan first. It is a lovely island but very quiet with little to offer in the way of bars or restaurants. If you stay on Lopud first this can seem a bit of an anti climax.