Small ship cruising vacations in
Croatia travel guide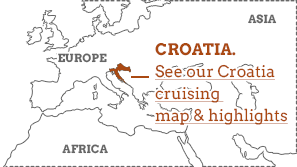 If you could give a name to one of the small ships used to breeze into some of these remote Croatian islands or ancient mainland towns, it would be 'pomalo'. It means 'slowly', 'no stress' or 'chilled' – all of which sum up the vacations we have covered in this travel guide to small ship cruising vacations in Croatia rather beautifully.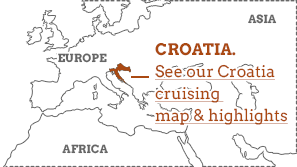 Small ship cruises take you off all the usual wanderers' wavelengths, away from massive marinas to Croatia's infinitesimal island idylls.

You'll spend time on a ship that meanders its way through this archipelagic Arcadia, stopping to swim in remote bays on islands like Korcula or having lunch at islands where the people are innately committed to slow food, such as Vis, or having an evening cycle around luscious shores like those on Mljet Island. Or you might swim on the naturist-friendly shores of Rab Island until the sun sets, while others are throwing their clothes back on to catch the last ferry back. These small ships are all about discovering the real side of Croatia, but in real Croatian style too. Pomalo.
Our Croatia cruising Vacations
Is a small ship cruise in Croatia for you?
Go on a Croatia cruising vacation if...
… you want to go island hopping along dreamy archipelagos but don't want the hassle of ferry timetables and going to and from the mainland to catch them. You'll avoid queues in peak season, too.
… you love the idea of luxury on the water, but don't want to be surrounded by hundreds of other guests. These small cruise ships usually sleep 40 people maximum.
… you would like to travel to the islands out of peak season, May or October, when some accommodations or other facilities are closed.
… you are happy to live in close, albeit super comfortable, quarters with other guests.
Don't go on a Croatia Cruising vacation if...
… you don't do sun. Croatia is seriously hot during July and August, although most ships have air conditioned cabins, and there are plenty of opportunities to have a cool down swim. … you are a stickler for rigid itineraries. The captain is in charge on these trips and their boss is always the weather. Sometimes, plans have to change. … you don't know how to give people their space. These are tranquil trips that aim to connect with nature, be it night skies, the peace of the waves, or a hiking expedition.
Our top Croatia cruising Vacation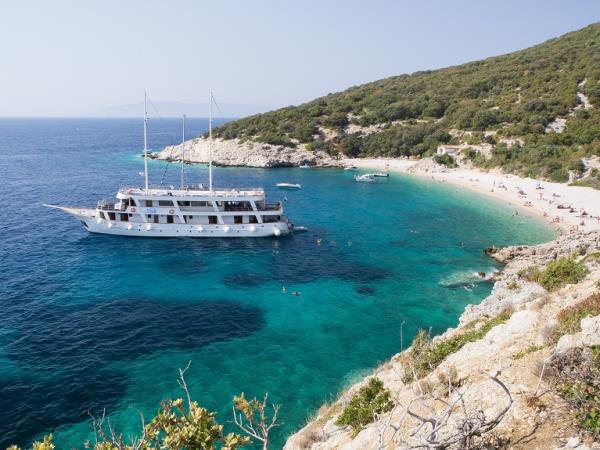 Cruise Croatia's beautiful islands on a small cruise ship
From
£

731

to

£

946
8 days
ex flights
Small group travel:
2024: 13 Apr, 20 Apr, 27 Apr, 4 May, 11 May, 18 May, 25 May, 1 Jun, 8 Jun, 15 Jun, 22 Jun, 29 Jun, 6 Jul, 13 Jul, 20 Jul, 27 Jul, 3 Aug, 10 Aug, 17 Aug, 24 Aug, 31 Aug, 7 Sep, 14 Sep, 21 Sep, 28 Sep, 5 Oct, 12 Oct
If you'd like to chat about Croatia cruising or need help finding a vacation to suit you we're very happy to help.

WHAT DOES THIS TRIP ENTAIL?
How big is a "small" cruise ship?
On average, these small cruise ships accommodate no more than about 40 passengers. Their small size allows them to navigate their way around the tiny channels of the archipelago and moor at the islands' lovely small harbours. However, there's still plenty of deck space for relaxing and taking in the views.
What are the cabins like?
The cabins are clean and comfortable, with en-suite bathrooms and air conditioning. They will have a mix of double and twin cabins, and in some cases, although rare, there may be single cabins too.
Can I travel solo?
If you are traveling solo and there are no single cabins, you usually have two choices: pay around a 50 percent supplement for your own double cabin, or choose to share a twin cabin with someone of the same gender at no extra cost. If the cruise is not fully booked, you may get lucky and end up with your own double cabin without paying a supplement, but there are no guarantees.
Can I travel with my children?
Families are always welcome on board. For a supplement, the ship may be able to put an extra single bed into a cabin to sleep three people.
What about meals?
Most small ship cruises in Croatia offer breakfast and a buffet lunch in their communal restaurant (although a takeaway picnic breakfast on deck sounds rather heavenly as well), as you sail from one island to another. Dinners are usually up to you, as these responsible small ship cruising companies are as much about life on shore as on deck, so they recommend you explore tavernas and cafés on the island where you moor that day. In some cases, there may be a 'captain's dinner' on the first night to welcome everyone on board.
How are they responsible?
Small ship cruising vacations in Croatia aren't like the cruising-for-a-bruising floating hotels that pour people in their thousands into Dubrovnik... or loads of pollution into our oceans, for that matter. Comfort: yes. Crowds and contamination: no. In contrast, they are like putting yourself in the hands of Captain Croatia, because the vessels are owned by them, and they are contracted by responsible tourism operators to do what they do best: navigate the archipelagos of which they are so proud and which they know inside out.
The captains usually employ their extended families and so you will find that the crews are all very local. They have a great respect for the sea and marine environment, they are very knowledgeable about issues affecting both, and they totally understand that they are reliant on keeping the area in the best condition possible for their own livelihood.
More about Croatia cruising