How to choose a small ship cruise in Croatia
Powell Ettinger, director of our specialist The Small Cruise Ship Collection, says: "Croatia is a beautiful country that is almost custom-made for small ship cruising. It has many small islands and ports that are much too small for larger vessels, an almost perfect climate, centuries of visible history and some wonderful food. Many of the small ports and towns restrict the size of vessel that can visit, so this most beautiful of coastlines is inaccessible to all but the smallest cruise vessels. The big vessels can call in, usually albeit briefly, only at Dubrovnik and Split, missing out on much of the very best that Croatia's Adriatic coast has to offer. The small cruise ships are more like moveable boutique hotels than most people's perception of a cruise ship, and mean that you can travel around in comfort without unpacking every night."
Our Croatia cruising Vacations
Welcome on board
The most important thing to know about small ship cruises in Croatia is that the boats are generally owned by the skippers. They are their babies: well-loved, nurtured and their pride and joy. Captains are contracted by our small cruise ship vacation companies and many have worked in partnership this way for years, and so they have exemplary working relationships. They need to access tiny islands and bays, and so they are around 50m long and carry a maximum of 40 passengers. In general, there are four types of boats on offer.

Luxury boats
Luxury boats are the largest, newest and most comfortable vessels. They also have the most crewmembers to ensure that you and the other 35-40 passengers get top-quality service. Extras like large spa pools and sunloungers sit on the upper deck, plus there's usually a bridge where you can meet the captain and get some of the best views in the house. Luxury vessels mean luxury vacations, so the trip will often include transfers and day trips, as well as some on board activities such as wine tasting. Although among some of the bigger small ships in Croatia, luxury boats are still only 45-50m long – about half the size of a football pitch.

Premium boats
Premium boats are new vessels, usually coming in at a slightly smaller 40-45m from aft to bow. Cabins are really comfy, with en-suite bathrooms and air conditioning. There aren't as many crewmembers on board, so the service won't be quite so personal as a luxury small ship. However, it also means that there are fewer passengers – up to 40 max.

Comfort boats
Comfort style vessels are the most popular ships. The cabins are smaller, but still have air conditioning and an en-suite bathroom. In fact, the whole ship is smaller, stretching out 35-40m long (football analogy again – this time, about a third of a pitch). You can pick which day trips and activities suit you, so it's easier to keep to a budget; you'll usually pay Croatian tour guides and activity instructors directly, so you know your money is going directly into the local community.

Sailboats
A handful of our vacations get you literally sailing the waves, using the power of wind as much as possible. Catamarans and sailing yachts are cosy – all the better for floating into tiny coves with – so you can travel solo or with a partner in crime, or book the whole boat as a group of up to 10. Kids are welcome and, in fact, encouraged to have a go at helping to sail the catamaran. Double cabins come as standard, but there's also often a twin cabin that gets snapped up quickly. Best of all, sailboats are small enough that you can go for a swim straight off the edge of the boat.
Choosing cabins
Cabins are all en-suite and generally arranged on two or three decks. Most passengers try to get the upper deck cabins as they have better views, but the whole idea of a good small ship cruise is that you will spend as little time as possible in your cabin. Some experienced cruisers prefer lower deck cabins, as they can be cooler in the heat of summer and quieter at night. If you like a bit more space, the lower deck cabins can roomier too.
Our top Croatia cruising Vacation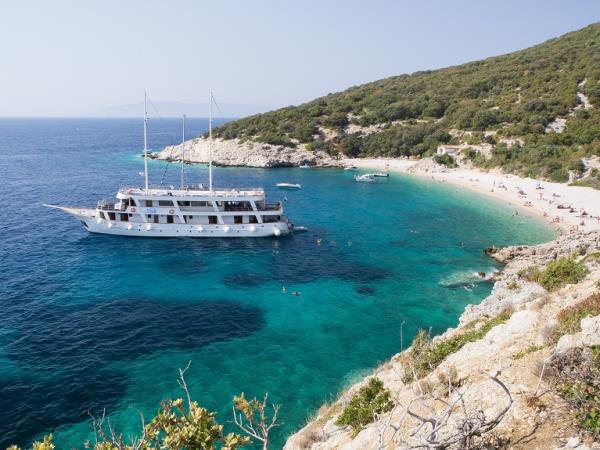 Cruise Croatia's beautiful islands on a small cruise ship
From
£

669

to

£

979
8 days
ex flights
Small group travel:
2023: 10 Jun, 17 Jun, 24 Jun, 1 Jul, 8 Jul, 15 Jul, 22 Jul, 29 Jul, 5 Aug, 12 Aug, 19 Aug, 26 Aug, 2 Sep, 9 Sep, 16 Sep, 23 Sep, 30 Sep, 7 Oct, 14 Oct
If you'd like to chat about Croatia cruising or need help finding a vacation to suit you we're very happy to help.

The journeys
Most Croatian small ship cruises run between Split and Dubrovnik in the south of Croatia. They're very popular cities, so many travelers extend their stays to spend time there. Both are well-served by airlines, so transfers to and from the ships are straightforward. Cruises that leave from Dubrovnik tend to take in Central and Southern Dalmatian islands such as Vis, Hvar, Brac, Korcula and Mljet Island National Park. You may also have some of the Elaphiti Islands like Lopud, Sipan and Kolocep on your itinerary; they're close to Dubrovnik.
Some cruises travel along the northern Croatian coast, exploring its peninsulas, islands and islets. Usually starting in Split, they head north and take in beauties such as the Zadar archipelago and the eponymous medieval town, as well as other northern jewels such as Rab, Krk, Losinj and Cres. Another northern must-see includes Kornati National Park, where deserted karst limestone islands are scattered all around.
What is a day in the life like? You'll set off in the morning, having breakfast on board on the move, stopping somewhere for a swim, and then have lunch on the move again, followed by a port stop in the afternoon. This leaves plenty of time to explore an island or mainland port, take a guided tour, or go for a hike or bike ride. It's also a great chance to try out the excellent food and drink in Croatia by signing up to wine tasting at a vineyard, or sitting on the waterfront with a seafood supper or island-made ice-cream. Because it's rude not to, really.
Passenger details
The first thing to stress is that these are not party cruises but suited to people who want to quietly explore some of the most exhilarating and exquisite seascapes in the world. The age groups tend to vary according to the comfort levels of the cruise you opt for. In general, the more expensive and more comfortable they are, the older the demographic. Consequently, 'comfort' cruises are mostly 35-65 year olds, whereas the luxury cruises tend to be the 45-75 and older age group.
Most of the passengers are couples; however, solo passengers are always welcome on board (although supplemental payment is generally required if you want your own cabin). These cruises are also suitable for families, who usually travel in summer and opt for the more spcaious 'comfort class' cabins. It is worth noting, however, that some of the more luxurious cruises request a minimum age of 18 years. Fancy bringing the grandparents or your friends along? Small ship cruises are also suitable for larger groups.
More about Croatia cruising