Cyclades travel guide
---
2 MINUTE SUMMARY
The Cyclades translate as 'a circle of islands' and the Greek gods must have had a perfect view from up there on high to see this lovely layout of island idylls encircling their sacred island of Delos. This centrepiece is uninhabited except for keen archaeologists working on what is thought to be one of the most important archaeological sites in Greece. There are actually over 200 Cycladic Islands, the main ones being Naxos, Santorini, Paros and Mykonos. They are submerged mountainous terrain, although two of them, Milos and Santorini are volcanic and all are, of course, island hopping heaven. They can be hiked or cycled, kayaked or snorkelled. But no matter which one you go to, or which one you love most, they will all have that cyclical effect. In that you will want your Cyclades vacation to go on forever and ever.
Cyclades vacations are...
journeys back in time, through
Hellenic havens packed with heritage, hiking routes and the ultimate in vacation hedonism.
Cyclades vacations are not...
what Mykonos has gained a bad reputation for.
They are tranquil and stunning.
And even Mykonos has myriad marvels, away from the drinking strips.
Cyclades map & highlights
---
Where to go in the Cyclades Islands
You feel like you've fallen into the lap of the gods in the Cyclades. The highest mountain of the chain is Zas, on Naxos, and is named after the daddy of the gods, Zeus, who is said to have grown up here. Amorgos was home to Aphrodite's temple and Thera, or Santorini, was created as a hiding place for the love child of a sea nymph, out of harm's from the nymph's father, the sea god Triton. And Delos, the Cycladic centrepiece, was said to be the birthplace of Apollo and Artemis. The former is said to be god of many things, including music, healing, sun, light and poetry. All of which you will find in the Cyclades.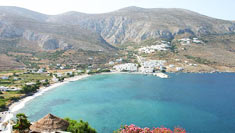 Amorgos
Famous as the location for the iconic Luc Besson film, The Big Blue (if it was before your day, it's a must see), you can't fail to fall in love with Amorgos. The easternmost of the Cyclades, this is another mountainous walking heaven, with ancient paths up to the likes of St. Theologos church. Aegiali Bay is the place to swim and sup, and the main village of Chora is a traditional treat.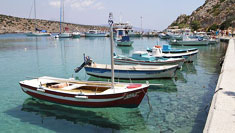 Lesser Cyclades
The four pretty gems in the bracelet that you can only see with a magnifying glass. Aka the Lesser Cyclades, less is definitely more for some people as they anchor up at Iraklia, Schinousa, Koufonisia or Donousa. There are others, but these are the only inhabited ones. Go hiking on Iraklia to see the Cyclades' largest cave, or dine at the taverna of the only resident family's on Koufonisia, overlooking the Bay of Nero.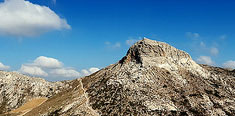 Naxos
The largest island and often the start of sailing odysseys around the chain, it is Grand Central Station for ferries in peak season. It is also home to the Cyclades' highest peak, Zas (1,004m), which you can hike up to from the fishing village of Filoti. A green and fertile island, there are plenty of hiking trails through hills covered in wild herbs, ancient villages or up to other peaks such as Fanari.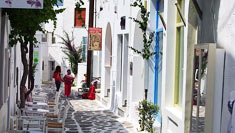 Paros
Some islands attract snorkellers, but this one is a hive for hikers, with a network of Byzantine footpaths or 'strátes' connecting beautiful traditional villages. The main one is Parikia, the island capital, with 13th century whitewashed houses, a Venetian castle and a stunning 6th century church. One of the most popular routes is Lefkes to Prodromos, taking in the coastal beauties of Marpissa and Pisso Livadhi.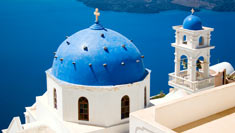 Santorini (aka Thera)
Santorini is a stunner, where people come to walk and wallow in natural beauty for several days. You are spoiled for choice when it comes to sumptuous corners, as this is actually a small volcanic archipelago in its own right, enclosing a ridiculously blue, submerged caldera. Trek to the main caldera, or to the highest point Mt Profitis Ilias (567m). Or visit Venetian settlements and ancient castles en route.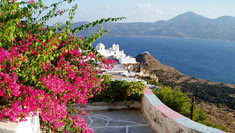 Western Cyclades
Less visited than many others, they are Serifos, Sifnos and Milos, Kythnos. Hike and hop these islands to experience something special on each one. Milos is volcanic and fascinating geologically, although with more than 40 beaches, there is plenty of time out of school. Sifnos has 100km of walking trails through its protected Natura 2000 landscapes, and Serifos has archaeological beauties alongside natural ones.