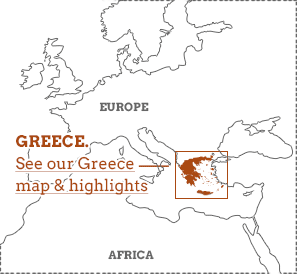 Greece exists between its wonderfully diverse physical reality and a lovingly imagined vision conjured from multiple sources: ancient classics; timeless novels like Zorba the Greek; old movies from Never On a Sunday to Shirley Valentine. Choose where you wish to open your book of Greece: undiscovered islands like Syros or Amorgos; the mountains of Meteora or the gorges of Crete; mainland national parks like Parnassos or the marine sanctuary of Alonissos.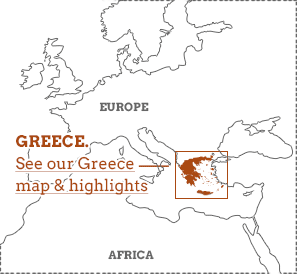 Greece is a classical drama playing out ancient history and traditional culture against a dramatic backdrop.

The dreamy islands and sun-drenched rustic idylls may be harder to find but are still here, as our Greece travel guide shows. The sort of places like 1930s Corfu that Gerald Durrell recalled with enchanting warmth in his acclaimed early autobiography My Family and Other Animals: "If I had the craft of Merlin, I would give every child the gift of my childhood". You don't need a wand to experience the magic of Greece – just wanderlust.
Greece is...
a beautiful cradle of Western civilisation
Greece isn't...
just a tourist-swamped financial basket case
What we rate & what we don't
Bear Tracking
Little-known wildlife snippet: around half of western and southern Europe's brown bear population live in northern Greece. Who knew? Well, the guides who'll take you tracking these magnificent but very shy creatures through the gorgeous wilderness of the Pindos, alongside other natural stars like wolf and otter.
Greek Wine
Forget retsina! Greece has made excellent wine for 4,500 years, and today around 300 wineries continue that tradition using a similar number of distinctive local grape varieties such as agiorgitiko and xinomavro (red) and moschofilero and assyrtiko (white). Oenophile hotspots stretch from islands like Santorini to mainland spots like Nemea and Naoussa. Excellent muscat dessert wines come from Samos, Limnos and Rhodes.
Retreats
Greece has a rich history of philosophical reflection - but rather than knotty problems of existence tackled by the likes of Plato and Socrates, visitors can now gain awareness in far less brow-furrowing ways with vacations centerd around Pilates, blissful yoga workouts and meditation in dreamy sunlit locales. Recalibrate your aura while sitting beneath fig and pomegranate trees, gazing over mind-expanding views.
Watery Nature
The island-dotted
National Marine Park of Alonissos
(northern Sporades) and Marine National Park of Zakynthos are just two of Greece's beautiful ocean nature parks, havens for endangered monk seals and turtles, plus key reef eco-systems. Back on shore, twitchers should head for brilliant watery avian reserves like the
Evros River Delta
.
Archaeology
6,000 years of history have dotted Greece with wondrous sites wreathed in myth and drama: oracular Delphi; sporting Olympia and the ancient theatre at Epidaurus; Mycenae, city of Agamemnon; Knossos on Crete, home of the minotaur. Add stunning gorge monasteries of Loussios and Meteora, Venetian forts, Ottoman and medieval gems. Plus, of course, the Acropolis, standing proud above Athens.
Beaches
Greece has beaches for every day of the decade not just year, so picking favourites is crazy. OK, here goes: Psili Amos on Naxos; Egremni on Lefkada, reached by a 347-step descent; Ikaria's Nas backed by a lagoon and ancient temple; the rose-tinted beach on remote Ereikoussa; Agios Dimitrios in the wonderful marine reserve on Alonissos. Enjoy finding your own.
Island Sailing
Greece has 1,200-6,000 islands (depending what size you count) - though 'only' 227 are inhabited. Plenty still for sailors to drop in on or just admire gliding by. Pick a cluster to explore: the Argo-Saronic near Athens; Cyclades (central Aegean); the North Aegean islands off Turkey; Dodecanese in the southeast; or Ionian, west of the mainland.
Cycling
With over 4,000km of coast road on the mainland alone plus an interior that's 80 percent mountains, Greece offers plenty for cyclists whether you want to pootle along taking in sea views or go like a bat out of hell down a remote hillside.
Package resorts
Greece has lovely seaside spots to vacation – they're the ones we offer. Sadly, there are also over-developed mass tourist bunkers big on noise pollution (and the other sort) and devoid of any sense of Greekness. In no particular (dis)order, special black marks go to Malia on Crete, Corfu's Kavos and Ipsos, plus Kardamena on Kos.
Athens
The Acropolis looms majestically over Athens but it often seems like beautiful icing on a rather grubby cake. Down below much of the Greek capital can feel like a crowded grimy traffic-choked sprawl, while austerity-struck museums have cut hours. And apart from a few wonderful bits near Thesseion metro, the 'famous' Monastiraki flea market is rubbish.
Plate smashing
Smashing plates is a tradition corrupted. Once a sign of abundance or passion (lovers broke a plate and each kept half to show their bond) it's now a tourist con. You get offered plates, then get charged for every one smashed. Plus it can be dangerous – shards fly in faces, people get hit by drunken throws. To show approval, yell "Opa!" instead.
Heat
We love warmth as much as anyone. But the high summer heat in Greece – particularly on the mainland – can tip you into dehydration or madness as the mercury hits 40°C and then keeps going, putting paid to fun things like hiking or biking (or breathing). In cities, it's even worse as the rays bounce off the concrete.
Eating & drinking in Greece
Greeks are generous hosts and if you are invited out, the host will expect to pay.

Plump dark Kalamata olives are a tangy Greek icon exported globally

Greeks love pies! Try tyropita (cheese pie) and spanakopita (spinach pie)

Traditional restaurant types include mayirio specialising in one-pot stews and baked dishes, plus mezedhopoleio which offer lots of small plate dishes (mezedhes).

Poet Giorgos Seferis was Greece's first Nobel winner in 1963 – then rallied protests against the country's 1960s/70s military junta.

Our top trip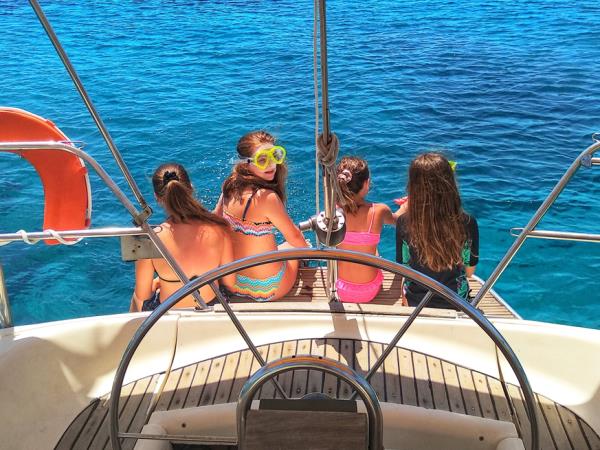 Cyclades multi-activity adventure vacation
From
£

1249

to

£

1545
14 days
ex flights
Tailor made:
This trip can be tailor made throughout the year to suit your requirements
If you'd like to chat about Greece or need help finding a vacation to suit you we're very happy to help.

People & language
The Greek alphabet may bamboozle many visitors, appearing like a no-holds-barred fight between a few 'normal' letters and the sort of symbols you had nightmares about in science classes. Thankfully, speaking it is easier, and knowing a few words will be appreciated.

'Hello' is pronounced ya-sas,
'please' is para-kalo,
'thank you' is ef-ha-risto.
'Yes', confusingly, sounds like 'no' – neh.
'No' is o-hi.
'Do you speak English?' is mi-lah-te an-gli-ka?

Spoken for 4,000 years (and written for 3,000 years), Greek is Europe's oldest language. Globally, only Chinese is older.
Gifts & shopping
Greece makes excellent wine – Naoussa and Santorini have some particularly fine options.

Carved objects made from olive wood are beautiful vacation mementoes for your home.

Olive oil made by small producers is a perfect gourmet gift.

On the islands in particular you'll find beautiful hand-made leather bags as well as textile products like table cloths.

Greeks have a long history of relaxing using worry beads (kompoloi) and there are some beautiful examples to buy – there's even a kompoloi museum in Nafplio


Greece has over 6,000 species of wildflower, some unique. There are more than 100 varieties of orchid alone!

How much does it cost?
Meal for one in inexpensive restaurant - £7

1.5l bottle of water – 50p

Big cup of Greek coffee - £2.50

Train ticket Athens to
Thessaloniki - £30

Bottle of excellent Greek wine: £8

A brief history of Greece
Its classical period was turbulent enough, from epic tussles with Trojans and Persians to conquest by Rome - but modern Greece has not had it easy either. Recent years have seen the country racked by protest over crippling austerity measures imposed by richer European states and the IMF to try and sort out an economy that had long sailed a wobbly course. Its problems were deep-seated: huge public service sector with insanely generous employment terms; a fragile and significantly rural economy; massive tax-dodging. The huge cuts imposed on Greece, however, have caused social strains from which the country is still trying to recover.
Read more