Crete travel guide
---
2 MINUTE SUMMARY
There is a very common suffix on Cretan surnames – that of 'akis'. It goes back to the island's 250 year old Turkish occupation when local people were forced to add 'akis', meaning 'little', to the end of their names. To make them feel small. Wrong. There is nothing small about Cretans, nor their spectacular island where there are no less than five mountain ranges. The most famous is the White Mountains where a gamut of gorges and gushing rivers never fails to astound those who thought Crete was just about beaches. Crete is Greece's largest island and home to Europe's longest gorge. Plus the people are a towering strength when it comes to creating tourism that's worlds apart from the resort ravages it has become known for. Far from diminutive, Cretans are in fact people to look up to. And this Crete travel guide is an introduction to many of its highpoints.
Crete is...
like Brittany to France, Cornwall to the UK, Catalonia to Spain:
a whole other world to the rest of Greece
. Culturally, naturally, historically. And beautifully.
Crete isn't...
dominated by resorts with 'hidden beauties' on the side
. Its mountains, gorges and all round gorgeousness far upstage the pockets of overdeveloped debacles.
Crete map & highlights
---
MAKE THE MOST OF YOUR TIME
Go west for the best. That could be Crete's motto except the tourist board is unlikely to stop promoting the eastern promise of all inclusive resorts and concrete commercialism.
With the island's magnificent White Mountains creating a dramatically beautiful and natural divide between the stunning mountains, gorges and remote villages of the west, and the resort ravages of a stretch of the east, you will feel as if you are on another island altogether. Chania is the finest town in the west, with hiking, archaeological and wine trail expeditions all within easy reach.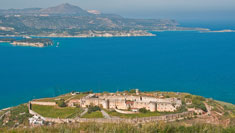 Aptera
There is a strange dichotomy at Aptera, an astounding archaeological site. With remains of a 2nd century Greek temple and a 7th century BC city, destroyed by an earthquake but revived during Byzantine times, it has stunning hilltop views over Souda Bay. A bay that's now a NATO base and where, sporadically, a jet fighter speeds across, creating rumbles among ruins that have far outstood the test of time.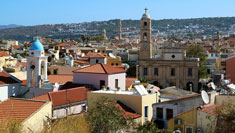 Chania
With an old center that's an ancient arcadia of Venetian and Turkish architecture, as well as its famous Venetian harbour and lighthouse, it must be one of Europe's most beautiful waterfront urban utopias. The market is craft central and the old streets are havens for authentic artisans, such as fine leather and wood workers (kids will love the handcrafted catapults). It is also gateway to a lot of the gorge walking.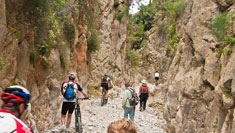 Imbros Gorge
Smaller than Samaria but still perfectly formed with a lot fewer visitors too. It is 8km long and doesn't take all day, making it family friendly to hike while still giving you a magnificent few hours enveloped by Crete's most dramatic landscapes. It has historical importance too, as allied troops walked through here in 1941 to escape Nazi occupiers, helped along by the island's strong resistance movement.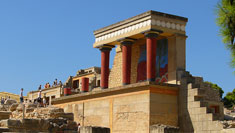 Knossos
Just south of the island's capital, Heraklion, this is a superb archaeological site of Minoan palaces that was uncovered in the early 1900s. Although controversially, as many experts will tell you. It gets packed with coachloads in summer, so get there early. It opens at 8.30am or take a picnic supper and head there for dusk. There are excellent, private, licensed guides to hire, and it really is worth it.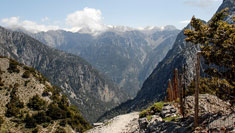 Samaria Gorge
This makes up most of the White Mountains National Park, sometimes known as Samaria Gorge National Park, it is Europe's longest gorge at 16km. For hikes, start from Xyloskalo and, after 6-8 hours (mostly downhill, but rocky and tricky) you arrive at the coastal village of Ayia Rouméli. In between gawking at the towering rock faces and bevy of birdlife keep an eye out for Cretan wild goats or 'kri kri'.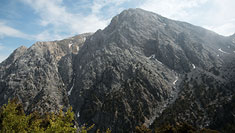 White Mountains
Aka Lefka Ori, these are Crete's heart and lungs. It's where gushing rivers are sourced, wildlife thrives and traditional agriculture survives. 30 peaks top 2,000m, the highest being Pachnes at 2,453m. Stay in the foothills to discover enough hiking to keep you going for months, sublime sleepy mountain villages and over 50 gorges to trek through, as well as elevated plains that take you back down to swim time.