Sailing vacations in Greece travel guide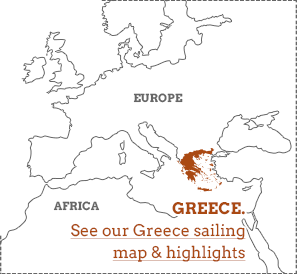 For perfect peace in Greece, you should be on the water. Whilst the land gets hot and busy, there's plenty of sea to go around, and discovering it under sail is the best way to go. Sailing in Greece, you'll be able to visit the little ports and uninhabited islands that get neglected by the local ferry routes. You'll be able to go where most people can't; that beach under the cliffs is suddenly just a short swim away, and snorkelling is only a few flipper-kicks off your mooring buoy.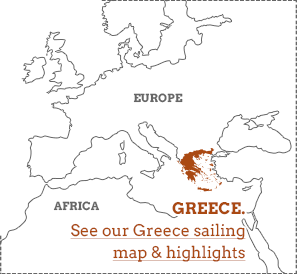 Wet footprints on the deck dry in seconds under the white heat of the sun. The sail flutters, spilling wind, then catches the breeze again. A general cheer erupts when you hit ten knots.

After a day on the water, stay late on the island of your choice and dine in the tiniest local restaurant; you won't worry about missing the last ferry home. Greece is the original flotilla and bareboat sailing destination, but civilisations have sailed here for millennia. The Minoans did it first – but you'll do it better.
Our Greece sailing Vacations
Go on a sailing vacation in Greece if...
You love a classic. Greece has been a top sailing destination for decades, and the cradle of the classical world for thousands of years.
You don't mind skimping on facilities. For every glamorous Greek marina there are scores of simple town quays and remote moorings. You won't get power showers, you won't always get shore power – but you will get to see some wonderful places.
You want to get off the beaten track. Sailing vacations often take you to lesser-visited places, like the Lesser Cyclades and Meganisi, into coves too small for other boats. You won't stay in Kos, Santorini or Mykonos Town for long.
Don't  go on a sailing vacation in Greece if...
You get seasick. You'll live on board, and below deck can feel quite roll-y, even in calm weather. You'll only sail in calm conditions, but this won't reassure very delicate stomachs. You like your alone time. Yacht sailing isn't a solitary pursuit and you'll be living in close quarters with others. Even Ulysses had a crew, after all. You want to party. There are vacations that combine sailing and scuba diving. There are vacations that combine sailing and climbing. Sailing and clubbing? Not so much.
What do sailing vacations in Greece entail?
First off, you don't need to know your bow from your bowline to go sailing. Plenty of sailing vacations come with a fully crewed boat. Normally, boats are small enough to be sailed by just one or two crew, a skipper (often a local, who might also double as your tour leader) and maybe a mate, and accommodate between two and 11 passengers. Having few crew keeps the cost of your vacation down, but might also mean that you'll be part of the cooking rota, preparing meals for your group, and you might need to contribute to a small group kitty to buy groceries. But you're on vacation: you won't be slaving away in the galley every night as there are plenty of local restaurants to try, too.
If you're sailing in a larger gulet you may have up to 20 guests on board and more crew. On most crewed boats you don't need to lift a finger on deck, but if you say you'd like to help, you might get roped into taking in fenders, coiling warps (lines), and keeping watch. If you want to get really stuck in to the business of sailing, opt for a 'learn to sail' vacation, or
sail on flotilla
. If you've already got a qualified skipper (captain) in your party, you can flotilla and bareboat on your own. Unless specified, most cruises are round trips. The boat will have a permanent berth in a marina which it returns to after the week – this is true of flotilla, bareboat and crewed vacations.
Sailing can be as participatory or as sedentary as you want. At its most relaxed you could take a luxury gulet cruise in the Aegean and lie under the awning on a huge shady aft deck. If you're craving recreation, combine sailing with cycling, or wildlife on a sailing and conservation vacation in the Cyclades, where you might spot monk seals on Polyegos and follow dolphins to Despotiko (an uninhabited island – the kids will no doubt put that to the music of Despacito!). If you
were to pair sailing with yoga
, you could try out a unique 'water massage': get pulled behind the boat whilst it's under sail. You can't do that on your average yoga vacation.
If you're traveling as a family, a flotilla vacation (skippered or not) is a great way to go, as you'll get your own boat, but you'll be able to socialise with the families on the other boats in your group in the evenings.
Note that most of the sailing boats used in Greece are on the small side. You will need to adapt to less space than you'd get on a small ship cruise. Commodities like water and electricity are used sparingly: Greek islands often face water shortages in summer, so treat water as a precious resource. The sleeping quarters are snug, and the heads (bathrooms) are shared and very basic; sometimes they come with a hand-pumped toilet. The best way to get the most out of the boat is to stay up on deck. You'll sail relatively short distances every day, with plenty of stops for swimming or for running the tender (a motorised dinghy) ashore to explore. You won't really have time to contract cabin fever.

If you've come sailing in Greece, chances are you're there to enjoy the country's natural beauty in full: by being a responsible sailor, never throwing anything over board, and collecting any litter you see on the beaches. Sailing is a very environmentally-friendly way to travel and most sailors really love getting the mainsail up and keeping the motor off. But you might not always be able to go everywhere with windpower. You may find your route gets altered in bad weather, so prepared for slightly flexible itineraries. But this is Greece and bad weather is rare, so let the good times roll.
What to bring on a sailing vacation in Greece
The secret to a happy sailing vacation doesn't come from your suitcase. You should pack as light as possible in a soft-sided bag that's easy to store. More cabin space trumps the need for a hairdryer or three pairs of jeans. But one thing you shouldn't skimp on is sun protection: bring lots of marine-friendly, water-resistant sun cream (these don't contain Octinoxate and Oxybenzone, both of which contribute to coral bleaching), plus sunglasses and a hat. You'll want swimsuits and shorts and t shirts for hanging out on deck, and clothes for long, convivial evenings in local tavernas. You might want some trainers for exploring inland, whilst if you're participating in the sailing equip yourself with some non-marking deck shoes; you may also want sailing gloves. At night in spring and autumn, temperatures might cool enough that you'll want a jumper or light jacket and light sleepers might benefit from ear plugs as the lines creak on the cleats and the boat clanks gently in the night. Apart from that? A pack of cards, a good book: anything to entertain you on a low-tech high-quality vacation.
Our top Greece sailing Vacation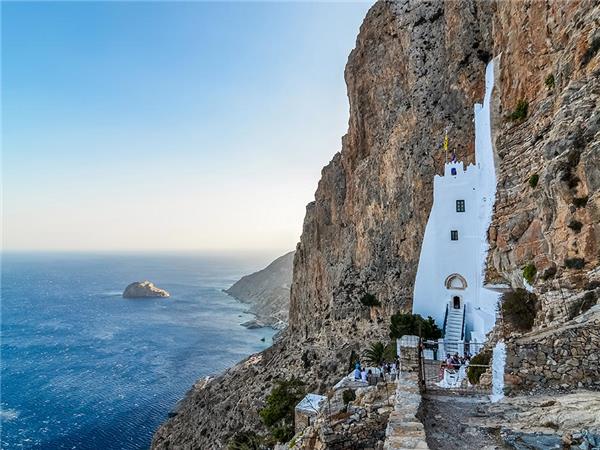 Discover a side of Greece riddled with myth and magic.
From
US $

4955
9 days
ex flights
Small group travel:

If you'd like to chat about Greece sailing or need help finding a vacation to suit you we're very happy to help.

When is the best time to go on a sailing vacation in Greece?
The best time to go on a sailing vacation in Greece is between May to October, the main season. This is when the weather is best, though by high summer, strong winds can rise in the afternoons in the Aegean and novices may prefer to stick to the Ionian Sea. However, if you're sailing with a skipper, you won't have to worry about the forecast, as they'll choose the best, safest route for your trip. The sea temperature rises slowly, getting lovely and warm by high summer, and staying warm into October. Autumn is a nice time to go sailing in Greece; in fact some routes only run late in the season – mostly to avoid the crowds in popular places like Rhodes and Kos.
Sailing vacations in Greece, month by month
Main sailing season starts in May in Greece, and runs through to October.
The best time to see dolphins is between March and October, particularly in the Ionian Sea.
May is one of the best months to go sailing in Greece as a novice – there's less traffic, so you don't have to keep such an exhausting watch if you're learning to sail on flotilla, and there's less likelihood of strong winds. Plus: it's cooler and cheaper, and islands such as the Cyclades will be covered in wildflowers. The only downside is that the water will still be a little chilly for swimming.
If you're planning on scuba diving and sailing, the water is getting nice and warm by June. Summer vacations start in Greece this month. Greek school children get three months off, so expect a bustling, happy vacation atmosphere on the islands.
In July and August, offshore Greece isn't as meltingly hot as you'd expect – thanks to the meltemi. This strong wind comes from the north over the land and wraps your boat in a dry, cool air, getting stronger throughout the day. Expert sailors will go straight out to sea to dance. Novices might want to stay close to the coast.
It's thanks to the meltemi wind that the Aegean Regatta runs in August, from the island of Skyros.
September is cooler and the sea is a lovely swimming temperature. In Santorini, look out for fireworks above the island at Ifestia Festival; you might be able to see them from your boat. Some sailing vacations in the Cyclades only depart in September and October to avoid summer crowds.
Most sailing operators in Greece end their dates by early October but some continue to run until the end of the month.
More about Greece sailing