Bareboat vacations in Greece
A bareboat sailing vacation means that you charter your own sailing boat, and do what you want with it. There's no strings attached (except the ones holding the mast up). Bareboat sailing can be one of the most adventurous ways to explore Greece under your own steam. Even if you've been to Greek islands countless times before, going by bareboat is completely different; you'll get to see remote coastlines and little coves that you'd never get to on someone else's schedule.

On bareboating vacations, Greece really does bare a bit more of its soul.

Skippering your own boat unsupported requires a bit of experience. To charter a sailing boat without a skipper you'll need to have your
RYA Day Skipper qualification
(or an ICC – an International Certificate of Competence). Alternatively, you can hire a skipper to travel with you. Bareboating is generally suited to fairly confident sailors, but sailing in Greece is not that challenging. If this is your first bareboat charter, the Ionian or Saronic Islands are a great place to dip your toe in the water.
What does bareboating in Greece entail?
Bareboat vacations in Greece usually run for a week starting on Saturdays. Yachts are typically modern, and a brand called Jenneau is used everywhere. You can choose a boat for two, or a bigger catamaran for up to 11 people. You'll meet your yacht in the marina and get a full safety briefing, weather report and plenty of information about the ports of call.

Next up, it's provisioning time. You'll be pointed towards the nearest supermarket where you'll want to pick up lots of delicious local fruit and vegetables, cheeses and bread. Breakfast? Yoghurt drizzled with local honey, or slices of fresh fruit. Lunch? A picnic on the nearest beach. Lots of Greek islands have mini-marts and bakeries so you can top up en-route. Every island will have different produce, though olives, cheese, bread and fruit and vegetables are never hard to find.

You'll spend the night in the marina before heading off on your adventure. Wave goodbye: you'll be back, bronzed and windswept, in a week but from now on, where you go is up to you. There should be a mix of easy line-of-sight sailing and challenging open-water passages on your journey. Perhaps spend the morning cruising to a lovely lunch spot, and reserve the afternoons for more challenging sailing as the winds rise. You'll have a GPS on board, but you can practise navigating by charts and landmarks too.
Lunch time
As lunch time approaches, prepare to get wet. Once you've anchored your boat you won't be able to resist diving into the water from the stern. Put on a snorkel mask and swim down to check your anchor's sitting nicely on the bottom. You might even want to swim to shore. Stuff some money and some flip flops in a wetbag and be on the beach before your tender gets there. Try and use mooring buoys where available. Not only are they easier to pick up and more reliable than an anchor, but they stop you damaging sea grass beds on the sea floor.
Mooring time
Mooring is always the trickiest part of sailing for many skippers. If you're planning to come to a town quay for the evening you won't be able to reserve a space – these are first come, first served. There are some tiny, tight harbours in Greece, and smaller ports won't always be organised and ready to help you, so you'll have to be ready to moor by yourself. The upside is, in lesser-visited places you might not always have to pay a mooring fee.
Dinner time
It's great to try out local tavernas if you're mooring on a town quay for the night – especially in quieter ports which don't get much traffic. Try and track down restaurants that aren't just open for the tourist season – these are more likely to be locally run. Put some money into the local economy, and try the local specialty in return: you'll come away feeling great, perhaps with a new penchant for roasted goat. Learn to say stemi yasass ('your health!') – a toast best pronounced before consuming a large glug of raki.

Whatever you do on your week of bareboat freedom, try to be flexible. You might not always find a mooring where you want, or the weather might not be on your side. One day the wind might be blowing from the exact place you want to get to, or blowing big waves straight into a normally sheltered anchorage. You've just got to go with the flow (or the blow, in this case) and choose a different destination. You will be able to contact the support team at your marina if there are any serious problems.

Whilst you're underway make sure to keep your eyes peeled for wildlife. Greece's bareboat charters partner with conservation organisations to keep tabs on monk seal and dolphin populations. They often ask bareboaters to report back on any sightings at the end of the charter.
Our top trip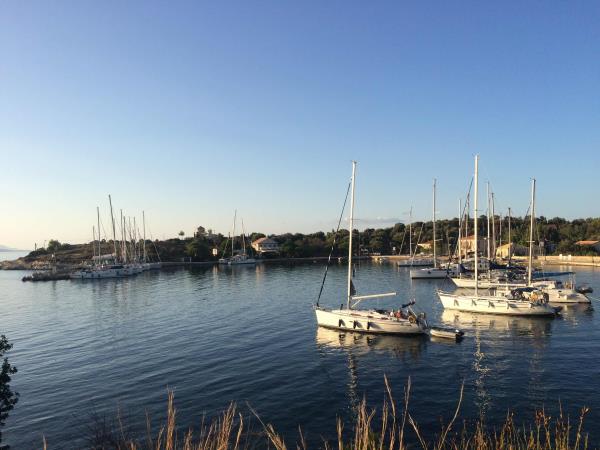 Sailing trip for families/friends in Greek islands
From
£

750

to

£

960
8 days
ex flights
Small group travel:
2024: 26 May, 2 Jun, 16 Jun, 30 Jun, 7 Jul, 28 Jul, 4 Aug, 11 Aug, 25 Aug, 1 Sep, 8 Sep, 15 Sep
If you'd like to chat about Greece sailing or need help finding a vacation to suit you we're very happy to help.

When to go bareboating in Greece
Bareboat charters operate when Greece's weather is at its safest and most stable, which is why you usually won't find charters operating after October, or before May. If you're less confident, sail early or late in the season – this way you'll get quieter passages and your pick of the easiest berths, and you'll avoid the strong meltemi winds, which descend on the Aegean between June and September. The summer months are the most expensive, and the hottest, but the sun is less fierce, and the sea temperature still lovely come autumn. There's nothing quite so smug as sailing in late September when everyone else is 'back to school'.
Where to go bareboating in Greece
The Ionian Islands don't have a great reputation for strong winds – which is why they're a great first time flotilla destination. But don't dismiss them completely: Corfu, to the north has fantastic open water sailing. Breeze between Corfu and Paxos, or Corfu and the Greek mainland; the afternoons generally have the best wind. The Saronic islands are where flotilla and bareboat sailing vacations started, and can get 16-20 knots in the afternoons. Sail in the Aegean between June and September and you'll benefit from the meltemi. This summer wind is a late riser – but when it gets up you'll enjoy some fantastic afternoon sailing.
Lucy Wade, from our specialist sailing vacation company Sunsail, breaks down bareboating:
Bareboat itineraries
"The suggested itineraries that we have included within the details of our trips are just an indication of what the customers can do and see whilst out on one of our bareboat charters. This is completely flexible and can be amended to the customer's preference. On arrival at the base they will have a full chart briefing with the base staff, where they find out what the destination has to offer including top snorkelling locations, most beautiful beaches and best places for land based activities. They can decide if they would like to amend the route that has been suggested or keep it how it is."
Booking your berths
"On bareboat charters the moorings/berths are not pre-booked unlike the flotillas. This may mean in peak season, we will suggest arriving earlier in your chosen destination for the evening to avoid disappointment."
More Greece sailing articles