There's just something about walking in Greece that expands the sensual appetite. Maybe it's the ocean breeze; goat bells in the mountains; perhaps the scent of wild junipers or tassel hyacinths or those Aegean aspects against snow white hillside villages; whatever it is, walking in Greece is a feast, a banquet, and deserves all accolades from Zagori on the mainland to Santorini in the Cyclades.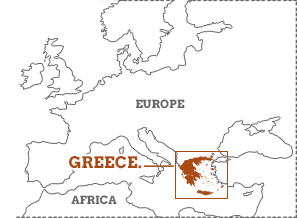 Get away from it all on a walking vacation in Greece and dive into a world where the sea seamlessly blends with the sky, and mountains once provided a playground for the gods.

Walk in Greece as part of a small group, with a local guide, and you'll share an experience with knowledgeable tips and smiles that stem from years of natural passion. Self guided walking vacations or fly/drive options let you discover Greece under your own steam with detailed trip notes instilling confidence as well as local recommendations to keep an eye out for along the trail. Whichever vacation you prefer, walking in Greece is for the senses what Homer's Odyssey is for the mind.
Find out more in our guide to Greece walking vacations.
Walking in Greece map & highlights
There are over 6,000 islands in Greece with some of the best walks to be found within the 220-island archipelago known as the Cyclades, which includes Santorini, situated southeast of the mainland. The largest island in the Cyclades, Naxos, is a walkers' paradise with exceptional Aegean views from the walking trails on and around Mt Zas (Zeus) and the entire west coast a series of sandy beaches. On the mainland, the foothills around Mt Pelion on the southeast coast as well as Mt Olympus, offer a variety of rugged, forested trails whilst the Zagori region, 500km northwest of Athens, accesses the gorges of Vikos-Aoos National Park to take self drive walking tours to a whole new level.
Andros & Tinos walking in Greece
1. Andros & Tinos walking in Greece
The islands of Andros and Tinos are among the greenest and lesser-known of the Cyclades group. Andros has 300km of marked trails leading you between villages and secluded beaches, over wild landscapes, and through olive and cypress groves, thickets of blackberry bushes and wild acorn trees. Tinos, meanwhile, is known for its lavish pigeon houses, a tradition dating back to Venetian times.
2. Corfu walking in Greece
Forget the mega resorts that cluster on the north and east of this gorgeous Ionian island. Instead, embark on a section of the Corfu Trail, a 220km route that snakes upwards from the far south, skirting the west coast until it reaches the northern tip. Small group walking tours accompanied by guides drawn from local communities are the best way to escape the cruise crowds.
3. Crete walking in Greece
Walking is the best way to explore Crete, where coastal paths wind between remote beaches and fishing villages, and inland routes take you through the White Mountains and Ibi Mountains. A highlight of walking vacations in Crete is Chora Sfakion, a village at one end of the Samaria Gorge that was once a haven for smugglers and brigands. Walks can be combined with yoga or kayaking.
Kefalonia walking in Greece
4. Kefalonia walking in Greece
As the largest of the Ionians, Kefalonia offers an abundance of choice for walkers including a fantastic circular trail from the harbour village of Fiscardo through the cypress forests, agricultural patchworks and secluded swim spots of the north. Rugged mountain trails lead from one rustic village to the next with olive groves and Venetian ruins leading to beaches, fishing ports and supper at a seaside taverna.
Kythnos walking in Greece
5. Kythnos walking in Greece
Just two hours from Athens, Kythnos is criss crossed with mule tracks to take walkers on an odyssey of wild landscapes scattered with sheep and goats, and punctuated by whitewashed churches and the occasional Byzantine castle ruin. A low terrain (300m max) still provides exceptional views with sandy beaches and local tavernas always welcoming after a 10km walk around the headland.
6. Naxos walking in Greece
Naxos is the largest of the Cyclades and boasts the archipelago's highest peak, Mt Zas (Zeus), at just over 1,000m. This is the island where Zeus reputedly spent his childhood although these days it's the walking trails through fields of orchids, cork trees, wild herbs and spring-fed valleys that command attention, alongside Aegean views from mountain villages such as Apiranthos, Kaloxylos and Koronos.
7. Pelion walking in Greece
Beech, oak and maples adorn Mt Pelion, in central Greece, and you'll soon discover the sandstone carved monasteries of Meteora and legendary seafood lunches at Kala Nera village, via hiking trails and circular walks around the mountain's foothills. Smoothed stone paths through chestnut groves take you down to Damouchari whilst views from Makrinitsa make magical myths all the more real.
Santorini walking in Greece
8. Santorini walking in Greece
Standing out amongst the Cyclades is no mean feat but Santorini certainly does with a 10km walk from the main town of Fira around the rim of a volcanic caldera inviting visits to the villages of Firostefani and Imerovigli as well as a sunset serenade from the whitewashed hillside town of Oia. Venetian ruins, black sand beaches and those quintessential visions of Greek island loveliness.
Zagori Region walking in Greece
9. Zagori Region walking in Greece
Walk within the Zagori region of northwest Greece and become immersed in the dense forest canyons, deep caves and gorges of Vikos-Aoos National Park – Dragon Mountain Lake is particularly impressive. Then explore over ancient stone bridges and cobbled stone footpaths which lead to a collection of traditional Zagori villages, such as Mikro Papigo – a great base for self drive walkers.
What does a walking vacation in Greece entail?
Island or mainland?
Walking vacations in Greece, both small group and self guided, can include island hopping, around the Cyclades, for example. Public ferries, small boats or chartered, liveaboard sailing boats, take passengers to islands well off the classic tourist trail for one or two days spent exploring, coast to coast. Alongside Aegean views, sleepy fishing villages and deserted sandy coves, walking on the islands unveils many of the myths and legends that make Greece such a magical place with Ulysses on Lefkada and Zeus on Naxos adding further insight to your own personal walking odyssey. Mainland Greece also provides a wealth of natural and ancient treasures with the foothills around Mount Pelion and the northwestern region of Zagori both offering walkers archaeological sites, monastic retreats and rugged scenery to complement a variety of distances and gradients.
Centre based or point to point?
Small group and self guided walking vacations in Greece can be center based – so you sleep in one village or town for the duration of the trip and walk from your doorstep or be driven to the start of a trail each day. Alternatively, itineraries can take you from one location to the next, with luggage transferred to be waiting for you on arrival i.e. point to point. Centre based walking vacations give you an added feeling of familiarity, like returning home at the end of each day, where you can flop on the bed or find a favourite spot to read, unwind or join in a card game before or after an evening meal. Point to point requires packing up your stuff before you leave each day however, staying somewhere new each night can be really fun and also allows you to get deeper into the countryside as you explore in mountain ranges or walk further along the coast. Accommodation will usually be in small, family-run hotels or guesthouses which have been hand-picked for their traditional character, comfort levels and relationship with both the local community and surrounding natural environment.
Small group or self guided?
Many of our small group walking vacations in Greece have spaces for just six to eight travelers, and will run with a minimum of two people. On these trips you will be accompanied by a local guide. Other tours are organised on a self guided basis with detailed trip notes to accompany travelers on the trail. Self guided walking vacations can also be run on a fly drive basis where you'll hire a car and follow instructions on how to get to your accommodation before deciding which walks to undertake, then depart for your next location after perhaps a day or two. There are several benefits of each type of tour with chances to get to know your local guide, and therefore more about where you're walking and what you're experiencing, certainly one feature of guided, small group vacations that rings true with many of our responsible travelers. Small group walking also gives you the chance to meet new people with similar interests – walking, for one – and it can be quite amazing just how quickly a group bonds and friendships form over roast lamb or glasses of ouzo.
If you'd like to chat about Greece walking or need help finding a vacation to suit you we're very happy to help.

More Greece walking articles