Best time to visit Greece

From sea-breezy islands to snow-capped peaks and sun-baked plains, Greece offers a panoply of climates to suit everyone.

The best time of year to visit Greece is summer (July to September) with idyllic weather for island-hopping, small ship cruising or hiking in cooler mountain landscapes. Archaeological sites, as well as beaches islands and walking trails, are less busy in spring (April to June) and autumn (October and November), and the weather is often blissful. These months are also the best time of year to visit Greece for hiking on, islands such as Santorini and Crete. Spring means wildflowers, while autumn colour is augmented by harvests – from wine and olives to wild mushrooms. April to October is the best time for sailing in Greece.
January and February aren't terrible times of year to visit Greece and you'll find much more space in and around the popular ancient ruins and archaeological sites of Athens, Crete and the Peloponnese. Some of the local haunts really come alive in the winter and there's many a good night out to be had on the mainland or even on the islands, if you're brave enough to make the often choppy ferry journey. March and April promise more of the same with some excellent conditions for walking across country tracks or heading to the sites and temples famed the world over. However, be aware that Easter in Greece is big business and a great many towns and villages will either shut up shop or hike up prices in readiness for the religious hordes descending for family festivities. May has been coined the best time to go to Greece thanks to the abundance of wildflowers to be found in the countryside and the warmth of the sun making it simply stunning for hikers and cyclists, although sea swimmers may want to wait just one more month before taking the plunge. June, July and especially August can be really oppressive temperature wise and the searing heat makes walking and cycling pretty much off limits as do some of the Brits, Russians and Germans flocking to the well-publicised Greek party islands. September and October are both the best time to go to Greece with warm conditions both at land and at sea promising a much more authentic representation of a Mediterranean island paradise as well as every chance of watching whales or sailing competitions. November and December return the people of Greece to something resembling normality with the traditions of Christmas much less about materialism and much more about spiritualism than certain other European countries that we'll leave unmentioned.
Our top Greece Vacation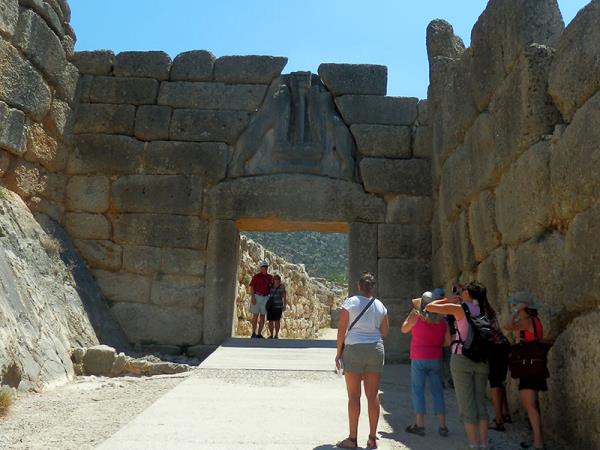 A small-group archaeology tour of Greece
From €1390 8 days ex flights
Small group travel:
2023: 7 Oct, 14 Oct, 21 Oct, 28 Oct
If you'd like to chat about Greece or need help finding a vacation to suit you we're very happy to help.

What happens when in Greece
Chantel Kyriakopoulou-Beuvink from our supplier Natural Greece explains why she believes Easter is the best time to visit Greece – especially Crete: "The celebration of Orthodox Easter (Pascha) in Crete lets you participate in magnificent festivities unchanged for centuries! Hear hymns while the scent of incense accompanies the Good Friday procession. Next day feel the eerie atmosphere at midnight when everyone holds candles, waiting for church bells announcing Christ's resurrection. Next comes fireworks in the church square, followed by Easter eggs and eating "Margaritsa" soup! Celebrate like you have never done before, with traditional dance, music - and roasted lamb on the spit!"
Festivals & events in Greece
Athens and Epidaurus Festival (June-August)
Every summer, Greece celebrates its role as birthplace of Western theatre with performances at historic venues – most famously, the magnificent ancient theatre at Epidaurus but also the Odeon of Herodes Atticus on the Acropolis. It's a unique chance to see plays by Sophocles, Aeschylus, Aristophanes and Euripides staged where they were first performed 2,500 years ago.