Small ship cruising in Greece guide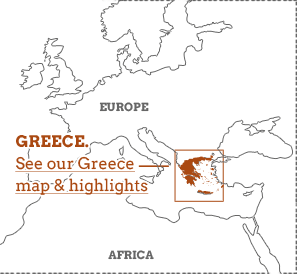 Greece's history is totally tied up with ships. From magnates to Homer's magnum opus, these guys know all about journeying across the sea, and so do our small cruise ship operators. These vacations are the antithesis of giant cruise ships which disengage from local communities rather than engage. Where those skippers steer their behemoths clear of real culture, our captains drop anchor at the same time as a small island's fishermen, so that you can eat the catch of the day at the island's only taverna. You get the picture.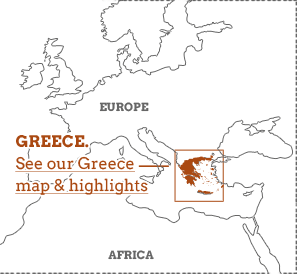 You follow in the footsteps of just about every Greek god on a small ship cruise. Pan, Zeus, Apollo, Athena, the lot. It's as if your skipper is guiding you into the lap of the gods.

There are different island groups to choose from, volcanic or hedonistic, natural or indeed naturist. But whichever one you choose, you can be sure that these itineraries will take you to the heart of Greece, following the most exquisite arteries en route, be it the Ionian, Aegean or Mediterranean.

Read more in our Greece cruising vacations travel guide.
Greece small ship cruising vacations are/aren't
Greece small ship cruising vacations are...
...on both classic and contemporary boats, sleeping no more than 50 people, sometimes under ten.
Greece small ship cruising vacations aren't...
...all about the ship. If you love the land as much as the water, then these will tick all the boxes for you.
Is a Greece cruising vacation for you?
Go on a small ship cruise in Greece if…
… you want to explore Hellenic heaven but don't want to do so with hundreds of other passengers. Small ship cruises sleep between four and 50 passengers.
… you want to go on your own Greek odyssey through ancient times. Small ship cruises don't just touch base with Poseidon's world, but also the world of Venetians, Byzantines and Romans. The Peloponnese has beautiful ancient sites in just about every port.
… you love land as much as sea. There are plenty of excursoins on small ship cruises, and not just to souvenir or ice cream stops. Hike on the volcanic Cyclades, snorkel in the delectable waters of the Dodecanese or go mountain biking on Corfu.
… you want to combine Greece with other coastal countries. Cruise the Adriatic in eight days taking in Croatia, Montenegro, Albania and then Greece. Or dawdle around the Dodecanese, starting in Turkey.
Don't go on a small ship cruise in Greece if...
… you don't worship the sun. Most small cruise ships travel in the height of summer. So be aware that the months of June, July and August can hit the 40°Cs. You will have a sea breeze of course, and the skipper anchors in sheltered spots when possible. Spring and autumn cruises are stunning though. … you want the facilities of a giant cruise liner. These vacations are all about discovering quiet inlets, coves and local culture. … you aren't sociable. Some boats may only have eight passengers on board, but even with three times that, boat life is real life. Your cabin will be a beautiful cocoon of course for moments when you want your space. … you like a party boat. Some trips take you to lively spots such as Mykonos or Corfu for a night in port, but otherwise it is all about chilling, star gazing, swimming and dining on deck or on the beach together.
Our Greece cruising Vacations
If you'd like to chat about Greece cruising or need help finding a vacation to suit you we're very happy to help.

Best time to go on a Greece cruising vacation

Our trip coincided with the Cyclades' 'panigiria' celebrations on 15 August. There was wine and food flowing, and all for local people. Nothing touristy about it.

The skipper really is boss when it comes to choosing the best time to go on a small ship cruise in Greece. Generally, the season is from mid April until mid October, when the islands are all open for business. Temperatures soar during Jul-Aug, and wildflowers abound on many of the islands in May. During Sep-Oct, crowds disperse on land, temperatures dip and the water is perfect. Easter is a really busy time on the islands, but being on a small ship is a great way to evade the crowds.
When to go cruising in Greece
The Cyclades and Peloponnese burst into colour in May when wildflowers cover the hillsides. If there is a cruise date in April, you may also catch the wild orchids which are coming to the end of their season. Although the wildflowers tend to dry out during summer months, in September you will see plants and flowers such as sea squills, pine thistle and autumn crocus in the Cyclades. July and August may be hot, but you will get an aroma of dried, wild herbs on many of the islands. Keen swimmers may want to hold off until early June to let the sea warm up properly. The best time to see dolphins is between March and October, particularly in the Ionian Sea. 15 August is an important religious festival known as Dekapendavgoustos, when islands and small communities all celebrate with their own traditions. The feasts are called panigiria. October brings not only cooler temperatures but also fewer people at some of the great sites such as Epidaurus or Mycenae on the Peloponnese peninsula. Easter in Greece is big business and many towns and villages will either shut up shop or hike up prices. Some small cruises don't start their season until after Easter, depending on when it falls. Santorini in the Cyclades loves its cultural festivities, and many take place during summer. See if any of the following fall within your cruise dates: Megaron Gyzi Arts Festival in the first three weeks of August; Santorini Jazz Festival in July; Ifestia Festival in August is all about the volcano, with a lot of fireworks going on; and The International Music Festival is in September.
What does this trip entail?
How big is a "small" cruise ship?
How big is a "small" cruise ship?
Our Greek small cruise ships range in size from four to 50 passengers, and also vary in style. Cruise the Adriatic on a luxury, 52m motor yacht, sleeping 39 passengers and with large sun decks. Saunter round the
Cyclades
on a handsome, 50m classic steel hull motor sailing boat, sleeping maximum 50 passengers. Or sit proudly on the deck of a sleek and contemporary chic motor yacht as your skipper drops anchor in the
Peloponnese
, again sleeping no more than 50 passengers. For even fewer people, head off around the Dodecanese Islands on a traditional
gulet vessel
, sleeping either four or eight passengers on board a boat measuring between either 21m or 30m.
What are the cabins like?
What are the cabins like?
On all small ship cruises in Greece there is a mix of twin and double rooms, with a queen sized bed the norm in doubles. Furnished stylishly with quality linen and carpets, they are en suite and usually with air conditioning (but always double check – the traditional gullet ships don't usually have air con, but do have airy cabins). You can usually choose between an an upper or lower deck cabin, and you may have port holes or large windows, depending on the category you choose or budget for. But whatever you choose, you can depend on comfort and style when going on a small ship cruise in Greece.
Can I travel solo?
Absolutely. This is a very sociable trip for solo travelers. If you are traveling alone and there are no single cabins, you usually have two choices: pay a substantial supplement for your own double cabin, or choose to share a twin cabin with someone of the same gender, at no extra cost. If the cruise is not fully booked, you may get lucky and end up with your own double cabin without paying a supplement, but there are no guarantees. Check with your cruise company to see if it is possible to reserve a specific cabin in advance.
What will the food be like?
What will the food be like?
Responsible, small ship cruises embrace local culture and the local economy, so produce is sourced locally by the ship's crew when possible. From fruit juices to fish, local lamb to olives, you will get a real taste of Greece on board. You may not have all meals on board either, encouraging you to eat locally in small island tavernas. Wine at meals is not usually included and can be expensive on board.
Can I travel with my children?
Can I travel with my children?
Families are welcome, although some tour operators do have a minimum age. Cruising on a traditional gulet through the Dodecanese Islands would be wonderful for a couple of families with four members, as they sleep up to eight passengers – or perhaps a family reunion with a mix of generations. Being a good swimmer is recommended of course, as you are living on board.
How are they responsible?
How are they responsible?
These are small ships, and so have much less of an impact on the marine environment or indeed the air than giant cruise ships. See our
responsible cruising guide for more details
.
Small ship cruises in Greece stop off at small islands not only because they can physically access them (larger ships cannot) but also because they have a rich cultural and natural heritage and are still not too affected by mass tourism. There are no international chains here; expect tavernas, shops and bars run by local families. With few tourists visiting these out of the way spots, spending your euros here can be a big boost to the village economy. You can experience local festivals, from the grape harvest on Santorini to the
Dekapendavgoustos
religious festival celebrated all over Greece 15 August; it is particularly wonderful to experience these in small towns in the Peloponnese or Dodecanese. You are encouraged to spend as much time in the heart of the Greek communities as you are within your boat community on these trips.
More about Greece cruising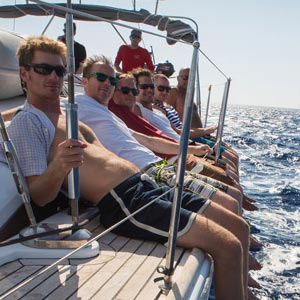 Our Greek cruising highlights show the fragility of these islands, their precious reefs, the modern cultural heritage and ancient archaeology...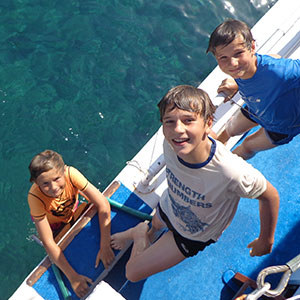 Take in Greece at a leisurely pace with the whole family, and leave plenty of time for jumping straight into the sea. Our Greece family cruising guide shows you the best swimming spots.