Where to go on a Greece small ship cruise
Greece small ship cruises are, surprisingly, quite different in their itineraries, and there's no such thing as your 'typical' Greek island. Most cruises start in Athens, from where you can head southwest to the Peloponnese to discover ancient sites at just about every cove. Or southeast to the Cyclades, a volcanic archipelago which will blow your mind it is so beautiful. The Dodecanese Islands are close to the Turkish border and so often start and finish in turquoise Turkish waters around Bodrum. And then there are the Ionian Islands, the most famous being Corfu. These merge magnificently with the Adriatic, so you can combine a small ship cruise with the Albanian, Montenegrin and Croatian coast too.
1. Adriatic coast
If you want to visit the Ionian Islands of Corfu and Paxos, one way to do so is by taking a small ship cruise in the Adriatic, which segues somewhat sublimely into the Ionian. These itineraries actually take you to four countries. Starting in Dubrovnik, Croatia, they head south through Montenegro and Albania, and then to Greece. Do all of these beauties, cruising between islands and mainland, in a week.
2. Corfu
The second largest Ionian Island, it is mass tourism central, but you can escape the summer madness on a small ship cruise. It is a wonderful island to visit, however, with vast history, be it Venetian or Ottoman, British, Italian or German. Corfu has definitely had its fair share of occupiers. Visit Corfu City's UNESCO historic quarter, or take a trip into the luscious hills. Then sail off, and leave them in peace.
3. Cyclades
'
Cyclades
' means 'a circle of islands', although this archipelago is more like a jewel filled necklace, the glittering and indeed sacred centerpiece being Delos. With over 200 islands, small ship cruises focus on Naxos, Santorini, Paros and Mykonos. With a perfect mix of beach bliss, ancient history, volcanoes, peaceful or party. Some cruises include Crete too, further south, or the rarely visited Small Cyclades.
4. Dodecanese
This Aegean archipelago stretches to the Turkish border, so cruises often start and finish in the ancient Turkish city of Bodrum. Explore the town and then leave crowds behind, heading through beautiful Turkish waters up to the Dodecanese Islands. These include idylls such as Kalymnos with ancient monasteries and stunning inlets, beach-rich Patmos and church rich-Lipsi. Cruising on a traditional gulet boat is a great way to go.
5. Peloponnese
Joined to mainland Greece by a slim isthmus, this almost-island stretches out into the Aegean, Ionian and Mediterranean making this one of the most spectacular regions to visit on a small ship cruise. The
Peloponnese
has ancient history dotted along its shores too, so if you want the classics but in a very non classical way, cruise to Palaia to visit Epidaurus or Pylos to visit the ancient town and eponymous palace ruins.
6. Piraeus
The majority of small ship cruises start and finish in Piraeus, Athens' port since ancient times with three natural harbours. A big busy port town now, it is also only 11km from the city center, so some travelers include the capital's cultural highlights at the beginning or end of their cruise. Some small ships cruise past Cape Sounion, just 69km south of Athens, with the Greek temple of Poseidon's remains perched on the headland.
Greece cruising vacations travel advice
Why a small ship cruise in Greece?
Why a small ship cruise in Greece?
Powell Ettinger, Director of our leading Greece small ship cruising vacations supplier, The Small Cruise Ship Collection:

"Greece has some 6000 islands, though only about 230 are populated. Many of these are very small with very limited accommodation and transport links, and many harbours are tiny. Large vessels can't get to many of the islands and ports, and whilst there is a good ferry system, you need much more time, and good luck finding accommodation."
Itinerary tip
"One of the most beautiful spots for me personally is the rarely visited Lipsi Island – Have you ever heard of it? Most people haven't."
Food tip
"Hope you like sea food."
Size of boat
"The small cruise ships are more like moveable boutique hotels than most people's perception of a cruise ship, and mean that you can travel around in comfort without unpacking every night!"
Our Greece cruising Vacations
If you'd like to chat about Greece cruising or need help finding a vacation to suit you we're very happy to help.

What to pack
"You don't need to bring too much, the cruises are informal and the weather means that lightweight clothing is all that is required. There are plenty of shops and even supermarkets en route, so you can pick up anything you forget or need as you go, often for much less than in the UK."
Advice for families
"For families, some small ship cruises in Greece are more suitable than others. We can always point you in the direction of the cruises that are more suitable. But in general, small ship cruises are great for families because you only unpack once, and yet you still get to explore different places. But of course, these boats aren't adapted to have things like kids clubs and that kind of thing. The kids clubs are getting off the boat, exploring and seeing what's out there… There are age restrictions with some boat operators, however, so we always check that."
Cultural tips
"Even though it is a cruise and most people speak English on board, do learn a bit of the local language for when you land and go in to visit local communities. Just a few words are really important."
Waves & weather
"Some better known destinations can get crowded in summer, but we spend lots of time away from these. It can get very hot in summer, but there will be plenty of time for swimming."
Vicki Brown, writer & editor at Responsible Travel, took a small ship cruise around the Cyclades:

"I travelled in early July and arrived in a heatwave – it was over 40°C. But the weather cooled over the week; I needed a light layer in the evenings on the islands, and a windproof or waterproof jacket came in useful as it got surprisingly chilly when we were on the move on the water. The Aegean winds are actually at their strongest during the summer months, so not only can it get cool, but the waves were really whipped up. On some days, it was hard to believe we were in the Mediterranean – it looked more like the open Atlantic!"
Greece small ship cruises advice from our travelers
At Responsible Travel, we think the best people to advise our travelers are often... other travelers. They always return from our tours with packing tips, weather reports, ideas about what to do - and opinions about what not to.

We have selected some of the most useful tips our travelers have provided over the years to help you make the very most of your small ship cruising vacation in Greece.

It's a lovely trip… we were encouraged to walk the back streets and mingle in order to distribute our possible expenditures and support around each island.

"It is a very intimate experience living with such a small group of fellow travelers and you have to be prepared to get along with others, as there is no escape for a week. We had a lovely group but I understand that not every group is the same." – Hilary Richards

"It's a relaxing trip, most on board are of a more mature age. Shame there are not more round the mid 40's - mid 50's yr looking for this type of fulfillment. It's a lovely trip… we were encouraged to walk the back streets and mingle in order to distribute our possible expenditures and support around each island." – Rosanne Sene

"It was absolutely fantastic to be able to visit so many places from the sea, going into small harbours and tying up among local fishing boats. Most visitors explore the Peloponnese by bus which involves long periods of travel, but we were never moored more than 30 minutes away from anything. The itinerary was well paced with a good mix of site visits, travel along the amazingly scenic coastline, and interesting talks about Greece, its history, customs and anything we wanted to ask about. We felt the programme just got better and better." – Hilary Richards



It was absolutely fantastic to be able to visit so many places from the sea, going into small harbours and tying up among local fishing boats....

"The smaller islands of Greece were absolutely amazing! Shows more of the real Greece and not just the tourist spots… Pack light! Unfortunately I was traveling for over two weeks so had lots of luggage which not ideal for a small boat but they were able to accommodate me. Don't expect it to be like a cruise ship, its very self sufficient and perfect for those that want a more intimate, hands-on experience." – Lecia Salerno, on a small sailing ship

"Time stopped. It was like being transported into a cultural bubble, suspended in Grecian hospitality and nature that was a pleasure and privilege to experience… This is not a vacation, it's like stepping into another world. Be as a real as you can be and it will transport you. Try and impose your perspective and you will miss its essence… Not only are your hosts genuine and important parts of this world, they are totally attuned to the nature, the people and the culture of this magnificent country." – Stuart MacIver

"Be prepared for a wee bit of seasickness if the swell is higher than normal. Stay up top! Despite my trip spanning the end of August / beginning of September I was surprised that the Mediterranean winds can occasionally make it chilly so bring some form or warm or waterproof clothing." – Kate Wilson on a small sailing ship
More about Greece cruising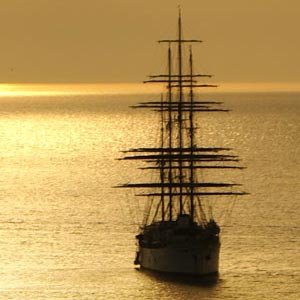 Greece small ship cruises explore small islands via small yet perfectly formed boats, from classic steel hull motosailers to contemporary motor yachts...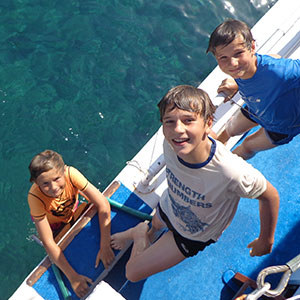 Take in Greece at a leisurely pace with the whole family, and leave plenty of time for jumping straight into the sea. Our Greece family cruising guide shows you the best swimming spots.