GREECE CYCLING HOLIDAYS GUIDE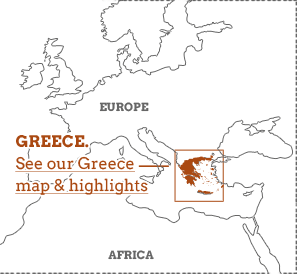 Greece has much to recommend it as a destination for cycling vacations. Beautiful weather, for one thing, especially in spring and autumn, when it's dry and warm but not uncomfortably hot. Outside the main cities, there are great swathes of countryside so sparsely populated that you're as likely to encounter a herd of goats as you are another person, but you'll still find well maintained roads. Greece has one of the longest coastlines in the world, strung with countless beaches, coves and fishing villages ideal for rewarding your exertions with a cooling dip in the sea.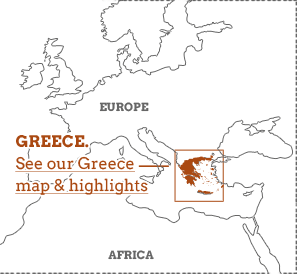 It may be hot, it may be hilly, but when you can picture a cool jug of
retsina
and a leap into the Mediterranean as your reward, it's a lot easier to keep pedalling on.

You can settle down for a picnic in the shade of a vineyard, an orchard or a patch of olive trees, and of course you're never more than a short pedal from an interesting ruin. Then there's that mouth-watering Mediterranean cuisine.
Find out more in our Greece cycling vacations guide.
Is a Greece cycling vacation for you?
Go on a Greece cycling vacation if...
... you prefer being surrounded by ancient history, rather than just reading about it in books.
... you're happy doing your own thing. Many Greek cycling trips are tailor made and self-guided, giving you plenty of freedom.
... you don't want to follow the herd. These tours will often take you into regions less travelled, and all the better for it.
Don't go on a Greece cycling vacation if...
... you're not in reasonably good shape. Daily rides of up to 65km, often over steep terrain and in the sunshine, can be tiring. But then, you're never far from a refreshing swim. ... you sometimes struggle to get going. The beaches and the breakfasts can make it very tempting to take the day off. ... you need to travel during the Orthodox Easter.This is a major public vacation in Greece, and accommodation can be tricky to find. Book well in advance!
If you'd like to chat about Greece cycling or need help finding a vacation to suit you we're very happy to help.

WHAT DO GREECE CYCLING HOLIDAYS ENTAIL?
Self guided cycling is a fantastic way to explore Greece at your own tempo, stopping off now and again to wander around the ruins of an ancient amphitheatre, or picnic on a secluded beach. A pre-programmed GPS unit directs you smoothly along established routes, and itineraries can be tailor made according to your own interests. Luggage transfers are provided for added convenience, and you'll have vehicle support all the way for peace of mind. Another option is to join a small group tour on a structured itinerary, led by a local guide. There's no need to get saddle sore either, as Greece cycling vacations can also be combined with hiking, or island hopping with private boat transfers for you and your trusty bike.
On arrival you'll be equipped with a high quality mountain or road bike, adjusted to your size. You'll want to bring your own helmet, water bottle and gel seal, but everything else you'll need is provided, including puncture repair kits and panniers. And whatever else happens, don't forget your swimsuit!
Daily distances range from 40 to 65km every day, but routes can be extended if you want to spend longer in the saddle. Most small group itineraries will involve at least one stop every day at an archaeological site, where professional guides will be waiting. On self guided tours, suggestions are made but where you pull over is entirely up to you.
While you don't need to be very experienced, a decent level of fitness is advisable, as Greece is mountainous and there are some strenuous hill climbs involved, especially in Athens. You'll be riding on sealed roads for the most part, sometimes on new coastal paths, sometimes in dedicated cycle lanes. Outside of the cities, Greek roads are usually light in traffic except during peak season.
Most trips are point-to-point, so you'll be staying somewhere different every night, and often the only time you'll be in a car is during the airport transfers. Accommodation is normally in family-run guesthouses. These tend to be comfortable rather than luxurious, but well located and sure to put on a good spread at mealtimes.
BEST TIME TO GO CYCLING IN GREECE

Cycling in Greece in summer can be pretty exhausting, even with regular breaks in the shade or the surf. Spring and autumn are far more agreeable.

Tailor made trips can be arranged all year round, but not every month is suitable for exploring on two wheels. The best time for a Greece cycling vacation is either spring to early summer, before temperatures shoot up and the crowds arrive – or the autumn. Avoid Crete in Aug, to skip the crowds and the baking heat; other regions can still be pleasant. Festivals and public vacations take place all year-round, so there's a good chance your trip will coincide with a religious celebration, and if you're really lucky, a feast day.
Cycling in Greece, month by month
March, April and early May is a delightful time of year to visit Greece. Pretty wildflowers blanket the countryside, the sea is cool but still good for swimming, and there are not as many visitors around. The Easter period gets very busy and should be avoided if possible. Note that Orthodox Greek Easter often falls later than Western Easter, so do check dates. By late May, as summer gets underway, the islands are already warm. Spanning late May, June, July and August, Greek summers are hot and dry, especially inland. At higher elevations, and in coastal areas, breezes offer some relief, while many locals appreciate the benefits of a midday siesta. Rain can be expected sporadically if at all. Summer showers are short and heavy, and boat travel can be affected by strong winds and big waves. July is the warmest month of the year in Greece, often topping 40°C. Rain picks up from mid-September into October, during the brief Greek autumn. This is probably the best time to cycle in Greece, as the temperature is cooler but the sea still warm, and the foliage takes on many beautiful shades. By late October, many restaurants and attractions outside the main cities will be drawing their shutters. Winter begins in November, and continues through December, January and February, with January usually the coldest month of the year. The weather is at its least reliable now, rainy and often surprisingly cold – it's not unknown for Athens to get a dusting of snow. You can still expect a few nice clear days though, and in the Aegean – the Cyclades Islands – it's a lot milder.
More Greece cycling articles