Kefalonia is no stranger to tourism – before the monarchy was abolished members of the Greek royal family would often take their vacations on this Ionian island, which is one of the largest and westernmost in the country. With the publication of Louis de Bernières' wonderful novel
Captain Corelli's Mandolin
, and afterwards the release of the not-quite-so-wonderful film adaptation, tourism to
Kefalonia
boomed and it was for a brief period among the most popular of the Greek islands for those in search of a romantic, sun-soaked idyll. Today pockets of mass tourism do exist, and can be pretty tacky, but escaping them is a breeze, especially when you're on two wheels.
While its beaches are reckoned among the most beautiful in the Mediterranean, and its history and culture interestingly distinctive to most of the other islands, an aspect of Kefalonia that escaped notice for a long time was that it's superb for cycling. Well, allow us to break the secret. Here you've got long climbs, hairpin bends and sublime descents, as well as smoothly surfaced roads with little traffic – even in summer.
Then there is that winsome Greek scenery: mountains, forests and meadows where wild horses roam, monasteries, windmills and Venetian fortresses, vineyards, cypress and olive groves and always the glittering Ionian Sea that less invites and more demands regularly stopping for a swim. It's on a par with classic Alpine and Pyrenean routes, but with the advantage that in spring and autumn the weather is reliably pleasant for cycling.
Besides its beautiful beaches, Kefalonia has much to interest non-cycling partners and families too. The island has been occupied over the centuries by Romans, Venetians, Turks, French and British, and unlike other Ionian islands it was briefly part of the Ottoman Empire, leaving it with a unique history and architecture – as with so many
Greek islands
the countryside is still dotted with fascinating archaeological ruins.
Endangered loggerhead sea turtles nest from around April, and there is a small population of Mediterranean monk seals too. Local tavernas serve up platters of olives and jugs of wine to enjoy with the sea views, and this being
Greece
you just know the seafood is going to be aces.
Tim Broadhead, from our partner Cycling Kefalonia, fell so deeply for Kefalonia that he made it his business to get more people into the saddle here:
"The Ionian Sea is stunning, and you get views of it everywhere. Another thing to love about Kefalonia is that there is lots of Roman and Venetian archaeology to see. And of course the food is fantastic. So while we focus on the cycling, that's far from the only aspect to enjoy, and non-cycling partners will have a great time too."
Our Greece cycling Vacations
What does cycling in Kefalonia entail?
The best time for a Kefalonia cycling vacation is in spring or autumn, avoiding the heat and the crowds of July and August. Tim Broadhead agrees: "At this time of year there is an average of 10 hours of sun per day, and it is in the low 20°Cs, with a near constant sea breeze, so cycling conditions are lovely. You do need to be a fairly regular cyclist because Kefalonia is hilly, however we have all day."

Kefalonia cycling vacations are typically small group trips and last for a week or so, with a maximum of 20 participants split into two guided groups of 10, so that different abilities can be catered for.
Trips are based in one or two locations. When you travel with our responsible travel partners, you'll stay in locally owned accommodations that offer far more charm and welcome than you'd get in an international hotel or resort. You'll also put your money directly into local communities where it does the most good. Kefalonia, like many Greek islands, depends on tourism, but packaged vacations and big international resorts don't tend to do a great deal for the island economy. One likely location for a stay is Fiscardo, a busy fishing and yachting port lined with handsome traditional buildings.

Tim Broadhead sings the praises of Kefalonia, not only for its cycling potential but also the fact that despite the buzz around Captain Corelli's Mandolin, the island has for the most part escaped the ravages of mass tourism: "Kefalonia is absolutely perfect for cycling. It's hilly, and there is virtually no traffic. It doesn't get too hot and there is often a cool breeze. Plus it's relatively underdeveloped, and doesn't get too busy even in the height of summer. So the challenge is to keep it that way by keeping vacations here small and low impact."
Our top Greece cycling Vacation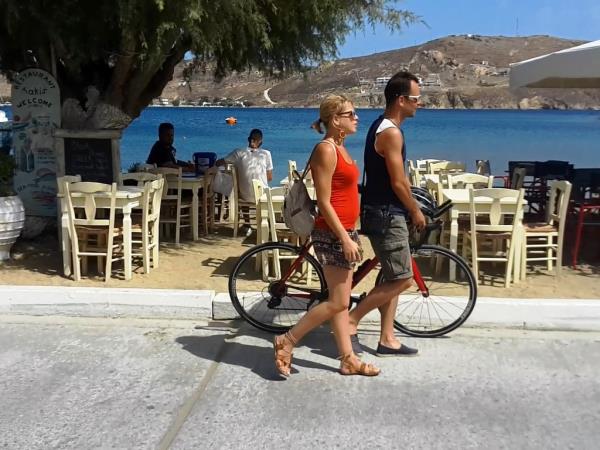 Exciting cycling tour in stunning East Crete in Greece
From
€

940

to

€

1420
8 days
ex flights
Tailor made
If you'd like to chat about Greece cycling or need help finding a vacation to suit you we're very happy to help.

Practicalities
Kefalonia is best suited to fairly experienced and physically fit riders. It's moderately challenging with some steep ascents (up to 10 percent gradients but usually around 7-8 percent), some hairpin bends, and covering around 100km each day with the opportunity to do more if you wish. Groups reconnect at the top of each hill for the descents, and it's a very sociable, supportive atmosphere throughout, so solo cyclists will love it too.
Most people choose to bring their own bikes in a bike box, with a local mechanic available to reassemble it quickly and professionally on arrival. However, if you want to hire a road bike instead it can easily be arranged, but you will need to bring your own helmet. A support vehicle accompanies the group throughout, carrying a full complement of spare parts, tools and also a few replacement bikes in case the worst happens.
More about Greece cycling