Thereís nothing like spending time in a peaceful part of Greece to really open up the senses and revive flagging spirits, with parts of the mainland just as sought after as those Ďoh so temptingí islands scattered across the Aegean. Yoga vacations in Greece provide the perfect marriage of sublime setting and healthy lifestyle, and conjure up untold ways to relax and unwind against a gorgeous sky blue and pearl white background.
Sometimes sunshine is all thatís needed for a wellbeing boost, yet in combining this with yoga practice, nutritious meals and chances to dip toes into crystal clear shallows, youíll create an experience thatís even more wholesome. Here are a few reasons why yoga and Greece are as delicious a combination as dollops of thick yoghurt drizzled with sticky, golden honey.
Classic settings
If you fancy finding a yoga retreat in Greece thatís easy to get to from Athens then the Pelion Peninsula, on the east coast of central Greece, is an ideal place to start. There's really no need to hire a car as airport transfers can be organised by your hosts, and several village tavernas are all within walking distance. The Mani Peninsula is another great option, with the legendary locations of Messini, Sparta and Olympia conjuring up all manner of cultural excursions to accompany a week of yoga along the south coast of the Peloponnese. If you'd prefer to combine yoga classes with life on the ocean waves, it's also possible to set sail on a traditional clipper? You'll be treated to luxury cabins, 5-star facilities and the chance to spend time exploring the islands of Amorgos, Mykonos and Monemvasia.
Daily classes
Matched only by the sublime coastal settings, the yoga classes take your vacation to new heights. Platforms overlooking the ocean or oak floor studios with 360 degree views allow for a harmonious natural experience before breakfast and as the sun sets. There are usually two sessions per day, each lasting around 90 minutes. The Chandra evening practice provides a slower, more meditative approach (as per Asana yoga teaching), where poses are held for longer as your body is encouraged to let go of the dayís exertions. Additional breathing techniques (pranayama), meditation sessions and holistic group therapies boost overall wellbeing, while the relaxed vibe means days unfold organically, in your own time, without having to rush from one class to the next.
Alternative activities
Yogis will be able to take advantage of time by the pool or on the beach. Nearby villages and mountain trails also capture the essence of Greece, far from the crowds congregating at tourist hotspots. Optional massages, mediation sessions, snorkelling excursions and boat trips over the Aegean allow for a flexible, bespoke, yoga vacation. If you're interested in exploring a little further afield whilst staying at a retreat on the Mani Peninsula, hiring a car gives you the chance to visit some of the more remote mountain villages to be found in between the towns of Kalamata and Areopoli. Other notable locations include Messini, Sparta or Gytheion. Some yoga vacations in Greece include horse riding, tai chi or guided walking as part of a daily itinerary. These sorts of alternative activities provide an alternative balance of exercise, fun and mindfulness.
Our top Greece Vacation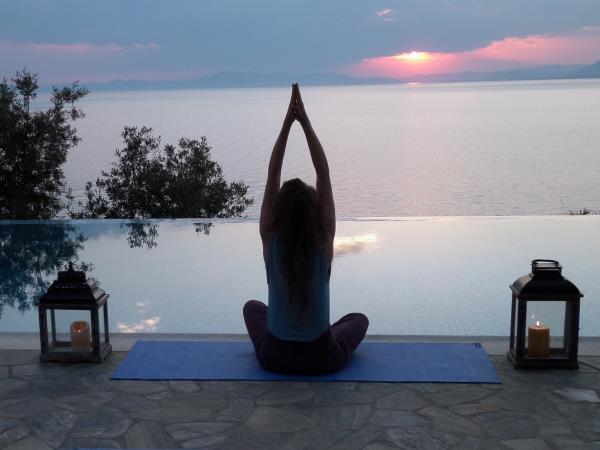 Yoga vacation by the sea in unspoilt Lefokastro Pelion Greece
From
£

850

to

£

1485
7 days
ex flights
Small group travel:
2023: 16 Sep, 23 Sep
If you'd like to chat about Greece or need help finding a vacation to suit you we're very happy to help.

Food & cultural experiences
Another excuse to pay a trip to the local village is, of course, the food. The Greeks really know how to do fresh and tasty, with olive oil drizzled over sesame seed coated bread just a glimpse of things to come. Back at base youíll discover a wealth of delicious dishes, with nutritious vegetarian options compensating for any naughty treats sampled on a stroll to the village bakery. Meat is usually an important part of the daily diet in Greece, so having the chance to enjoy veggie and vegan meals on your retreat is a real benefit of an organised yoga vacation. Although many vacations can be taken on a full board basis, several retreats include chances to eat out. This is allows guests to support the local community at the same time as sampling a handsome helping of Greek hospitality.
Groups & accommodation
Accommodation for yoga vacations in Greece is usually based on two people sharing an ensuite room in villa, just a few minutes from the beach. Some villas come complete with a swimming pool; others encourage guests to cool off in shaded gardens or by taking a dip in the sea. Yogis opting to sail on a traditional clipper will discover comfortable cabins at their disposal as well as plenty of space up on deck to soak up some sun or spend an evening or two gazing at the stars. If traveling solo, youíll be paired with someone of the same sex, although there is usually the option to book a single room for an additional supplement. Groups will be small, often no more than ten practitioners, with minimum ages of 16 or 18. All instructors are qualified and experienced in teaching yoga and can work with bony beginners to more supple stretchers to provide classes that suit all levels from tip to toe.
The air in Greece, especially along the coast and around the mountains, really does do something that extra bit special to the senses and will open your lungs to no end of delights as you breathe more easily and enjoy increased feelings of well-being and relaxation as the week unfolds. The sun, sea and tasty veggie cuisine all help to create a Greek yoga vacation thatís bursting with vitamins and good vibrations.