Crossing the North/South Divide
Although Cyprus is bisected by the 180km Green Line, it is easy to explore on both sides of the border. Walkers and cyclists will find trails in the Troodos Mountains in the south and the Kyrenia Mountains in the north, equally satisfying. The Akamas Peninsula and the Karpasia Peninsula are on different sides, but they both offer unadulterated natural coastlines where wild flowers adorn headlands and turtles come to nest on deserted beaches. You can go on small group and tailor made vacations in north and south Cyprus as well as tours that incorporate both. Although divisions are deep, this shouldn't stop you discovering both sides of this island.
Reasons behind the Cypriot split
Reasons behind the Cypriot split
The love triangle between Greece, Turkey and Cyprus is as tightly entangled as that of Aphrodite, Adonis and King Cinyras. This is an island that is divided both physically and emotionally. Unravel the binding cords and you'll discover Greek ancestry stretching back to the Bronze Age. The Turks became entwined during the Ottoman era and are equally well established. Religion, politics, education and, of course, the British Empire, have all played their part.
Thanks to its strategic position between Asia, Europe, the Middle East and Africa, Cyprus has been attracting suitors since it was first occupied by the ancient Greeks. There followed the Egyptians, Persians, Alexander the Great (the Greeks, again), the Eastern Roman Empire (the Byzantines), French, Venetians, and the Ottoman Empire, before Cyprus was 'leased' to the British in 1878.
At this time, Greek and Turkish ethnic communities lived side by side on the island. The British, however, were worried that both groups might rise up as one and overthrow their 'colonial oppressors', despite many Greek and Turkish Cypriots going on to fight on the side of the British in both World Wars. Divide and rule had long been used as British colonial policy and so there seemed little need to halt the practice in Cyprus.

Political leaders in Athens and Ankara both considered the island to be rightfully theirs. Under British rule, Greek Cypriots thought that Cyprus would eventually become part of Greece. This thought process was also actively encouraged by the Cypriot Orthodox Church. Turkish Cypriots – who were by far the island's minority group – were in favour of partition. This view was held even though many Turkish leaders still considered Cyprus to be an extension of Anatolia. Cultural and religious views began to blend into nationalist pride as each group identified more vehemently with messages from the mainland, partisan schooling, religious leaders, and the actions of the British.
Issues after independence
Issues after independence
By the time Cyprus gained independence in 1960, divisions were as deep as they had ever been. Increasing violence led many ethnic minority Turkish Cypriots to separate themselves in enclaves, particularly in the villages north of Nicosia. Greek Cypriots became ever more resentful as their Turkish counterparts were given what they considered to be more than their fair share of roles within the Cypriot government. The Turkish, on the other hand, felt that constitutional amendments failed to protect their ethnic minority status. Protests and violence, on both sides, ensued.
Ironically, it was the British who brokered a ceasefire between the sides by drawing a line on a map in 1964. What became known as the Green Line – this being the colour of the pen that was used – cut through the center of Nicosia, and United Nations peacekeeping troops were deployed. Istanbul threatened to invade; Athens sent an army to the island to prevent a takeover.
For the next 11 years the line between North and South would yield a hostile stalemate. Turkish communities continued to live in guarded enclaves reliant on supplies and food from Turkey. Thousands of Turkish citizens were sent from the mainland to live in Cyprus, willingly or otherwise.

In 1974, the Cypriot National Guard, which had become increasingly Greek, carried out a coup d'état and replaced the Cypriot President with Greek nationalist. Five days later, the might of the Turkish army invaded Cyprus, and civil war ensued.

The invasion lasted about six weeks. An eventual ceasefire, brought on by international pressure, left a third of the island under Turkish control. Greek Cypriots living north of the Green Line had been forced to move south. Turkish Cypriots moving north began to occupy abandoned properties. Hundreds of Greek and Turkish Cypriots lost their lives or were reported missing.

The region declared independence in 1983 as the Turkish Republic of Northern Cyprus. This was rejected by the UN and the Republic of Cyprus, and the Turkish troops remained there.
THE 2004 REFERENDUM
A UN backed peace settlement, known as the Annan Plan, aimed to turn the island into the United Republic of Cyprus as part of a two state solution. Both sides were invited to vote on the proposal in the 2004 referendum. The majority of Turkish Cypriots were in favour of the plan; the majority of Greeks, were not.
Kofi Annan, April 2004:
"I remain convinced that the plan I put forward is the only realistic basis for reunifying the island, which I believe is the sincere desire of the majority of Cypriots in both communities. I hope that before too long the Greek Cypriots will have an opportunity to consider the plan more calmly, and to judge it on its true merits"
Despite the division, the EU accepted Cyprus as a member in 2004; however, EU membership was suspended in the North, and embargoes and isolation from the EU community were to follow.
Our top cyprus Vacation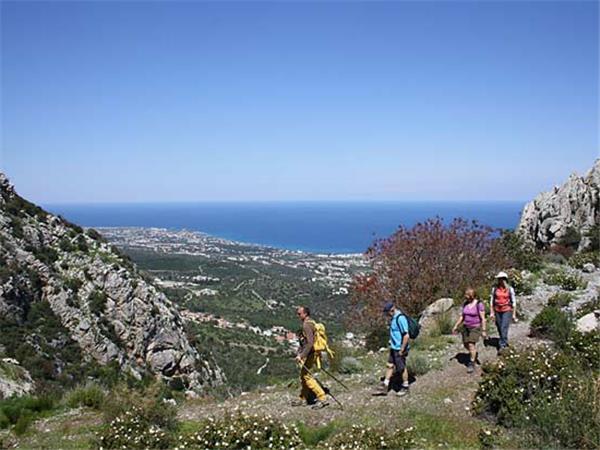 Varied walks amid rugged scenery and superb archaeology
From
US $

1379

to

US $

1679
8 days
ex flights
Small group travel:
2023: 6 May, 20 May, 16 Sep, 23 Sep, 30 Sep, 14 Oct, 4 Nov, 23 Dec
2024: 20 Jan, 3 Feb, 17 Feb, 2 Mar, 9 Mar, 16 Mar, 30 Mar, 13 Apr, 27 Apr, 4 May, 18 May, 14 Sep, 21 Sep, 28 Sep, 12 Oct, 2 Nov, 16 Nov, 21 Dec, 28 Dec
If you'd like to chat about cyprus or need help finding a vacation to suit you we're very happy to help.

Why a united Cyprus is still a long way off
Losses on both sides
Cyprus remains a divided island. Both sides have experienced personal losses. This now goes far greater than simply identifying the island as part of Greece or an extension of Turkey. In the south, you'll find villages that were abandoned by the Turkish as they fled north. The former homes of Greek Cypriots who once lived in the north are still occupied by Turkish families.
Although it's much easier to cross the Green Line today, the country is still way off unification. There are hundreds of people missing on both sides. Wounds have yet to heal. Personal losses, grudges and memories are starting to be passed down from generations. Negotiations are regularly renewed and talks continue to take place between Turkish and Greek governments as well as the EU, and leaders from both Cypriot communities.
Tourism is big business on both sides of the border and although the north is less developed it still has its fair share of casinos which are not currently allowed in mainland Turkey.
Embargoes
Since the TRNC announced independence they've been slapped with international trade, travel and communication embargoes; many of which are still in place to this day. From sports teams and athletes not being allowed to compete internationally, to flights only allowed via Turkey, the TRNC has been economically strangled and socially isolated for over half a century.

As a member of the EU and the UN, the Republic of Cyprus really does hold all the cards. Ercan Airport, for example, has continuously been denied international status. All aircraft traveling to or from Ercan have to touchdown in Turkey first, before continuing their onwards flight. This often leads to a lengthy delay on the tarmac for passengers who are required to remain in their seats.

Although Turkish Cypriots can visit the south, and therefore the EU, as consumers, they cannot as producers and exporters. Border controls restrict the amount of goods that can be brought in from the north and will confiscate anything considered over the limit. This applies to foreign tourists, too; ask your vacation company for more details.
Why you should travel to the North and South of Cyprus
There are genuinely friendly and hospitable people on both sides of the Cypriot border. However, if you listen to just one side you might get a different story. As a responsible travel company we consider it our duty to keep travelers informed of the facts.

Choosing a vacation company that operates on both sides of the border is a great way to help you connect with local people. You'll also be given firm support and advice when it comes to hire cars, travel insurance, suitable airports, visas, and the easiest way to cross the Green Line.

Our tour operators support local hoteliers, taxi drivers, tour guides, small businesses and restaurateurs. They work closely with communities, on both sides, to ensure an authentic, unbiased experience for responsible travelers. This is the best way to benefit local people living on both sides of Cyprus.
How to see both sides of Cyprus
How to see both sides of Cyprus
When flying to Ercan in northern Cyprus you'll need to go via Turkey. This can often mean a lengthy wait on the tarmac in Istanbul before finally touching down.
Foreign nationals who have entered Cyprus through the north are considered by the Government of the Republic of Cyprus to have arrived through an illegal port of entry. The Government of the Republic of Cyprus reserves the right to fine you for illegal entry if you cross into the south, or decline you entry into or exit from the Republic.
Larnaca and Paphos airports, in southern Cyprus, are a lot easier to get to. Crossing the border from south to north via Nicosia is straight forward, especially on foot. If you're driving you will need special insurance to continue driving in the TRNC. This can be obtained at the border crossing. You can also hire a car in the south and drop it off at the hire car company's office in Nicosia, then be met by a taxi driver who will take you over the border so you can continue the rest of your vacation in the north. If you book an organised tour, all arrangements will be taken care of. If you have entered via the south, there is no problem crossing the border back from north to south.
For more information on traveling in Cyprus, please visit the
GOV.UK website
.
Many thanks to June Zaft, at our supplier Country Walks, for helping to untangle border crossing details.
More about cyprus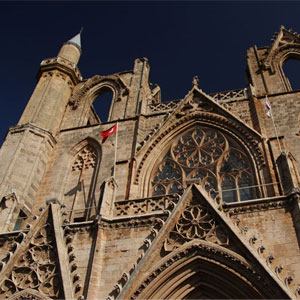 Our Cyprus travel guide leads you to the archaeological sites, Blue Flag beaches and mountain viewpoints rarely glimpsed by the bucket and spade brigade...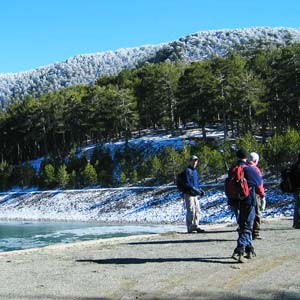 Although summers in Cyprus can reach scorchio levels there's still plenty to be said for heading to higher ground or shaded forest footpaths to escape the midday heat.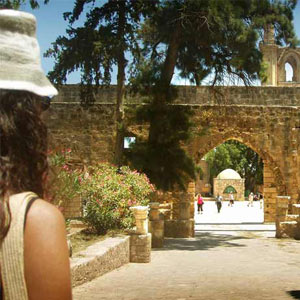 Cyprus holds some outstanding areas of natural beauty where mountains and coastline collide against a history that goes way beyond the divide...