Places to visit in Dominica
---
Make the most of your time
It's hardly surprising that Pirates of the Caribbean was shot on Dominica. So many of the place names sound like they have been lifted straight off a pirate map: Boiling Lake, Valley of Desolation, Stinking Hole or Scott's Head. In fact, these names are nearly always related to natural wonders rather than horrible histories. Although Dominica does have its fair share of historical hardships, with colonialism and ensuing slavery and leaving their mark on many of the places to visit in Dominica. Most of all, it is pure volcanic virtuosity, boasting nine volcanoes. Whether they are dormant or extinct, they are still exploding with rich rainforest, geysers and gorges, beauteous birdlife and misty cloud engulfed mountain tops.
Click on the blue map points below for our favourite things to do and places to visit in Dominica.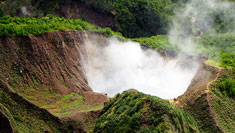 Boiling Lake & Valley of Desolation
In the heart of the Morne Trois Pitons NP, it's a serious 3-4 hour hike from Laudat to this natural cauldron. Or 'flooded fumarole' to use the technical term. A local guide is a must to lead you up the steep rocky paths of the Valley, following boiling streams and sulphur springs up into cloud forest. The reward – a steaming 60m-wide lake, heated to boiling point by lava way down in the mysterious depths.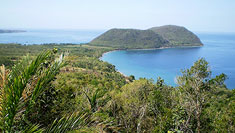 Cabrits National Park
A wild, peninsular national park where, although only 5km², you escape into what feels like microcosm of the island as a whole. With tropical forests, coral reefs and wetlands, lose yourself to nature, be it hiking across it or diving around it. Great for family hikes through rainforest to discover ruins of British Fort Shirley – now thankfully taken over by jungle. Because just like so much of Dominica, nature wins the day.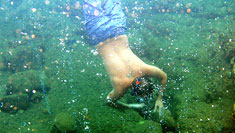 Champagne Reef
One of the few places in the world where gas is actually gorgeous. Not only can you snorkel among lobster, trumpet fish, harlequin bass or even hawksbill turtles, but you also flow through sporadic shots of bubbles emitted from the volcanic depths below. Head to Champagne Beach to rent equipment or go on scuba diving trip for total immersion. Best times are early AM or late PM to avoid cruise ship crowds.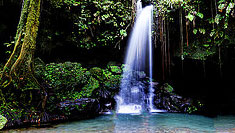 Emerald Pool
If you want a stunning waterfall to swim under, this is the one. Located in the Morne Trois Pitons NP, and a magical stop when hiking Segment 5 of the Waitukubuli National Trail. Hard to imagine that part of this trail follows a path built by slaves in 1828, especially when it leads to the most stunning waterfall and exquisitely emerald pool. Get here early morning or evening to avoid cruise ship crowds.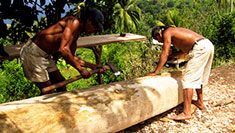 Kalinago Barana Autê Cultural Village
Founded 2006 to share the living and ancient culture of Dominica's indigenous Kalinago people. The village is the tourist hub, part of the 15km² territory belonging to this 3,400 strong population. A place to get a real sense of human survival on this island as well as its ancient heritage, be it cookery or craft, politics or performances, farming or fishing. They also run Kalinago guided tours into the country's interior.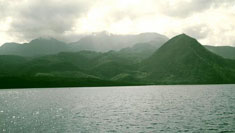 Morne Diablotin NP
Dominica's newest national park is home to its highest volcano, Morne Diablotin at 1,447m. It was founded in 2000 to protect the habitat of the endemic sisserou (imperial amazon) and Jaco (red-necked) parrots, just a couple of the bevy of beautiful birds in the national park's Syndicate Rainforest. The Syndicate Nature Trail is perfect for birding, or take on the challenging summit trail to the top of this idyllic world.
Morne Trois Pitons NP
A volcanic virtuosity with 1,342m Morne Trois Pitons volcano as its Dominican diva. The supporting cast is made up of other volcanoes, hot springs, boiling mud pools, crater lakes, cloud and rainforest, the Titou Gorge and a chorus of 50 fumaroles. Oh, and a boiling lake. It would have been rude not to award it UNESCO status really. The Waitukubuli National Trail meanders through it, with other trails starting in Laudat.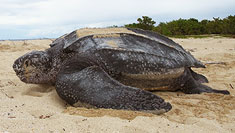 Rosalie
One of the top beaches, on the Atlantic side of the island, for turtle nesting. Come between end of March until September to watch giant leatherbacks, hawksbill and green turtles laying eggs. Or a few months later to see the hatchlings head down to the water. Conservation of the turtles is monitored by the Dominica Sea Turtle Conservation Organisation (DOMSETCO).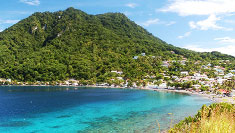 Scotts Head
An island like Dominica just has to have a beautiful village on the end of an isthmus. And one that separates the Caribbean from the Atlantic at that. On the SW tip, Scotts Head is wrapped around the foothills of an ancient volcanic crater. This is 'walk straight into the sea and snorkel' territory, with no shark attacks, but plenty of snack shack attacks on the beach. The Waitukubuli National Trail starts here.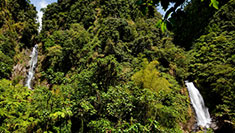 Trafalgar Falls
Dominica is blessed with so many waterfalls, it is literally falling down with beauty and, at Trafalgar Falls, you get two for the price of one. Named the 'father' and 'mother' falls, the former has a 65m drop and the latter about half that. The mother is the more welcoming, however, with a large bathing pool open to those who dare to scramble down. The falls are easily accessible after a brief rainforest walk.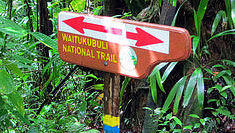 Waitukubuli National Trail
Caribbean's first
long distance trail, the WNT
spans 185kms from Scott's Head in the south to Cabrits NP in the north. Completed in 2011, it not only traverses mountainous rainforest, coastal cliffs and stupendous gorges but also meanders through otherwise inaccessible communities. With 14 segments, you can pick 'n' mix or take on a serious challenge and do the whole thing.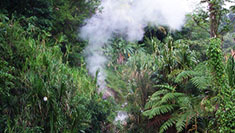 Wotten Waven Sulphur Springs
Hot springs are prolific on this volcanic idyll, but Wotten Waven, a village on the Wotton Waven Caldera, one of the island's active volcanoes, is steaming ahead. If there is a collective noun for natural hot springs, then Wotten Waven should be it, because you can hop from one small locally owned 'establishment' to another here, sampling the sulphur springs and all round geothermal gorgeousness.
Travel times in Dominica
---
Roseau – Emerald Pool: 40 minutes by car
St. Lucia – Dominica : 4.5 hours by ferry
Roseau – Morne Diablons NP: 45 minutes by car
Section 14 Waitakubuli National Trail, Canna Heritage Park to Cabrits Fort Shirley: 4 hours on foot
Roseau – center of Morne Trois Pitons NP: 35 minutes by car
Responsible Travel would like to thank the Dominica tourist board for their sponsorship of this guide
Photo credits:
[Top box:
Titanium The Dog
] [Waitukubuli National Trail:
Stefan Krasowski
] [Emerald Pool:
Jiyi Ren
] [Kalinago Barana Autê Cultural Village, Morne Trois Pitons NP, Boiling Lake & Valley of Desolation, Champagne Reef: Discover Dominica Authority] [Morne Diablotin NP:
Peko
] [Trafalgar Falls: Discover Dominica Authority] [Rosalie:
AlbertHerring
] [Cabrits National Park:
Dillngerforce
] [Wotten Waven Sulphur Springs:
Jean & Nathalie
] [Scotts Head: Discover Dominica Authority]