Responsible tourism in Dominica
---
TRAVEL RIGHT IN DOMINICA
Dominica has rare qualities compared with other Caribbean destinations when it comes to tourism. It doesn't just go seeking tourist dollars. It has a feisty, admirable sense of its own identity. The people value their natural and cultural heritage. And they strive very hard, as communities, to ensure that there is a strong ethos of responsible tourism throughout the island. There are no international hotel chains. There are three national parks on one tiny island. There is a thriving indigenous population, which is also active in tourism. There are plenty of food and water supplies locally. And it has the first and finest long distance walking trail in the Caribbean. The only real issue is that it stays that way, and that responsible tourism in Dominica remains a shining beacon not only through the Caribbean but throughout the world. And beams brighter in the process.
People & culture
---
The Kalinago people & defining poverty
The indigenous Kalinago people
---
Unlike the Sami or the Sioux, the indigenous people of Dominica, the Kalinago, aren't famous internationally. Despite the fact that they have a 3,400 strong population in a country that is only 750km² in total area, and have survived invasions by the Spanish, French and British over the centuries. Long before that, coming originally from South America, they battled with Arawak Indians for territories. So by the time the colonists moved in, they proved to be fierce resistance fighters, keeping invasions at bay for much longer than some of their neighobouring islands. The Kalinago have become the subject of a well known myth, that they were vicious cannibals over the centuries. However, experts have now confirmed that there is absolutely no evidence to support this in history.
Sometimes called Caribs or Carib Indians, this is a name given by the Europeans, so their own chosen name, the Kalinago, is the one we are plumping for. We also rather like the name they gave to their own island – Waitukubuli, meaning 'Tall is her body'. It is in honour of the Kalinago people that the islands' long distance walking trail, which covers the length of this beautiful tall body, is called the
Waitukubuli Trail
, and it passes through the indigenous territory.
You can visit their cultural center, the
Kalinago Barana Aute
, for fascinating tours, tours and cultural experiences, but remember that this is not just for tourists. It is a homeland to thousands of people, now living in eight coastal villages over an area of 15km², but who have lived all over the island for generations. Founded 2006 to share the living and ancient culture of Dominica's indigenous Kalinago people. A people who are thriving, with 65 percent between the ages of 18 and 35, and their own democratically elected Chief. However, there are questions over the 'purity' of the people today, and in May 2008 the Chief proposed a law requiring that Kalinagos only marry within their ethnic group in order to preserve the population. He also requested that non-Kalinagos be refused from being resident on the reserve. However, other legislators on the Kalinago Council refused to see these drastic proposals through. See
Minority Rights
for more details.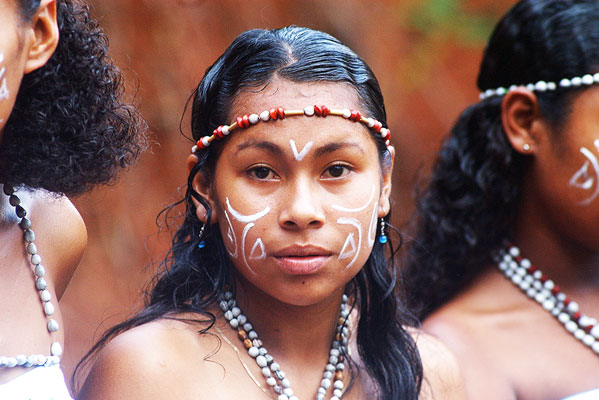 What you can do
Visit the
Kalinago Barana Aute
Cultural Centre, a place to get a real sense of human survival on this island as well as its ancient heritage, be it cookery or craft, politics or performances, collective farming or fishing. They also run Kalinago guided tours into the country's interior.
Dominica – rich or poor?
---
Dominica often has the word 'poverty' associated with it, with GDP statisticians citing it as one of the poorest countries in the world in terms of GDP* Which is an unfortunate label for Dominica to hold around its magnificent mantel. And an inaccurate one too, in our view. Because it depends how you define poverty. When you travel in Dominica you are immediately struck by the fact that it is resource rich. It has rich volcanic soil, an abundance of rainfall, with its famous 365 rivers flowing into the sea and an abundance of small fecund farms. The water quality is also way up there with the likes of other volcanic international H20 brands, albeit just not branded and bandied about as well as the Volvics of the world. In fact, as recently as 20 years ago, Dominica was known as the bread basket of the Caribbean, exporting fruit and vegetables to other Caribbean islands which are not able to produce to the same extent. Subsistence farming was the norm, and still is, with smallholdings producing a wide variety of fruit, vegetables and poultry to cater perfectly for the family. With fishing resources adding to this, of course. Then the bottom fell out of the basket when banana crops were wiped out by Hurricane Dean in 2007. Dominica's leading export was wiped out overnight. This coincided with a growth in technology, and local people saw a way to move from farming into earning flashier bucks, in IT or indeed tourism. Tourism accounts for 18 percent of the GDP, and much of it is community led. The Ministry of Tourism supports the development of sustainable tourism, in order to protect and promote Dominica as a country that prides itself on its natural resources, as well as its community involvement.
So, when you stay at one of the proliferation of homestays or small guesthouses around the country (international hotel chains are non-existent here, except for the floating ones doing the Caribbean) around the country, where your breakfast, lunch and dinner is often sourced from no further than the back garden, you will be hard pushed to label this country as poor. In such places the bread basket overfloweth, as does the spirit of welcome.
However, as the young generation migrate to seek work in the cities, or emigrate completely, farm-led tourism is at risk in terms of plots being handed on to children. And so by supporting this unique aspect of Dominican tourism, we are celebrating their agricultural heritage and reminding the next generation that it is something to be valued. Every country wants to progress and so we are not suggesting that Dominica limits its economic growth. But actually, wealth that is generated by sustainable food production and an abundance of vital resources is, in this day and age, the new rich.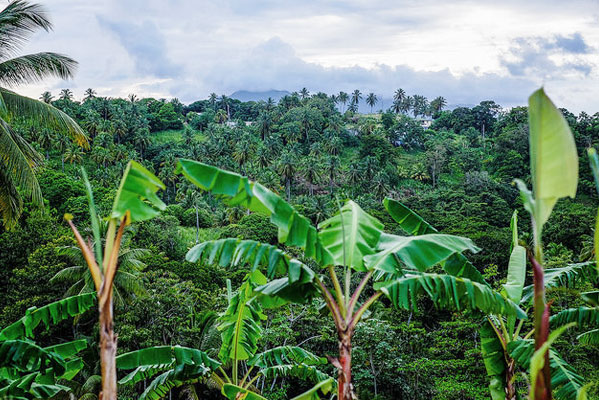 What you can do
Don't see a homestay as doing your bit to alleviate poverty. See it as a way to celebrate the success of subsistence farming, the natural wealth of Dominica, and don't label Dominicans as 'poor'.
Michael Eugene, co-founder of our leading supplier in Dominica, Jungle Trekking Adventures and Safaris: "Farming is seen as something that is almost exclusive to the older folk on the island now. The younger folk have been bitten by the tourist bug and the computer bug, so everybody wants to migrate to the city, drive a taxi or be on a computer. But those families that are very strong in family values, and strong in economics, realise where this bread and butter has come from and, as a result they need to preserve that heritage within the family and, continue to work the soil.

On our walking tours, we stop at one homestay for a lunch and everything is from the farmer's yard, from the eggs and chicken, carrots and broccoli, chives and all the seasoning, as well as fish that she gets in the local community. I dare say that in most developed countries, it is unlikely that I could go into the backyard and pick me my lunch and breakfast. So to me this isn't poverty."

*Source: International Monetary Fund 2014
Wildlife & environment
---
WAITUKUBULI NATIONAL TRAIL
One of the priorities for Dominica, after ensuring that people are safe and well, is to pay urgent attention to the Waitukubuli National Trail – not only one of the greatest long distance walking trails in the Caribbean but also in the world. Not only because it spans 185km from Scott's Head in the south to Cabrits NP in the north but because when it was created by community ecotourism aficionados, Friends of Waitukubuli, working closely in partnership with government, its main aim was to link remote villages by reviving traditional trails and, in so doing, bring tourists through these otherwise unknown beauty spots. This includes the villages that make up the indigenous Kalinago Territory. Now managed by the Department of Forestry, it is an exemplary example of community-government partnership when it comes to creating superb natural infrastructures that put countries like Dominica on the map. There are 14 segments in the well mapped trail, each taking a day to complete. So, you can pick 'n mix or take on a serious challenge and do the whole thing, with welcoming homestays along the way. Using a local expert guide along the way, of course. Sadly, damage caused by Hurricane Maria in 2017 closed the trail, but repair work is ongoing and progressing well.

What you can do
Support the Friends of Waitukubuli by making donations which will go directly towards trail management, as well as keeping communities aware of the benefits of such trails. By going on a walking or wildlife watching vacation you will take in parts of the trail at some point, and appreciate the greatness of this national achievement that started very much at Dominica's grass roots.
Responsible tourism tips
---
TRAVEL BETTER IN DOMINICA
Keep it local – by staying in a guesthouse, eating local food, buying Dominican art and crafts or trekking with a local guide. You can also take cooking classes – as well as visiting local festivals and events such as Hike Fest with various events throughout May or the World Creole Music Festival end October.
Turtle watching is a popular activity on the island, but must be done with great care in order to protect these precious habitats. For more information on conservation projects and to donate to their work, check out Dominica Sea Turtle Conservation Organisation (DomSeTCO) although their Facebook page is more active than their website.
If taking a dolphin or whale watching tour, choose your operator carefully and ask them questions about their commitment to protecting wildlife. They should have a good understanding of dolphin and whale behaviour, keep a good distance from the animals and never chase them or split a pod. They should also never feed them, or crowd round when there are other boats present. See our Dolphin watching and Whale watching travel guides for more tips on how to ensure you've booked a responsible tour.
As with all small islands, there are issues with waste disposal. Never drop litter, be aware of the waste you are creating (bringing reusable bags rather than depending on plastic carrier bags, and returning glass bottles to shops and bars, for example) and take hard to dispose of items – such as batteries – home with you when possible. And don't bring any excess packaging with you.
If diving or snorkelling, never touch fish, coral or turtles, and be careful not to step on the coral. It can take decades to regrow. The Dominica Watersports Association has an impressive membership of diving and other watersport companies, adhering to responsible practices in the water. From protecting the marine environment to ensuring high health and safety standards. So if you think any of your instructors are transgressing the rules, contact the organisation to report them.
Lionfish are an invasive species in the Caribbean that breed voraciously and threaten all other reef species. Numbers have doubled annually since 2010, and show no sign of slowing. However, they are tasty – and a number of local restaurants have begun serving them up. This gives fishermen an incentive to catch them – and the more people that order lionfish, the more restaurants are likely to follow suit.
If you're feeling more intrepid, you may be able to take a diving trip aimed at spearing these creatures; you'll get trained in how to use your spear, how to avoid the venomous spines – and have the satisfaction of taking these mean predators out of Caribbean waters. Ask at dive shops for details.
Never buy souvenirs made from feathers, shells, turtle shell or other items that have potentially come from endangered species.
There are no topless beaches, and as Dominica is a Catholic and quite conservative country, people are generally expected wear a top in bars, restaurants etc.
Responsible Travel would like to thank the Dominica tourist board for their sponsorship of this guide