Our stance on elephants & tourism
Our stance
As with many issues in responsible tourism, the topic of elephant trekking is neither black nor white. It's a debate that remarkably has the power to polarise those with the same objective: to conserve and preserve these beautiful animals and their close communities in the most effective way possible. The goal is clear cut, the way to achieve it is less so.

During spring 2014, Responsible Travel entered into an important consultation period with its members. Gathering invaluable opinions that spanned the full spectrum of this debate, we considered the arguments carefully and sought further information and clarification where necessary.

Our policy on elephant trekking and elephant performing is the result of this work.

Simultaneously, one of our in-house writers began researching this guide to elephant trekking and conservation which acts as a collective record of thoughts and opinions on the issues, from people across the globe and from all walks of life, NGO to small tour operator.

The policy
We do not promote any elephant trekking or elephant riding trips on Responsible Travel. In addition, we do not promote any trip that includes as part of the itinerary or optional extras a visit to an establishment to see trained elephants perform for the public, eg. painting, playing football, orchestras etc.
It is our belief that these practices can be extremely negative for the elephants both physically and mentally. Endangered elephants will continue to be taken from the wild as long as the tourist demand for such activities remains in place, and chains and other unethical training methods will continue to be used to control the elephants around the tourists.

We have decided to no longer offer Responsible Travel travelers these trips, but instead support the truly responsible elephant sanctuaries that are in operation.

Additionally, we want to equip savvy, responsible travelers with the information they need to make informed decisions on their travels so we have created this online travel guide to elephants in tourism, so travelers can read more on these important issues.

We understand the potential impacts that any widespread, immediate ban on elephant trekking would have on the elephant and mahout population so we hope our decision to stop promoting it (and similar decisions by other travel companies), as well as this guide will help start a gradual process of change.
Elephant safaris
As of spring 2019, and after much deliberation, Responsible Travel updated its stance on elephant safaris in national parks. Particularly in India and Nepal, elephant back safaris allow visitors to observe highly endangered species including tiger and rhino. Undoubtedly, these elephant safaris do play a role in conserving species on the brink of extinction, but with the Asian elephant also facing extinction, any elephant taken from the wild to be used by humans reduces the chances of their survival in the wild. Taking this into account, we have decided not to promote elephant safaris in and around national parks.
The heart of the matter
There is an argument that says it would better to create tough guidelines for better elephant experiences, but our overriding concern is that this would merely sustain and create demand for new, irresponsible elephant trekking experiences, including wild capture, and there is no effective way of preventing this locally due to a lack of legislation and a means to enforce it.

In reality, even very good practices encourage the growth of a sector with some very bad practices.

We are optimistic that there is a future for elephants and traditional mahout communities that is sustainable, constructive and positive. Savvy, wise travelers who think through their decisions and ask appropriate questions of their tour operators are an important part of this and our Responsible Travel community has a key role to play here. No less important are the thoughtful, gentle and heartfelt efforts of the tour companies, both large and small, whose trips we promote on our site.
Our top trip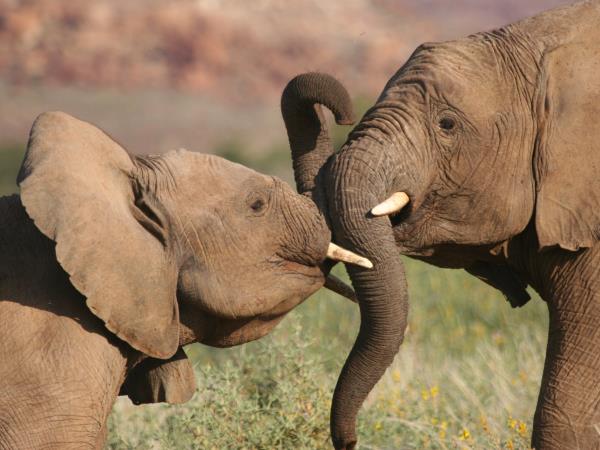 Preserve the beautiful desert elephants of Namibia!
From
£

995

to

£

4995
11 days
ex flights
Small group travel:
2024: 1 Jan, 15 Jan, 29 Jan, 12 Feb, 26 Feb, 11 Mar, 25 Mar, 8 Apr, 22 Apr, 6 May, 20 May, 3 Jun, 17 Jun, 1 Jul, 15 Jul, 29 Jul, 12 Aug, 26 Aug, 9 Sep, 23 Sep, 7 Oct, 21 Oct, 4 Nov, 18 Nov, 2 Dec
If you'd like to chat about Elephant conservation or need help finding a vacation to suit you we're very happy to help.

Responses from our suppliers
Following our decision to review and later withdraw the elephant trekking tours from Responsible Travel, we requested feedback and recommendations from our suppliers as well as animal welfare NGOs. A huge number were supportive, others' opinions differed from our own following their experience in the field. Our policy was subsequently shaped and guided by these responses, and in order to give a balanced view, here is some of the feedback we received.
Daniel Turner, spokesperson for the Born Free Foundation:
"Elephants, whether captive-born or wild-caught, are wild animals and therefore, highly unpredictable. Together with their size, intelligence and ability to cause people severe harm, they are not suitable animals to ride or have direct interaction with. Elephants used for elephant back safaris are often overworked, chained when not in use and subject to strict training and management conditions which can lead to physical and mental suffering, injuries and even early mortality. Whilst the use of a padded saddle, no chaining and significant rest periods are recommended in the management of elephants that are used for riding purposes, as opposed to the metal or wood seating that can cause wounds and back problems, the Born Free Foundation would urge suppliers to phase-out elephant riding, seeking alternative, more responsible activities that respect the welfare of animals."

Bruce Haxton, from our supplier Starfish Ventures:
"To say that 'elephant trekking is bad' doesn't pay consideration to the huge range of approaches. Whilst there are unfortunately those who don't treat their animals well, there are equally a huge number of mahouts who treat their elephants incredibly well and care for them as a member of their family... the damage caused to these communities and their elephants could be immense. A ban wouldn't mean that elephants become 'free' – there simply isn't the resource and will to deliver this. Rather than a ban we would suggest minimum guidelines. There needs to be a healthy dose of reality injected into the discussion in terms of what really would happen if elephant treks no longer take place."

One of our members, who wishes to remain anonymous:
"When logging was made illegal [in Thailand], many mahouts were forced to take their elephants onto the city streets to beg. Living and working in a city with all the dangers of traffic and pollution is no place for an elephant. Adequate food and grazing areas are in short supply, and many are forced to live under bridges and beside busy roads. Compared to this, elephant trekking must surely be the lesser of two evils. If tourists stopped supporting the camps altogether, there would be far more elephants returning to the streets, not to mention the added hardship it would bring to the mahouts and their families.

Another option would be for all elephants to be in sanctuaries where they are not forced to work and there is plenty of land where they are relatively free to socialise and roam in herds. Such sanctuaries are undoubtedly wonderful, but as far as I know, (almost) all of them operate on a charitable basis. Without the support of outside donations, they simply wouldn't be sustainable."

From our supplier Intrepid Travel's blog:
"Elephant issues have been a strong area of concern. Having such an enormous wild animal restrained for many hours at a time and used for rides or to do human-like behaviours, such as kick a soccer ball or paint pictures with their trunks, has never felt right. So in 2010-2011 we lent support to extensive research by WSPA into captive elephant venues and learnt much along the way.

At Intrepid we took a stance over two years ago and began to phase out venues of concern and elephant rides. From January this year, we no longer offer elephant rides on any of our trips; the feedback from travelers has been overwhelmingly positive."

Anne Smellie, from our supplier Oyster Worldwide:
"Elephants do need to be kept somewhere and that costs money. We have come across some excellent organisations that have achieved a great balance between tourism and conservation. They welcome tourists to witness the elephants living in their reserves just as they would in the wild. Elephants are sociable creatures, and interaction with humans in itself is not damaging – the nature of it can be. Breaking elephants to force them to trek is unacceptable. Working with elephants that enjoy having people on their backs is a different matter! Imposing strict guidelines is the only way this can be done; if the elephant does not want to do the walk that day, the walk does not happen; this is the only to make sure that they are not being mistreated. An elephant swaying with stress is one of the most distressing things I have ever seen."

One of our suppliers, who wishes to remain anonymous:
"I would suggest banning the use of chairs, which can be cruel for the animals. This would stop elephants standing around in the chairs all day long, and support those camps which allow their animals more freedom. If every tourist insisted they would ONLY pay for a ride without a chair, this could actually bring a real and positive change far more quickly than simply avoiding camps altogether."

Andy Woods-Ballard, from our supplier GVI:
"GVI does not support any type of elephant tourism that requires elephants to carry tourists on their back (either in a howdah or bare back) or in which the elephant is required to do circus style tricks such as painting or playing football. We believe the training required as well as the activities themselves reflect unethical treatment of elephants and go against GVI's ethos. On our elephant programme, we are as hands off as possible and do our best to introduce the animals back in to a semi-wild environment in the forests."

Lynda, from our supplier Royal Jozini Lodge Owners' Accommodation:
"Thank you for this step. This assists the true sanctuaries where elephants have been rescued and are being treated kindly and with a view to them returning to the wild, if and where possible. Not a place where they are used for entertainment and where they are trained to perform – and where, no doubt, there may well be cruel training methods."

One of our members, who wishes to remain anonymous:
"Sending volunteers to help out at ethically-run camps where they may still offer some limited trekking is an important part of the equation. The more volunteers that are sent, the more money is raised and consequently, the less time needs to be spent offering rides to tourists. Surely it is better for the elephants to be able to enjoy a week or more in the company of one well-informed and caring volunteer than it is to have to put up with coachloads of tourists coming and going each and every day? This is what would happen if we withdrew our support from the volunteer project."
Jo Cary-Elwes, campaigns manager at Elephant Family:
"It's really positive that the tourism industry is starting to think about the impact it's having on Asian elephants. Energies urgently need to be channelled into protecting wild populations, reducing the demand for elephants in tourism and making sure that the elephants that are in captivity are well looked after. People need to think hard about the consequences of visiting these camps, to do their research and make sure that the places they go to are legitimate. But, in an ideal world people would visit national parks and see these animals in the wild, which is where they belong."

Dave Tucker, from our supplier The Beyond Tourism Co.:
"A common response [from the tourism industry] is that they'd like to stop promoting it, but if people specifically want rides, they'll arrange them anyway. It's a typical response: "The customer is always right." However, I try to explain to our customers why we believe that elephant riding is wrong. Very often they say "we didn't realise. We don't want to do that, we don't want to cause injury to the animals." So I think there's a lot more room to push for responsible tourism, and not be afraid of the customers – they appreciate being informed. We need to take a leadership position – we're not only here to find vacations for people."

John Beswetherick, from our supplier Tikalanka:
"We stopped promoting Pinnawala Elephant 'Orphanage' in Sri Lanka in 2005 when we were approached by Born Free Foundation and became supporters of their global animal welfare campaign, Travelers' Animal Alert. We always state our negative position regarding Pinnawala in our replies and most customers decide not to visit once they are made aware of the animal welfare issues, thankfully. I would urge you to make your position clear to the operators offering vacations to Sri Lanka since the exploitation of elephants is widespread in the tourist industry on the island and supported by the Sri Lankan government in many instances (Pinnawala, like Dehiwala Zoo in Colombo, is a government-run institution). There also are bogus elephant 'conservation' projects offering vacations with elephants in Sri Lanka, which I have reason to believe similarly exploit the animals in the name of tourism."
More Elephant conservation articles