Walking the South Downs Way
Accessible, undulating, interesting. Dip in, dip out, walk it in one go or from one village pub to the next. If you're looking for a walking trail in Southern England, the South Downs Way is a long distance path that's close to the coast but far from crowded.
One of the great advantages of walking the South Downs Way is that you don't need a car to reach the start or completion points. Winchester in the west and Eastbourne, 161km eastwards, have excellent train and bus links. You can get to the sign-posted trail on foot from the city and town centers. It also means that you won't be adding to any of the overflowing car parks on the route and will be causing minimal impact on the environment.
Although you can undertake the South Downs Way as part of a gruelling 24-hour marathon, we think you'll be much better off taking your time as part of a self guided vacation. There are loads of places to stay along the way in traditional villages like Buriton, Cocking and Steyning, as well as opportunities to experience the 'bright lights' of larger towns like Lewes. Bear in mind that there are very few villages on the route itself between Winchester and Alfriston, near the end of the Way, so most stops and stays will require a detour.
A nine-day
walking vacation on the South Downs Way
allows you to really enjoy each and every undulating inch of the journey. Daily distances won't be more than 18km and gradients are a lot more gentle and gradual than you might first anticipate.
If you're walking the entire South Downs Way over a number of days, you'll also benefit local communities. For instance, you can pop into the Plough at Pyecombe for a pint of Sussex Best or visit the open-air museum at Amberley – after enjoying tea and cake overlooking the River Arun, of course. The longer you linger, the more time you'll have to get to know the little villages and find out more about them from the hosts at family-run B&Bs or heritage hotels. Your presence will benefit the local people employed at the accommodation as well as the village bakers, tea rooms, pubs and restaurants that you'll no doubt discover along the way in places like Exton and Alfriston.
Our England walking Vacations
What is walking the South Downs Way like?
Paul Day is managing director of our hiking vacation specialists Letís Go Walking and has been organising walking vacations in the UK for over 20 years: ďThe South Downs Way is a lot easier on the legs than you might imagine. The footpath is very undulating and so it gradually rises and falls in waves rather than anything too steep. You can cover fair distances in a day and take your time to get to know a local village or historic town once youíve booked into your B&B.Ē
Where can I stay on the South Downs Way?
Over the years, Paul says that heís got to know many of the B&B owners and family-run hotel teams like friends: ďThereís a beautiful village called Buriton on the South Downs Way thatís a great place to spend the night. Itís about 40km outside of Winchester, so an ideal location to head to over a couple of days. After leaving Buriton, youíll find more lovely little villages and towns in West Sussex like Cocking, Steyning and Bramber. The great thing about these places is that theyíre out of the way but still have lots of facilities for visitors.Ē
Advice for walking the South Downs Way
While it can be tempting to deviate from the path, the best way to look after the chalkland in the Downs is to stay on the route. ďWe advise walkers to always stick to the path when walking the South Downs Way,Ē says Paul. ďA lot of the land either side of the footpath is chalk down. This erodes very easily as itís only topped by just a thin layer of soil. Animals often rely on this for grazing and the less grass for them to eat, the more it cuts down a farmerís income.Ē

Although the majority of the South Downs Way takes you through the countryside, there are also several sections where youíll be crossing roads or coming into contact with traffic. Paul advises taking extra care around these areas: ďSome of the small lanes and roads surrounding places like Lewes and Winchester can get quite busy, and might be dangerous if youíre on foot. Make sure youíre careful when walking along the roadsides and always follow the path rather than taking short cuts along busy roads.Ē
Our top England walking Vacation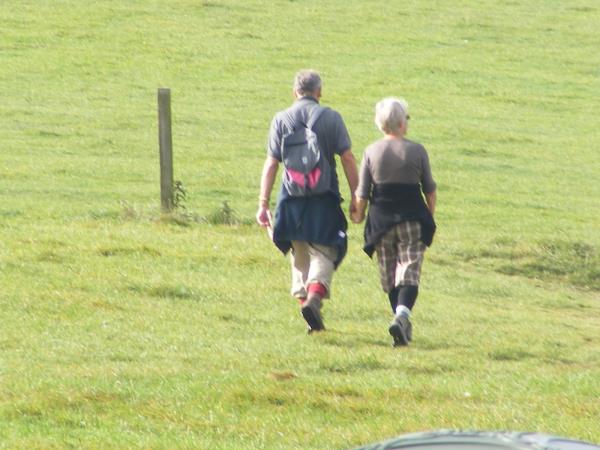 Walk The South Downs Way in Southern England.
From
£

1300

to

£

1940
11 days
ex flights
Tailor made:
This vacation can be booked from the 1st March to 31st October each year.
If you'd like to chat about England walking or need help finding a vacation to suit you we're very happy to help.

Best time to walk the South Downs Way
Most self guided walking vacations run from March to mid-October. This is because the days are much shorter, the weather is more unpredictable and not all the facilities are open outside this time of year.

This doesnít mean, however, that you canít undertake the South Downs Way during the winter. It will be open. Itís not the Inca Trail and wonít be closed for essential maintenance. Although, be aware, it can get very chilly on an exposed chalk down ridge during December, January and February. March and April, on the other hand, start to warm up but will probably be quite wet Ė just pack accordingly. Spring is a beautiful time of year for bluebells, daffodils and snowdrops as woodlands fill with the sounds of birdsong and river valleys tumble with early morning mist.

Summer is the best time to walk the South Downs Way for greenery and longer daylight. This means that you can visit a pub or two during a walk and still have time to explore a village or town once you arrive in the late afternoon. Keep an eye out for the Adonis blue butterfly in summer as well as the glorious buzz of bees making the most of the flowering gorse, heather and orchids. Autumn is another great time to walk the Way. Woodlands crackle to the crunch of fallen leaves as chimneys send spirals of smoke into the clear blue October skies.
More about England walking