Walking in England tips & advice
Cultural tips
June Zaft of our supplier Country Walks:
"England is remarkably rich in cultural heritage but it's not always easy to discover unless you choose companies whose self guided walking notes include cultural visits and commentaries. A leader with good local knowledge will also be able to bring the landscape to life with stories of legends, folklore and well-known personalities, famous or infamous! Charleston Farmhouse on the South Downs, for example, with its vibrant garden is a place of wonder and inspiration, transformed by Duncan Grant and Vanessa Bell as a refuge for the artists and writers of the Bloomsbury Group who helped shape 20th century taste. At Berwick Church, nearby, they used friends and local people as models for their colourful murals and frescoes which controversially depict the life of Christ against the background of war-torn Britain."
Where to go
June Zaft, from our supplier Country Walks:
"We find the Visitor Centre at Exceat a useful resource when planning our walking trips around the South Downs and Sussex coast, and the various scenic and tourist bus routes run by Brighton and Hove, Stagecoach, Compass Travel and the other local operators are useful for walkers, families and elderly or disabled people who want to explore."
Paul Day, Managing Director at our supplier, Let's Go Walking, shares his experiences of walking in England: "One of my favourites is the Purbeck Way which comes in from Lulworth Cove to Swanage via Corfe Castle. This is a great walk for wildlife as there's usually deer, buzzards and rabbits around the area with loads of seabirds in Swanage as well as an occasional hare or two, if you're lucky."
The wonder of walking in England
June Zaft from our supplier Country Walks:
"It is no surprise that walking is one of England's most popular outdoor activities. The countryside is awash with a dense network of footpaths, many hundreds of years old. Originally formed to link one village with another, they still today wind through the landscape to all kinds of hidden delights. Then there's the thrill of discovery. On foot one can enjoy the detail, discover what nature has in store, choose which path to take, wonder who will one meet on the way? All that's required is a map, compass, enquiring mind and a sense of adventure! And in England one is never far from 'civilisation' so there are no real dangers."
Paul Day, Let's Go Walking:
"Walking in England really helps put things into perspective and if you've had a bad day or are feeling a bit stressed then it really helps to make your arrangements, wrap up warm and get out the door to surround yourself with countryside."
Packing tips
Paul Day, Let's Go Walking:
"My advice for walkers in England is always: do your research, wear good walking boots to support the ankles with two pairs of socks, and pack some chocolate and cereal bars to get you from one pub to the next."
Our England walking Vacations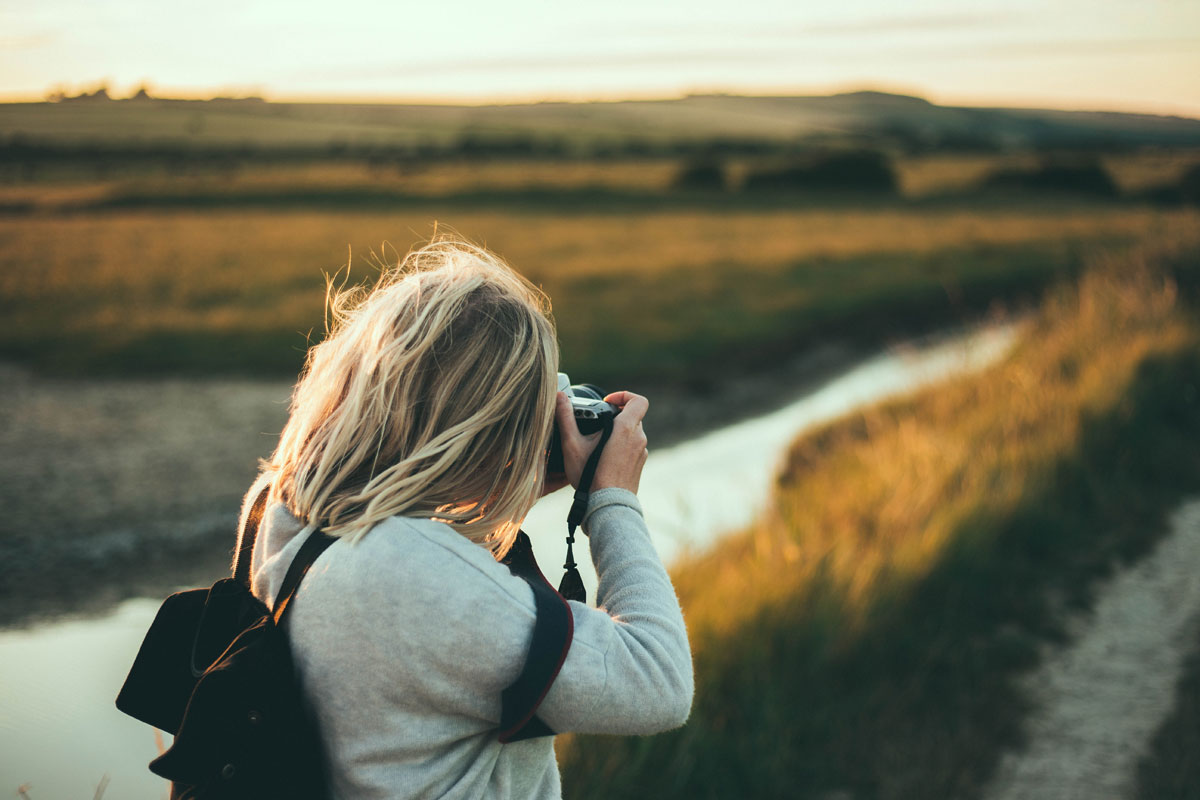 June Zaft of our supplier Country Walks:
"You should certainly not forget your camera. With 33 Areas of Outstanding Natural Beauty and an immense network of footpaths meandering through villages, forests, across hills and mountains and along rivers and coasts, great photo opportunities are endless. Walking through England's diverse landscapes armed with a camera will provide a lifetime of wonderful memories."
Melanie McAnaw walking vacation expert from our supplier, Headwater:
"I always carry a small amount of talcum powder. It might sound strange but it's good for reducing friction and redness if you find yourself with any blisters, chaffing or heat rash. It can also help your feet stay dry and keep your thighs from chafing over long distances if you use a little before (and after) your walk. A small roll of adhesive bandage/plaster (and something to cut it with) can also be a lifesaver if you do feel yourself developing a blister. It can sometimes make the difference between a nice walk and a painful slog!"
If you'd like to chat about England walking or need help finding a vacation to suit you we're very happy to help.

HEALTH
As most of these walking vacations are self guided, do make sure you have a small first aid kit with you, in case of falls, sprains or grazes.
Never underestimate the advantage of walking with poles, especially if you are prone to walkers' knee. Many people feel they can gain an extra few miles of blissful walking if they have one.
Don't underestimate how much sun you might catch, even if it is overcast. Always bring a high factor sun cream with you, preferably an eco friendly one, especially if you are planning on swimming during your walk.
Similarly bring good quality, protective sunglasses. Even if it is cold, the sun's rays can be harsh in exposed landscapes such as the Yorkshire Dales.
Always be wary of ticks. They carry Lyme disease and other nasties, and so best to take precautions. Read this guide for top tick tips and check out the Tick Twister tool that they recommend. Tweezers do the trick, but only ones with pointed ends, not the flat ended ones.
Stay hydrated. Even if it is chilly, you are still working hard so don't underestimate how much water you might need. However, drinking water from streams is not recommended.
Don't forget to pack your antihistamines if you are prone to hayfever in season.
SAFETY
Take care walking on cliff paths and always read the signs. Be particularly careful after heavy rains, not only on cliff paths but also on beaches if there have been rock falls. Never scramble on rocks that have fallen from cliffs. Walking vacations are a good opportunity to learn how to be scouts or girl guides again. Be prepared with maps, compass, rain gear, pocketknife, matches and a whistle. You can buy mini emergency kits on eBay for a tenner. Always tell someone where you are going, and make sure your mobile phone is charged. If you are caught out in a lightning storm, stay as low as you can, and stay away from summits or isolated trees. Tempting though they might be for shelter. Although our England walking vacations are pretty moderate in terms of landscape, with no big peaks or anything too wild to tackle, you do need to make sure that you are prepared in terms of having enough layers, food and water. You aren't ever going to be too far from help on the Thames Path, for example, but there are remote spots on the South West Path, Yorkshire, the Lake District and Peak District. Always get a detailed weather forecast before you set out and, if you are in a wild and remote area and very bad weather is coming in, don't hesitate to turn back.
England walking vacations tips
At Responsible Travel, we think the best people to advise our travelers are often... other travelers. They always return from our tours with packing tips, weather reports, ideas about what to do - and opinions about what not to.

We have selected some of the most useful England walking vacation travel advice that our guests have provided over the years to help you make the very most of your vacation – and the space inside your backpack.

It's an area where there are a lot of dog-walkers with their dogs off leads, so it helps if you like dogs and don't mind them being friendly to you.

– Isabel Clare on the Pilgrims' Way
"Walking the Cumbria Way is an exciting exploration of the history and geology of this part of England. The most memorable moment was cresting Stake Pass and descending into the remote and grand valley of Langstrathe Beck with its stone walls reaching the crags that cap the fells. The valley remains an empty and timeless wilderness… Sturdy boots and good rain gear, including a pack cover are necessary, as are sunglasses and sunscreen. The weather is variable. You'll see more if you have done some reading about the history and the area." – Diana Staaf on the Cumbria Way

"Our vacation on the North Downs Trail in late spring was breathtaking. The bluebells, primroses and fields of rape, punctuated with the occasional pheasant and fox, while doing a self-guided hike, made us feel like Adam and Eve alone in Paradise… Be prepared to walk pretty seriously all day and have a good sense of direction. We found that following the maps and guide book (with thorough preparation from Derek) was challenging, but very satisfying and added tremendously to the experience." – Carol R Mehler on the Pilgrims' Way

"Recommended to families with children. Unforgettable." – Malgorzata Jokipii in the Cotswolds

Go at your own pace and take time to enjoy every aspect of the area and speak to the locals, who all seemed proud and quite happy to tell us "inside" information

– Malgorzata Jokipii in the Cotswolds
"Bear in mind that the way marking is poor and indeed nonexistent in places. Get the Cicerone Guide and also the Rucksack Readers "Cumbria Way"; plus the biggest scale ordnance survey map and a compass. Good warm and weatherproof walking clothing is essential even in July" – Stephen Allen on the Cumbria Way

"We flew from the US, and added a pre-day in Rochester and a post-day in Canterbury. We enjoyed those days very much, and they helped to set apart the special rural quality of our trail days. Derek is very knowledgeable about the history of the area - listen to his stories and tales, they added a lot to our enjoyment of what we were viewing. He also provides an audio tour of the trail, which we listened to each night in advance of the next day's journey." – Ann Jensen on the Pilgrims' Way

"During the course of the week one cannot fail to be impressed by the sights seen on the Thames Path… make sure that the daily walks are within their capabilities, even though the paths are on the level." – Graham Stenger on our Thames Path walking vacation
More about England walking