Where to go on a family walking vacation
Fancy ambling in the foothills of the French Alps with a donkey for company? Or tackling the slopes of Mount Kilimanjaro with your teenagers, camping along the way? What about trekking in the Atlas Mountains with a private Berber guide? Or even walking between villages and pristine coves around a Croatian archipelago? You're spoilt for choice when it comes to hitting the trails with the kids, with options to suit every budget, age and fitness level. Read on for more advice on where to go on a family walking vacation.
1. Atlas Mountains
The
Atlas Mountains
are a dramatic combination of snow-capped peaks, sweeping valleys, and traditional mountain villages. Just an hour and a half from Marrakech, they make an excellent destination for a family walking vacation. You'll stay in a beautiful Kasbah in the heart of a welcoming community and follow ancient footpaths and mule tracks with the aid of a Berber guide and muleteers.
2. Croatia
Head just northwest of Dubrovnik and you'll find the beautiful, biodiverse Elafiti islands, including Mljet, Sipan and Koločep, where our family walking vacations take place. Mljet is a densely forested National Park and Koločep is all about cliffs, coves and tiny villages. Sipan, the archipelago's largest island and former 14th century resort, is full of architectural wonders.
3. France
Walking vacations are a firm favourite for families looking to explore rural France. You could head to the forests and meadows of the Ardèche and the Rhône Valley, or base your walks in
Mercantour National Park
, in the Alpes-de-Haute-Provence, which boasts more than 600km of walking trails. Both offer exceptional scenery as well as the opportunity to walk with your very own donkey.
4. Italy
The mountain foothills surrounding Lake Como make ideal spots for getting outdoors. They're a family walking hotspot with the drama of the Alps as a background, but without the extremities. Stroll through deep forests and meadows, along donkey tracks and over gentle summits, and luxuriate in lakeside towns such as Bellagio or the elegant city of Como itself.
5. Nepal
If your little ones are active, used to long walks and adventurous eaters, Nepal has plenty of shorter treks with lower elevation, which families will love discovering together. In the Annapurnas, you'll hike through ancient oak and rhododendron forests and across alpine meadows and valleys in the great range's foothills. Finish with a flourish with a safari at Chitwan National Park.
6. Peru
For a true adventure, take the family to Peru to experience the cultural highlights of the Inca Trail and Machu Picchu. As well as taking on the world's most legendary trail, you'll have plenty of opportunities to get the adrenalin going on mountain bikes and on the water, too. Trips can be extended to the Amazon, where jungle trails await, ripe for spotting birds, monkeys, reptiles and insects.
Our Family walking Vacations
If you'd like to chat about Family walking or need help finding a vacation to suit you we're very happy to help.

Family walking vacations travel advice
Walking with a donkey
Christine Kieffer, from our supplier Itinerance Trekking:
"Go with a donkey. These affectionate animals have been part of our family for as long as we can remember. Each one of them has their own individual personality, their own life, their own specific tastes. They love the company of humans, especially that of children, who they will encourage to keep on walking without sulking."

Caroline Peeters from our tailor made family vacation company, Safrantours:
"The benefits of walking with a donkey are especially for the children. They love the contact with the donkey and it motivates them to do a walking tour. Kids from four years old, weighing a maximum of 35kg, can even ride on the donkey from time to time. Families walking in the Ardèche also love the forests and the fabulous views over the Rhône Valley and the distant Alps."
At Responsible Travel, we think the best people to advise our travelers are often... other travelers. They always return from our tours with packing tips, weather reports, ideas about what to do – and opinions about what not to.

We have selected some of the most useful family walking travel tips that our guests have provided over the years to help you make the most of your vacation – and the space inside your suitcase.

If you want a real break and appreciate nature and animals then this is perfect.

– Lorna Mackie, on a walking vacation with a donkey in France
"Three of us went walking around Lake Como in August with a 10-year-old child – and it was fantastic. The longer routes were all well within the ability of our 10-year-old. You definitely need hiking boots as some parts of the trail are steep and rocky. It's definitely worth climbing up to all the summits - to see the amazing views. You may want decent waterproofs, we walked our last day in a terrific thunderstorm with lightning, hail and torrential rain (still great)." – Anne Kinderlerer, on a walking vacation in Italy

"The whole trip was amazing, with so many fantastic experiences. We really enjoyed the Annapurna trek, in particular the sunrise at Poon Hill. The trekking guide, Yubraj, and porters were good company for our 2 sons (13 and 14), really adding to their enjoyment of the trip." – Helen Feeney, on a Nepal family vacation
More about Family walking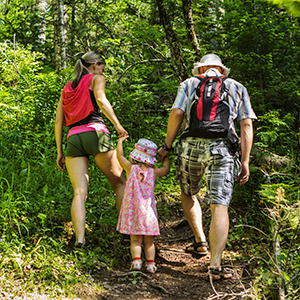 You don't need to be a super fit family to hit the trails on your travels.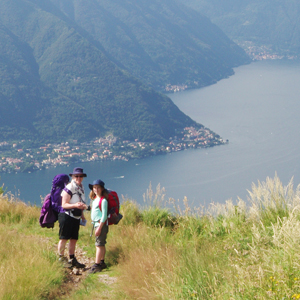 Our family walking vacations in Lake Como let you escape the crowds.