French Alps travel guide
---
2 minute summary
Everyone should have that experience just once. Arriving into the French Alps by night, and then opening the curtains in the morning to see these beauteous behemoths staring at you. You hardly know whether to scream in shock or cry with joy. Mont Blanc is the biggest tear jerker of all and, of course, the highest peak at 4,810m, which you can summit or circumnavigate. But don't let 'La Dame Blanche' as the French call her, steal the alpine limelight.
There are many other equally stunning regions. For southern sun in summer but plenty of snow in winter, the Mercantour NP in the Alpes Maritimes has an Italian feel to it. The Haute Savoie has Lake Annecy as the jewel in its crown, and the Ecrins National Park is a vast, underrated unknown. This French Alps travel guide is our way of opening those curtains and giving you a quick peak of France's most famous tours de force.
The French Alps are...

so much more than Mont Blanc and Meribel. They cover 210,000km2. Just in case you thought they might be crowded.
The French Alps aren't...
just for winter
. When the snow melts, that's when the real adventures begin. Riding and rafting, cycling and canyoning.
French Alps map & highlights
---
Make the most of your time
So often people just associate the Alps with the massive winter skiing exodus. Open for fun all year round, the French Alps cover over 200,000km2. Mont Blanc massif is only one of 15 massifs, other notable ones being the Ecrins, Mercantour and Haut-Giffre. Stay in one place and explore the valleys and plateaus all around, such as in the Haute Savoie, or hike from gite to gite, in the Mercantour NP, where you can use a donkey to carry your bags. Just as Robert Louis Stevenson did many years ago, a trip he summed up beautifully: "For my part, I travel not to go anywhere, but to go. I travel for travel's sake. The great affair is to move."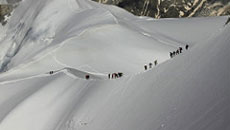 Chamonix
Chamonix is ski capital and gateway to the Mont Blanc massif. You can also base yourself here to enjoy the atmosphere by night, with more remote snowshoeing ventures by day through the shimmering peaks and resplendent valleys of the Joly and Aravis Mountain ranges. In summer, it's the best obstacle course in the world with activities that include white water rafting, canyoning and overnight hikes to mountain huts.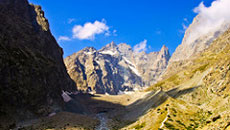 Ecrins National Park
How can the French have kept one of their largest national parks a secret? Challenge yourself with serious alpinism in the Valgaudemar Valley, or take on easier ridges and rambling idylls, along centuries-old smuggler's footpaths and quiet mountain hut trails. Great infrastructure for other activities such as canyoning, kayaking the Durance River, horseriding through meadows or rafting down the Severaisse River too.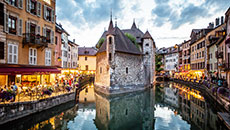 Haute Savoie
In the Rhône-Alpes, Lake Annecy is its magnificent capital. Just one of many lakes made for wild swimming here. Although home to Mont Blanc, don't let it upstage the other 'haute' hiking havens here. Stay in mountain chalets and walk straight out onto trails that go on forever, such as Haut Giffre valley, with over 900km of trails alone, or the natural amphitheatre, Bout du Monde valley.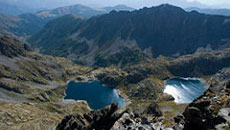 Mercantour National Park
This park is about 150km in length and covers two French 'départements': Alpes-Maritimes and Alpes-de-Haute-Provence. Picture a massif with six valleys emanating from it, many barely trodden. The Vallée des Merveilles has thousands of visible ancient petroglyphs; other Mercantour marvels include trekking with pack horses or donkeys along ancient shepherd trails, or wolf tracking tours – all just an hour north of Nice.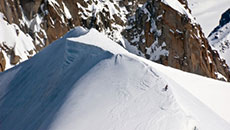 Mont Blanc summit
The highest peak in Western Europe, this magical massif is iconic. Summiting its 4,810m is a serious challenge, as it is covered in snow and ice all year round, demanding serious alpinism skills and training. Plus the guidance of expert High Mountain Guides. There are vacations that include the training as part of the package, guiding you up either the Gouter Route or more challenging Cosmiques Route. Both require sleeping in mountain huts.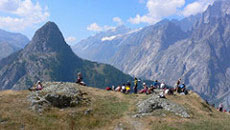 Tour de Mont Blanc
Rather than summiting, walk around this wonder of nature on a 170km circumnavigation. Because this is one big mother massif. The Tour de Mont Blanc, or TMB, can be done in 7 or 14 days depending how much you want to push yourself or how much luxury you want. Camp, chalet or chic it, all the time hiking on paths that weave through the seven valleys surrounding the prestigious peak.