Guinea-Bissau travel guide
Tiny Guinea-Bissau, sandwiched between its beefier West African neighbours Senegal and Guinea, is overlooked, little known or at best, prone to mixed press. It's true that political instability and violence have dogged the country on and off since it gained independence from Portugal in 1974, although currently it's peaceful. Nevertheless, this tiny country is creeping onto travel itineraries and handsomely repays the intrepid visitor with vibrant traditions that rival any of its larger neighbours, interesting wildlife and a lively capital whose residents love to party.

The official language of Guinea-Bissau is Portuguese, just one of the ways this country is unique – a linguistic island within mostly French and English speaking West Africa.

The country's gorgeous coast is the focus of most tours, and the jewel in Guinea-Bissau's crown is the Bijagos Archipelago – 80 odd islands where sacred rites and saltwater hippos are among the unusual highlights. Find out more about Bijagos and the country's other highlights in our Guinea-Bissau travel guide.
Guinea-Bissau is…
An unsung hero of West Africa, with fascinating wildlife, natural beauty and many different ethnic groups and traditions.
Guinea-Bissau isn't…
Guinea, a much larger country bordering Guinea-Bissau to the south, or Equatorial Guinea, which lies just above the equator.
Our Guinea-Bissau Vacations
Guinea-Bissau map & highlights
Guinea-Bissau is a difficult country to navigate independently, so joining a specialist small group trip is the best way to travel. There's an airport in the capital Bissau, and flights in and out often arrive and depart in the early hours of the morning. All other travel is overland on poor roads. Most yours of Guinea-Bissau focus on its superb coastline, made up of lagoons and wide tidal estuaries flanked by mangrove swamps, so you'll be boarding a boat, too, at some point. A flight over the Bijagos Islands on a private plane is a lovely addition on some itineraries.
1. Bijagos Archipelago
This archipelago of 88 islands, 65km off the mainland, has fascinating wildlife and an isolated ethnic population, still governed by tribal chiefs and priestesses. Rare saltwater hippos are found on Orango Island and the archipelago is also one of the most important sea turtle nesting sites in Africa. About 20 islands are inhabited; Bubaque, the largest village of the archipelago, has a tiny museum of local culture.
2. Bissau
Often considered the most 'Mediterranean' of West Africa's capitals, Bissau is huge relative to the country's size, and filled with decaying Portuguese colonial buildings. Highlights include Bissau Velho, the old city center, and nearby Fortaleza d'Amura, still used by the country's military. Venture into the barrios and you'll hear Portuguese, the lingua franca Criolu and local languages being spoken.
3. Bolama Island
An early Portuguese trading post, Bolama was the capital of Portuguese Guinea from 1871 to 1941, before it was moved to Bissau. Some local people still live here, but Bolama's buildings have fallen into disrepair, and it has a ghost town feel. Originally laid out like a Roman citadel, today all that remains are empty avenues and squares, dry fountains, overgrown gardens and crumbling colonial mansions.
4. Manjaco ethnic group
The Manjaco ethnic group live in tiny villages peppered through the forests of the Senegal border. Known for their ancestor worship, the Manjaco create sacred wooden sculptures from wooden poles, called pecab, that represent the spirits of their ancestors. Different generations have developed their own styles of sculpture, and with the permission of village elders, it's possible to see this vibrant tribal artform.
5. Mask dances
Guinea-Bissau is home to vibrant traditions and unique culture, and many organised tours visit local ethnic groups to learn more about their lives and perhaps experience a traditional ceremony. The vaca bruto (wild bull) wooden mask, complete with real horns and leather ears, is used in dramatic dances celebrating the harvest in the Bijagos Archipelago.
6. Quinhamel
A city to the west of the capital Bissau, Quinhamel is a good base for exploring the flooded mangrove forests near the coast, home to superb birdlife including pelicans, goliath herons and flamingos. It's close to the isolated territory around the border with Senegal, where you can visit the villages of local Felupe and Baiotes people, who have a unique style of architecture.
Our top Guinea-Bissau Vacation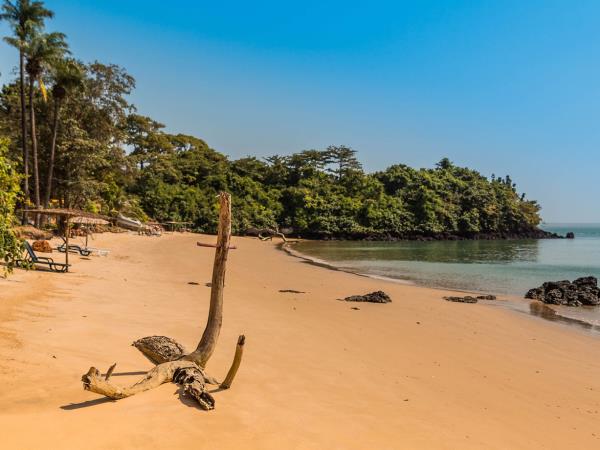 Explore tribal traditions and the Bijagos islands
From
£

2799

to

£

2875
9 days
ex flights
Small group travel:
2023: 27 Oct, 27 Dec
If you'd like to chat about Guinea-Bissau or need help finding a vacation to suit you we're very happy to help.

More about Guinea-Bissau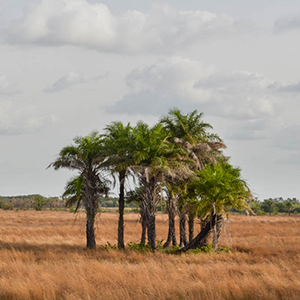 November to April is the best time to visit Guinea-Bissau, outside of the rainy season, when the weather is humid but dry.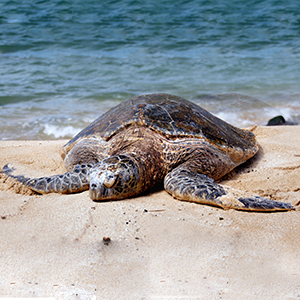 A scattering of over 80 beautiful and fascinating islands off the coast of Guinea-Bissau, the Bijagos Archipelago is something of a must-visit destination.