Things to see & do in
the Bijagos Archipelago

Covering 2,500 sq km of ocean, the Bijagos Islands are a delightful must-visit off the coast of Guinea-Bissau, home to ancient traditions and unique wildlife.

The Bijagos Islands are the jewel in Guinea-Bissauís crown, an archipelago of 88 islands that are a UNESCO World Heritage Site. Their isolated location means they are home to some of West Africaís least adulterated cultural traditions, unspoiled by colonial influence. Interestingly, Bijago culture tends to be matriarchal, with women managing the household, the economy and the law. Women also initiate courtship and choose their husbands, who are forced to marry. Religious functions are performed by priestesses, known as baloberas.
Our Guinea-Bissau Vacations
Bijago culture
Only 20 islands are permanently inhabited, with typically just a single village on each, with its own traditions and ceremonies. The majority of islands are inhabited only by spirits, according to local belief. Islanders visit some to perform ancient ceremonies, but donít settle there, since building on these sacred places would disrupt the delicate balance of spirit life. During fanado, the secret traditional initiation rites where young Bijagos spend months living in the forest, elders pass environmental knowledge to the next generation. On the populated islands, masked dances are used to bless the harvest and the villages.
Biodiversity
This unique and rich cultural life is also responsible for the preservation of the islandsí breathtaking biodiversity, with trees, beaches and even whole islands designated as sacred and out of bounds. The greatest threat to this unique region today is not tourism, which remains sparse here, but evangelical churches that are actively recruiting members. The educational, medical and material support they provide islanders explains their popularity, but some local people and outside observers fear their preaching erodes traditional beliefs, harms community and generational solidarity, and threatens the environment as traditional beliefs lose currency.

For now, though, the islands are home to a huge range of ecosystems, from mangroves to coastal savannah and palm forests, and are hopping with unique wildlife. Rare but elusive saltwater hippos can sometimes be spotted swimming along the shoreline and even between the islands (Orango Island is a good place to track them), and the archipelago is home to the largest colony of green sea turtles on the Atlantic coast of Africa.
Bijago art & craft
The Bijagos produce all kinds of items, both for daily activities such as fishing, for personal use (stools, baskets) and for the important coming of age ceremonies known here as fanado (masks, shields and spears). All these pieces have a unique aesthetic, distinctive from other African tribal arts. While Bijago art is unique to the archipelago, it also varies slightly within the islands, making it truly diverse and intriguing. The most striking pieces are the portable ancestor shrines, known as iran, and the masks representing different creatures, including the bull used in the vaca bruto ceremonies, as well as sharks, stingrays and sometimes other local animals.
Our top Guinea-Bissau Vacation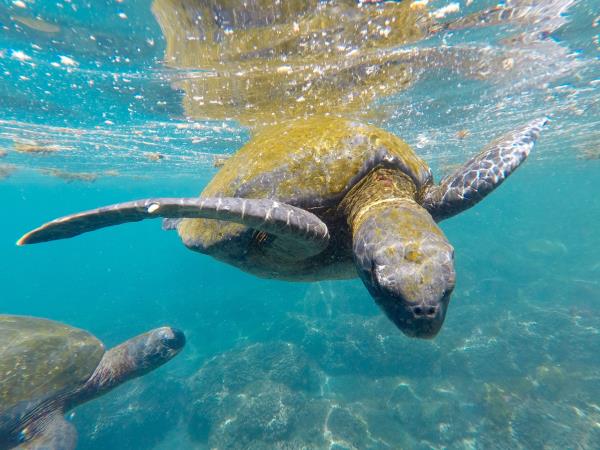 Pristine beaches and rare mammals in Guinea-Bissau
From
£

2550
11 days
ex flights
Small group travel:
2023: 24 Nov
2024: 22 Nov
2025: 21 Nov
If you'd like to chat about Guinea-Bissau or need help finding a vacation to suit you we're very happy to help.

Highlights of the Bijagos Archipelago
Bubaque Island
The main island of the Bijagos, Bubaque is home to the archipelagoís administrative capital. This is the largest village in the islands and the only one connected to the continent, via a weekly ferry (itís a four to five hour journey). Thereís a tiny colorful market here, local bars and traders and a small ethnographic museum dedicated to Bijagos culture.
Canhabaque Island
This inhabited island is matriarchal and still leans heavily on ancient ritual. Young men take part in elaborate and lengthy initiation rituals. The welcome here is always warm and, as visitors are few, they are greeted with high spirited hospitality and curiosity.
Orango Island
Part of the Parque Natural do Grupo das Ilhas de Orango, Orango is covered by savannah and is known for its unique saltwater hippos. From October to early February it is possible to follow their tracks as they move around the island searching for saltwater ponds and swampy lagoons. The hippos also sometimes munch on the rice planted by islanders and ransack their fields. If youíre lucky you might spot them on the beaches, too. You can also visit the grave of Okinka Pampa, the last queen-priestess of the Bijago people and a legendary heroine who negotiated with the Portuguese for her peopleís safety in the early 1900s.
Poilao Island
This is one of the archipelagoís southernmost islands. Itís uninhabited and its wild interior is used for male initiation ceremonies and strictly off-limits to all but select elders and tribal leaders. Its beaches are a key nesting site for green sea turtles. Between August and February, turtles come to lay their eggs with upwards of 2,500 reproducing females visiting Poilao alone, some traveling from as far as Mauritania,and returning to the exact same beach on which they were born.
Rubane Island
Part of the Boloma Bijagos Biosphere Reserve, Rubane Island lies northeast of the larger island of Bubaque, across a narrow strait. Itís also home to a well-designed eco hotel, Ponta Anchaca Ė one of the few places developed for tourists on these islands.
There arenít many facilities on the Bijagos Archipelago, but this is a great chance to experience a pristine region with fascinating culture, too. Simple hotels or camping are the norm, but for a splash of luxury, there is a lovely eco hotel on Rubane Island. Organised, guided small group tours of generally spend three or four days island hopping here, as part of a longer itinerary that takes in Guinea-Bissau and beyond. Boat transport will be included on these tours, although there is also a public ferry once a week between Bubaque Island and the mainland.
More about Guinea-Bissau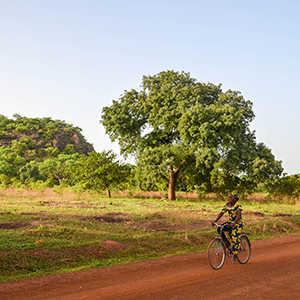 Wedged in between Senegal and Guinea, this former Portuguese colony is well off the tourist trail, but punches above its weight when it comes to cultural riches and biodiversity.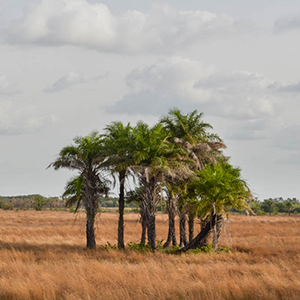 November to April is the best time to visit Guinea-Bissau, outside of the rainy season, when the weather is humid but dry.