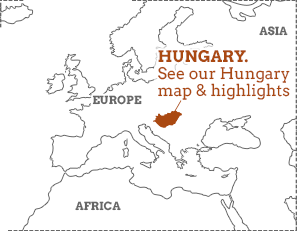 In a word association game, when you say Hungary, most people reply Budapest. Fair enough. The country's capital, bestriding the Danube, combines striking architecture and history as rich as goulash. A few nights here is a treat, but the rest of Hungary can get overlooked, which is a shame. Architecturally, it's diverse, with everything from Roman ruins and medieval townhouses to baroque churches and Art Nouveau bathhouses.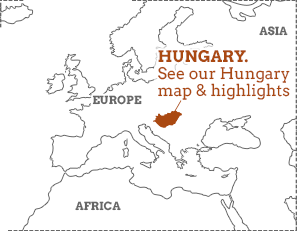 Hungary isn't just Budapest (although keeping one of Europe's most beautiful capitals quiet for this long is a feat). It's also bird-packed national parks, riverside castle towns and wine hills.

The landscape is gentle rather than dramatic, but there are 10 biodiverse national parks that take in the bird-filled Bukk Mountains, the Great Hungarian Plain, Lake Balaton and the limestone bat caves of the Danube. Until 100 years ago, it was also one of Europe's key wine producers, until disease, world wars and 40 years of Communist collectivisation interfered. Now, though, Hungary's wine industry is thriving – a complement to its distinctive paprika-peppered Magyar cuisine. Read more in our Hungary travel guide.
Hungary is…
more than just Budapest. The capital pulls in the crowds, but beyond is a big country with a big heart.
Hungary isn't…
hard to reach. Bordering seven countries, it's at the core of Central Europe.
What we rate & what we don't
Hungarian wine
When we asked our Hungary vacation specialists what they considered underrated in Hungary, there was one resounding answer: wine. Of course, there's Tokaji. But have you heard of the Valley of the Beautiful Woman? The Riesling that isn't a Riesling at all? South-westerly Villany, home of the villainously good Bordeaux-style reds? Nope? Then it's time to catch up on what we've all been missing out on.
Bird watching
Two world wars and 32 years as a Soviet outpost means that Hungary hasn't quite caught up with the damaging commercial farming practices of northern Europe. Largely in-tact biodiverse oak forests, plains, lakes and rivers shelter over 400 species of birds – storks, sea eagles, shrikes, owls, you name it. A
bird watching
vacation led by a passionate pro is your way in.
Train travel
Trains aren't just a fun way to travel around Hungary (although they definitely are) – the whole system is cheap, quick and reliable. It's also ethically sound, with money spent on the railroads going back into preserving it for those who use it daily, while producing around a fifth of harmful emissions when compared to domestic flights, or half when compared to buses.
Democracy
If there's one thing that Hungary has learned recently, it's to never take democracy for granted. The current (and recurring) Prime Minister Viktor Orban is accused of reducing the independence of the national press and bank. He also has a yen for demonising critics, condemning American-Hungarian philanthropist George Soros of trying to "Muslimise" Europe and calling people without children "not normal". Hmm.
Budapest
With its hilltop churches, Ottoman bath houses and the bridge-draped Danube,
Budapest
is still very much rated. It hasn't (yet) reached the dizzying heights of overtourism that fellow Central European cities like Prague and Dubrovnik endure. Outside summer and Christmas market time, Budapest still feels like a living, breathing city with veg-stocked food markets and restaurants that haven't wholly caved to tourist tastes.
Cycling
The Danube Cycle Path does what it says on the tin, following Europe's second longest river through Germany, Austria and Slovakia before reaching Hungary…and then heading through a further six countries.
Guided and self guided tours
include detours to vineyards and Danube Bend mountain towns, and put you up in cosy guesthouses where homespun hospitality is a given.
The Danube
The Danube
is still the trading river it always was – it's just that these days more and more money is coming from the tourist trade. Forget the booze cruises and opt for an open-air public ferry to the Danube Bend towns, where mountains watch over castles and bird sanctuaries. Or cycle along the well-waymarked trails for every ability – as far as Vienna, if you've got the pedal power.
National parks
Hungary is one of the most biodiverse countries in Europe – one of the few happy hangovers from the low-industry Communist era. Woodpeckers peck and red-back shrikes shriek in the old tangled forests and bat caves of Bukk National Park. Hortobagy National Park, meanwhile, lays out savannah-like plains and farms still working to 100-year-old traditions that work in sync with nature.
River cruises
Chances are, you'll see more congestion on the Danube than on the roads during the Hungarian summer. That's largely down to cruises clamouring for tourists' attention between Budapest and the Danube Bend. Will it be opera or a booze cruise? A half-day in Szentendre or a starlight tour of Budapest? Hardly any of these cruises are bad in isolation, but once you get 50-70 ships trying to see the Hungarian Parliament light up at night you'll soon realise why adding yourself to this particular form of
overtourism
is a bad idea.
Puszta horsemanship shows
Puszta shows were named for the semi-nomadic herdsmen who once roamed the Great Hungarian Plain. They're now hired by Hortobagy National Park to preserve their traditions. Sounds great – until you realise that part of that show contains Magyar cowboys with two-metre-long whips encouraging their steed to sit down and play dead. All useful moves in battle; the ethics are a little more grey when they're preserved for tourists rather than survival. We think there are better ways to look after the Magyar cowboy culture – say, visiting the national parks and museums, protecting their sacred plains, or joining one of the rural festivals.
Szimpla Kert (at the weekend)
Ruin bars originally started to fill abandoned buildings in the 2000s, drawing people back into the neglected Jewish Quarter. The multi-tiered Szimpla Kert ruin bar, however, has gone from Budapest bloggers' secret to tourist trap in just a few years. Think carefully about your timing (clue: not on a Saturday night, when there's a round-the-block queue), but don't abandon it entirely. Szimpla Kert also supports worthy local projects, filling its menu with Hungarian farm produce, laying on markets and workshops for not-for-profit businesses, and giving floor spots to young musicians and artists.
Our top Hungary Vacation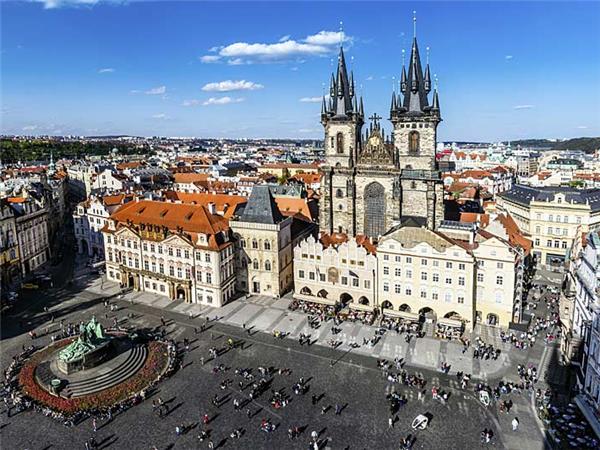 A wonderfully contrasting ride through the heart of Europe
From
US $

3949

to

US $

4199
11 days
ex flights
Small group travel:
2023: 15 Jun, 7 Sep, 5 Oct
2024: 13 Jun, 18 Jul, 15 Aug, 5 Sep, 3 Oct
If you'd like to chat about Hungary or need help finding a vacation to suit you we're very happy to help.

Eating and drinking in Hungary
Yes, yes, goulash is great. But we would go so far as to suggest that fisherman's soup (halaszle) is even better. And it's usually practically still flipping with carp caught from the Danube.

Paprika (both the spice and the red pepper it comes from) is in everything. But will someone please remind hyper-nationalist Prime Minister Viktor Orban that his country's national ingredient comes from its days in the Ottoman Empire?

Hungary is clawing back its reputation as a top-notch winegrower…but for now it's a pleasing secret. There are over 20 wine regions, so sip native Bull's Blood in Eger, sweet Tokaji between the Tisza and Bodrog rivers, and smoky white Juhfark in Somlo.
People & language
The national language of Hungary is Magyar (only called Hungarian by outside folk). It's notoriously tricky to get the hang of – think 14 vowels and flexible word orders. It's also an orphan language most akin to Finno-Uric languages in Siberia, so pronunciation isn't like any of the languages in neighbouring countries. Still – especially in the English-free zone of the countryside – a few words of Hungarian will get you an extra generous dollop of goulash on your plate.
Sziya is hello and bye (helpfully, pronounced see-ya).
For yes and no, you want igen (ee-ghen) and nem.
Köszi (kew-see) is thanks – but not for older people, who would like a little more respect from the youngsters, thanks. You should use köszönöm (kew-sew-newm) for your elders.

Hungarians are inventive folk. No, literally – they've dreamt up life-changers like the Rubik's Cube, soda water, Biro pens, four-wheel carriages, Volkswagen Beetles and…the hydrogen bomb.

Gifts & shopping
Paprika, of course. You could spend a pretty penny on the prettily packaged stuff, complete with a hand painted wooden spoon. Or you could get the no-nonsense cooking spices and dried strings of pepper that Hungarians use by the bucketload. Honey and beetroot chutneys are a hit, too.

Hungarian wine is the most underrated of European tipples. Bull's Blood is the classic red, pale rosés come from the deep south, and Tokaji has been used to cin-cin the kings and queens of Europe for centuries. You could also pick up a palinka, the liquor that looks (and tastes, some would say) a bit like white spirit.

Tulips, forget-me-nots, roses, foxgloves and poppies bloom across bright and bold Kalocsa folk embroidery. You'll see it on cushions, tablecloths, catwalk coats and headscarves.

It's rude to clink glasses when you cheers – a superstition left over from the failed 1848 revolution, when Habsburg victors were said to have clinked glasses after every execution of a Hungarian general. Strong eye contact, however, is a must.

How much does it cost?
Entrance to Gellert Bath, Budapest: £17
Budapest public transport 24-hour ticket: £4.30
Wine tasting in the Aszar wine region: £6
Bike rental at Hotobagy National Park: £4 per day
A brief history of Hungary
Hungary – smack-bang in the center of Europe – has been the crossroads for every empire, tribe, army and ethnic group that's roved across Europe. Its borders have shifted continuously, it has occupied countries and been occupied, its leaders swapped every few years, and its people and revolutions have been many. All in all, it's a complicated and often mysterious history romanticised by nationalist revisionism that sometimes out-shouts fact.
Read more