At almost 120km²,Jersey is the largest of the Channel Islands, and at low tide it practically doubles in size. Long a favoured location among walkers, the island is crisscrossed with quiet leafy lanes, while the 80km coastal route promises a superb breadth of terrain that ranges from heath-draped cliffs where seabirds nest to secluded sandy bays and picturesque fishing communities. You might also duck inland. Jersey's winding country roads prohibit high speeds, so they're ideal for walkers, cyclists and horse riders.

Most people live in small towns such as St. Helier, so despite the island's compactness, the Jersey countryside is quite sparsely populated. Add to that mild winters that make it more or less a year-round destination, and a wealth of cultural and historical landmarks spread around the island that can easily be reached on foot, and it's not difficult to appreciate why Jersey walking vacations have retained their appeal for so long.
Our top trip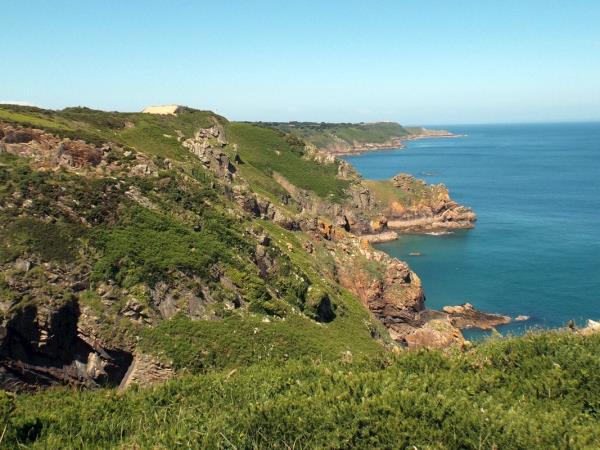 Explore Jersey on foot!
From
£

1259

to

£

1399
7 days
inc UK flights
Small group travel:
2024: 5 May, 9 Jun, 7 Jul, 25 Aug, 22 Sep
If you'd like to chat about Jersey or need help finding a vacation to suit you we're very happy to help.

What do walking vacations to Jersey entail?
Our walking vacations in Jersey are typically self-guided, and point-to-point. You'll be provided with detailed itineraries, maps and guidebooks, plus transfers to the start and from the end points of each day's walk. Daily distances average around 13km. With moderate terrain with few difficult gradients, you can set a relaxed pace. That also makes Jersey good for families, and our walking vacations here usually have a minimum age of 13. Teens will appreciate being able to break up their treks each day with a swim, a climb up to some castle battlements, or a Jersey ice cream.

The coastal route can be completed in five or six days – but these are tailormade itineraries, so if you want to add in a rest day or two, why not? That way you can duck onto some of the lovely inland trails too, explore a few of the island's myriad historic attractions, or pop back to that little beach you found the day before.

Wonderful, a great escape, restorative, and memorable.

– Fenella Thornton on a self guided walking vacation in Jersey
Locally owned accommodation, small hotels or guesthouses will be pre-booked and waiting for you each afternoon. You might eat in, or there will be places to grab dinner nearby. As these are point-to-point itineraries, your luggage will be transferred between accommodation on your behalf, so that you need carry just a small daypack. Word to the wise: don't forget a swimsuit.
Best time to go on Jersey walking vacations
While Jersey is reckoned to be one of the sunniest parts of the British Isles, it's worth remembering that it's also very exposed out there in the Atlantic, and the weather can be unpredictable. The winter climate is typically quite mild on Jersey but damp too. Spring, summer and autumn are generally seen as the best time for walking vacations in Jersey, though the winter months will often provide some of the most dramatic coastal scenery. Most trips operate between March and October, and the temperature can reach 20°C in July and August.
Beaches
On an island this size, you're never more than a few minutes from a beach, even less when you walk a coastal route. Give St. Brelade's Bay a miss if you're looking for peaceful seclusion, and instead pause to swim, paddle or enjoy the views at one of many bays and coves that might not have the same amenities but also attract nowhere near the same crowds. From coves dotted with rockpools that teem with crabs and cockles at low tide, to sublime ribbons of golden sand splashed by Atlantic breakers, Jersey's beaches are pretty dreamy. Note that the water rises quickly at high tide and can pose a danger if you get cut off, so check tide times before setting off.
Military landmarks
From Martello towers that date all the way back to the Napoleonic wars, to German WWII fortifications, Jersey is dotted with historic military landmarks that make an interesting addendum to a walking tour. One only needs to browse the myriad titles at the small airport's bookshop to appreciate the impact that German occupation during the WWII had on the island, and the Jersey War Tunnels serve as a counter to the island's normal escapist atmosphere. A museum, housed in an underground network of tunnels carved by thousands of prisoners, or slaves rather, takes on an altogether grimmer dimension when you learn that many of these unlucky workers were buried in the walls.
Castles
Walking around Jersey's coast will bring you to medieval Mont Orgueil Castle, which overlooks the charming fishing community of Gorey. You can explore 800 years of history, much of it quite gruesome, as you wander its labyrinthine corridors, staircases and hidden rooms. Take a walk on the battlements too and drink in the sea views, with the French coast off in the distance. From St. Helier you can walk out to Elizabeth Castle, which was built on a tidal island by none other than Sir Walter Raleigh, the Elizabethan explorer who was the island's governor in the early 17th century.
Jersey is under an hour by air from London, so flying across might seem a no-brainer. But there is much to be said for making the longer journey by ferry. For one thing you can bring the car, or the dog, with you. For another, you can stretch your legs and enjoy the sea air on deck, and of course it's
more eco-friendly
than a short haul flight. There are regular daily crossings from both Poole (four and a half hours) and Portsmouth (around seven hours).
We always recommend eating locally sourced food as much as you can when on vacation, dramatically cutting the carbon footprint of your trip. Some destinations are more difficult to eat local in than others of course, but in Jersey it could scarcely be any easier. Besides the famous dairy produce and Jersey potatoes, you've got lashings of seafood harvested daily from the sea, and other delicacies including black butter preserve and doughnut-like Jersey wonders.
Jersey's walking trails are well-marked, so do stick to them, and walk in the center of the path where possible, to prevent causing any damage to the surrounding vegetation.