Trip planning tips
Kazz Padidar, owner and chief instructor of our supplier Wild Adventures, shares his Jersey travel tips: "When you arrive, I recommend doing a tour of the island first, all round the outside, to pick up where the secret beaches are, so you can plan where you want to go for the rest of your trip and use your time more effectively. You can join a bus tour to get a feel for the island straight away – it's much better than just relying on the regular tourist guides. Get out, have a look around and speak to people who really know the island. They've always got a better knowledge of where to go."
Our top Jersey Vacation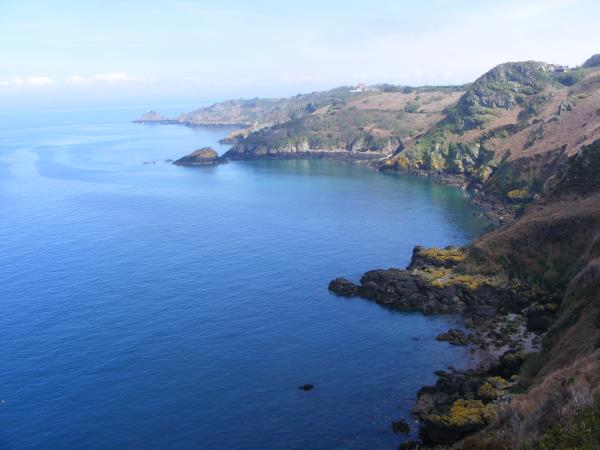 Walking vacation on Jersey in the Channel Islands
From
£

699

to

£

1049
8 days
ex flights
Tailor made:
This trip can be tailor made to depart anytime between March and October
If you'd like to chat about Jersey or need help finding a vacation to suit you we're very happy to help.
Jersey accommodation tips
Arthur Lamy, the Blue Badge Guide, is one of our suppliers. Here's his Jersey travel tip for a particularly special place to stay: "Jersey Heritage lets out some wonderful properties. – one of the best is Seymour Tower. It's a mile and a half from shore, so you need a local guide or a fisherman to take you as it can be dangerous. The coastline is rocky with channels between the rocks. You can walk out at low tide but if you get the timing wrong the channels fill with water and you can't get back. But you can book it overnight, there's a gas cooker, solar powered fridge and heating. It's a real cracker – I love it, there's no neighbours at all!"
Local art tips
Derek Hairon, director of our supplier Jersey Kayak Adventures, shares his Jersey travel tips for art lovers: "Plenty of places specialise in local artists, like Art in the Frame in St Aubin. There's a tremendous amount of art being produced on the island – painting, sculpture, pottery – you name it! I think this is because the island is small, but it's very diverse with lots of different environments and the light is very different because we're surrounded by the sea. Each autumn, there is a programme where local artists open their studios and you can go and see them at work. In Liberation Square they put in shipping containers and the artists set up in them – so they're in there producing and selling their wares, including jewellery and clothing."
Local food tips
Derek Hairon, director of our supplier Jersey Kayak Adventures:
"Look out for what we call "Hedge Veg"! If you drive around the island, particularly in the northwest, you'll see that some small farmers and home producers will put out food, including fruit and tomatoes. You can stop and buy it – you just put the money in a box."
HEALTH
There is a good hospital in St Helier, although in specialist/serious cases it is likely you will need to travel to the UK for treatment. Make sure your travel insurance covers this.
Jersey is not part of Great Britain, so it is not covered by the NHS, although emergency treatment is often free of charge.
Doctors will charge patients for visits – this is often around £40, depending on the doctor's surgery.
Take note of local emergency numbers – Jersey uses 999 and 112.
SAFETY
Jersey is a very safe destination with exceptionally low crime rates. Speed limits of 15mph on the 48 mile road network known as the Green Lanes make it ideal for cyclists. The main concern is the tide. The island has one of the highest tides in the world, with unpredictable swells. Safety varies from beach to beach – check how safe your beach is for swimming, and never leave little ones unattended. Beaches are only guarded during the summer season, and some not at all. All beaches pose a threat at high tide as the water rises quickly and sections of some bays can be cut off – so be sure to check the tide times before you visit. On the other hand, Jersey has some of the cleanest beaches in Europe, and the quality is checked on a weekly basis during the summer months. Certain attractions, such as the Corbière Lighthouse, can be reached on foot via causeways during low tide. However, there have been serious accidents when the tide has come in or the sea is rough – so check with guides or local information points before crossing.
Back to the top
Convert currencies