Walking in Jordan travel guide
Like Mars on Earth, the sun scorched and rust red landscape of Jordan is one of the driest places on the planet. For thousands of years, the only footsteps here were those of soldiers of bygone conquering empires, and the spice merchants who travelled the ancient trade routes with their camel caravans. Only since the Nineties, when a duo of veteran British climbers started mapping a great thru-hike of desert trails, has anyone but the most adventurous of adventurers come here to walk.

The mesmeric rhythm of your footsteps in this beautifully silent, wide and open space will make you want to walk for hours.

Now a perennial favourite on the tourist circuit, the ancient city of Petra is starting to suffer from the impact of its culture-hungry crowds. On foot, however, in the quiet of the sabulous, empty valleys, feeling as small as a drop of water in the desert, you'll really experience the solitude and sheer scale of your surroundings.
Our Jordan walking Vacations
What do walking vacations in Jordan entail?
Small group vacations
Between its brutally barren landscape and hot, hostile climate, Jordan is an uninviting destination for independent trekking. No tours offer self-guided walking here. Instead, walking vacations in Jordan are available as small group trips. Lead by local, experienced guides, who know the desert dunes like the backs of their hands, you can safely explore this arid wilderness away from the coach tour crowds that pile into Petra. You'll leave the desert as deserted as you found it and, since numbers are limited to 16 people, the group's impact on the fragile environment and its limited water resources is minimised. It also means you get to stay in family run hotels, too small to benefit from mass tourism, where you can get a real taste of Jordan's culture.
Accommodation
This varies by location, ranging from wild camping to comfortable three star hotels, but the real warmth of the desert lies in the welcoming hospitality of the Bedouin people, and a bed in a traditional Bedouin camp. Cosy in a tent made of goat hair, well insulated from the elements, you'll have the best view of Jordan by night – stargazing takes on astronomic proportions when you sleep under the spectacularly dark desert skies. Meanwhile, your money goes into the pockets of the local people, keeping their culture thriving. Camping near Petra requires special permission from the local authorities; as such the camp here is basic to help preserve this protected, historical site.
What's Jordanian food like?
Unless you're a particularly picky eater, you won't go hungry in Jordan. Freshly bought market produce, home baked bread, kebabs and hummus feature large on the menu, keeping you fuelled for the full day ahead. Make the time to try some more adventurous cooking, such as local favourite mansaf, seasoned lamb cooked in goat yoghurt. Another desert speciality is a medley of barbecued meat and vegetables, traditionally made in a zarb – a pot that is buried in the sand and left to cook slowly over hours.
How fit do I need to be?
You will need a good level of fitness to enjoy a walking vacation in Jordan. While most of the trails are a moderate level of difficulty and at a low altitude, treks can last from between two and seven hours a day, with four to six days of walking in total on a week's trip. More importantly, trekking in hot desert conditions makes the walks feel more demanding, and much of the terrain is soft sand, with plenty of rocky scrambling required. Getting in a longer, weekly walk on your local hills before you go will make all the difference. All of your luggage will be transported during the tour, leaving you with just your day pack to carry. Jeep transfers of four or five hours cover longer distances between trails.
Our top Jordan walking Vacation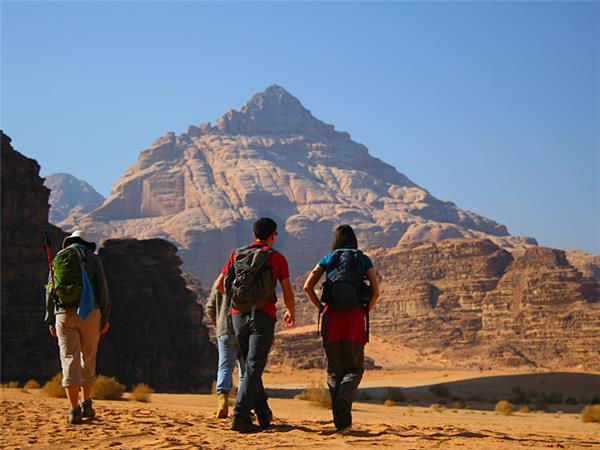 Some of the most spectacular desert scenery in the world
From
US $

2179
8 days
ex flights
Small group travel:
2023: 18 Feb, 4 Mar, 18 Mar, 4 Apr, 29 Apr, 9 Sep, 23 Sep, 7 Oct, 21 Oct, 11 Nov
If you'd like to chat about Jordan walking or need help finding a vacation to suit you we're very happy to help.

Best time to go walking in Jordan

Petra's colourful sandstone walls are more vibrant from autumn to spring, when cooler weather makes desert hikes more enjoyable.

The best time to go walking in Jordan is from September to May, when the weather is cool enough to enjoy long days in the desert. There are no tours departing during the summer months of June, July and August, when temperatures can skyrocket to a blistering 40°C. April to early May and late September to November are the best times for sunny, rain-free days – but temperatures can still reach 25°C in Petra. December, January and February can be colder (10°C) and wetter, while temperatures can drop suddenly at night, especially in the desert.
More about Jordan walking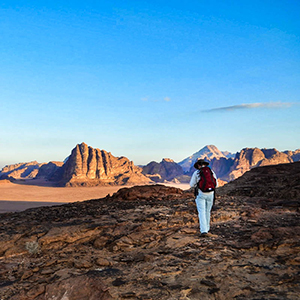 From peaceful sunrise strolls in Petra to hairy mountain hikes, the best walking routes in Jordan are the ones that lie off the well-used track and far from the busy tourist bus schedules.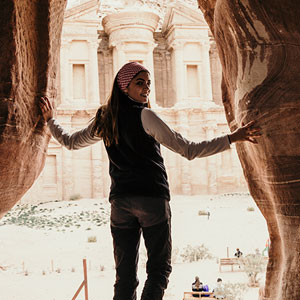 It's not just local Bedouin shepherds that benefit when they guide Dana to Petra walking vacations.