Backpackers, journeyers and high-end tourists have been coming to Kashmir and Jammu, for nigh on 500 years with everyone from Mughal emperors to Mahatma Gandhi and Paul McCartney sampling the special brand of Sufi Islamic hospitality that goes hand in hand with the faraway peaks of the Himalayas. There's an intrinsically magical feel as the Vale of Kashmir bathes in the golden light of the setting sun. The canals and lakes in and around the old town of Srinagar offering a timeless glance at another world, where shakaras float effortlessly by and the call to prayer blends with the sing song of Hindi film scores.

Oh let the sun beat down upon my face, stars to fill my dream; to sit with elders of the gentle race, this world has seldom seen.

Local guesthouses invite a chance to get to know charming hosts who revel in the role of Kashmir travel guide, only too pleased to show you their homeland where trekkers can find Nirvana and shoppers succumb to some of the finest wares this side of the Silk Route.
Kashmir is...
like a mystical Islamic land that time forgot.
Kashmir isn't...
just rammed-jammed with tie-dyed hippies.
The region of Kashmir incorporates the Indian state of Jammu and Kashmir, Gilgit-Baltistan and Azad Kashmir in Pakistan, and Aksai Chin and the Trans-Karakoram Tract which are both areas administered by China. For this Kashmir travel guide we're focusing on the three regions of Jammu and Kashmir: Ladakh in the east, which reflects the remoteness and peacefulness associated with Buddhism and the Himalayas, Jammu in the south, featuring countless Hindu shrines, including Vaishno Devi that's located around 50kms north of the temples, palaces and forts in Jammu City, and Kashmir Valley including the city of Srinagar, hill stations of Gulmarg and Pahalgam, and house boats on Dal Lake.
Our top Kashmir Vacation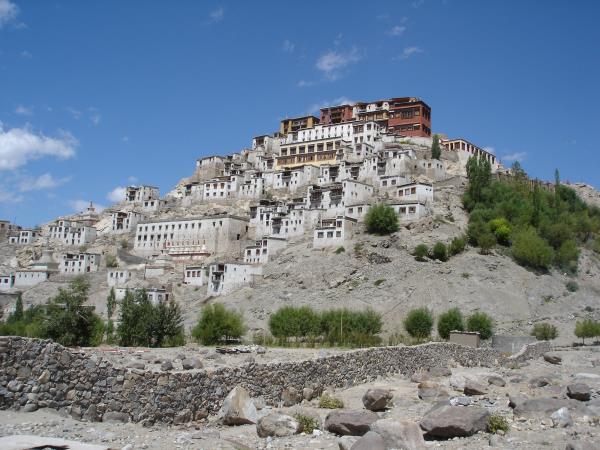 Timeless monasteries, stunning mountain scenery and Srinagar
From
£

2849

to

£

2949
14 days
ex flights
Small group travel:
2023: 3 Aug
2024: 3 Aug
If you'd like to chat about Kashmir or need help finding a vacation to suit you we're very happy to help.

1. Leh
Overlooked by the imposing ruins of the nine-storey royal palace, Leh is a relatively harmonious vision of religion in India with mosques and Buddhist monuments, such as Shanti Stupa, alongside smaller Christian, Hindu and Sikh places of worship. Leh is a ramshackle assembly of markets and monasteries with the surrounding mountains and lakes providing ample excuses to explore as you acclimatise at altitude.
2. Nubra Valley
Accessed via the world's highest road, Khardung La, and featuring the 14th century Diskit Monastery and gigantic statue of Maitreya Buddha, Nubra is awash with sand dunes, sea-buckthorn and rushing rivers. Fertile valley slopes support several communities, such as Diskit village, where kids kick about under apricot orchards and wild camels roam the lands which were once the preserve of their forefathers on the Silk Route.
3. Padum
Thread your way through the agricultural plains and glacial valleys of the Zanskar Mountains and you'll reach the village of Padum where nearby Buddhist monasteries provide the perfect point to head to before hunkering down for the night in a local guesthouse. Padum is a great place to meet local people and there are several homestays plus a good choice of restaurants servicing the steady flow of seasonal trekkers.
4. Rangdum
The remoteness of Rangdum offers travelers a glimpse at life in the far reaches of the Suru Valley. The summer campsite here, at Julidok village, offers overnight accommodation in between exploring the flat and arid landscapes en-route to the Rangdum Monastery, which is inhabited by around 30 Tibetan Buddhist monks and roughly the same amount of donkeys.
5. Sonamarg
This seasonally inhabited hill station is situated within the alpine area of Kashmir Valley surrounded by the glacial summits of the Himalayas including the peaks of Sirbal, Kolhoi and Machoi. Day walks around the Himalayan foothills are matched by opportunities to meet nomadic Gujjar people who move lock, stock and flock up and down the mountain slopes in time with summer and winter.
6. Srinagar
Kashmir's largest city is well-known for its lagoons, lakes and navigational canals with everything from floating fruit and veg markets to overnight houseboat accommodation offering travelers the chance to view the heritage sites and ancient alleyways from a whole new perspective. Mughal gardens, wooden mosques and Hindu temples make the moniker 'Venice of the East' almost entirely plausible.
More about Kashmir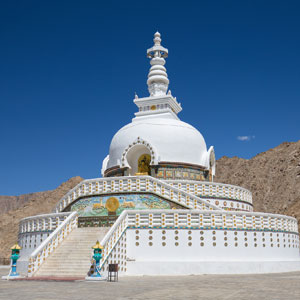 The best time to visit Kashmir is once it starts to warm up in April - when wild rhododendrons create a vivid pink backdrop - through to October...