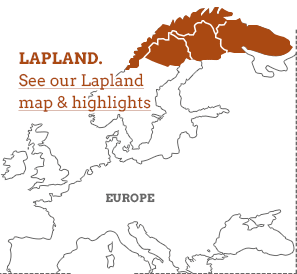 Vacations in Lapland might usually take place in winter, but don't expect environmentally damaging downhill skiing or tacky 'Christmas villages'. Instead, these fantastic, family-friendly multi activity vacations lead you snowshoeing along pristine forest trails, on high-speed husky safaris, and in search of the Northern Lights, with evenings spent in cabins deep in the wilderness. They also provide insights into indigenous Sami culture, while supporting traditional ways of life in remote communities. All of this is set against Lapland's wild natural scenery, which your vacation helps preserve, as our partners always follow strict 'leave no trace' principles.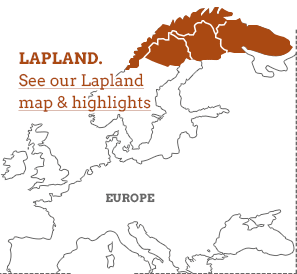 Our top Lapland vacations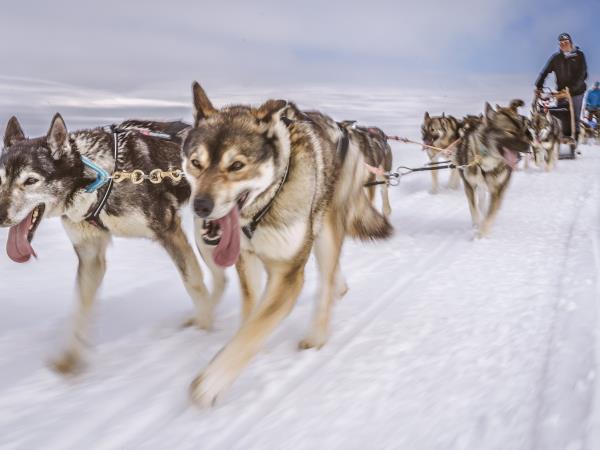 8 days
inc UK flights
Sled with huskies through spectacular Finnish scenery
Small group
2023: 26 Mar, 18 Dec, 2024: 14 Jan, 21 Jan, 28 Jan, 4 Feb, 11 Feb, 18 Feb, 25 Feb, 3 Mar, 10 Mar, 17 Mar, 24 Mar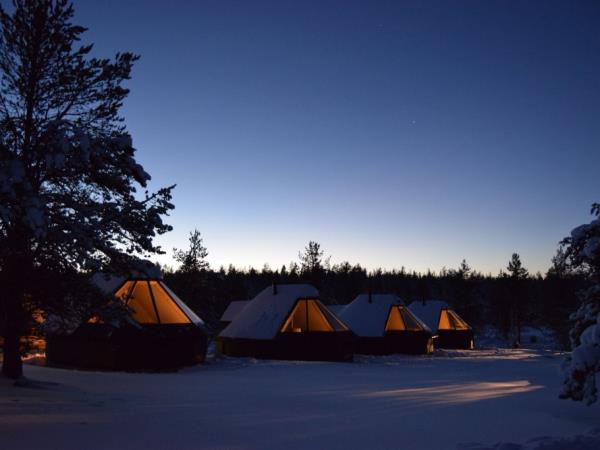 4 days
inc UK flights
A mix of Lapland family activities and a relaxing Spa hotel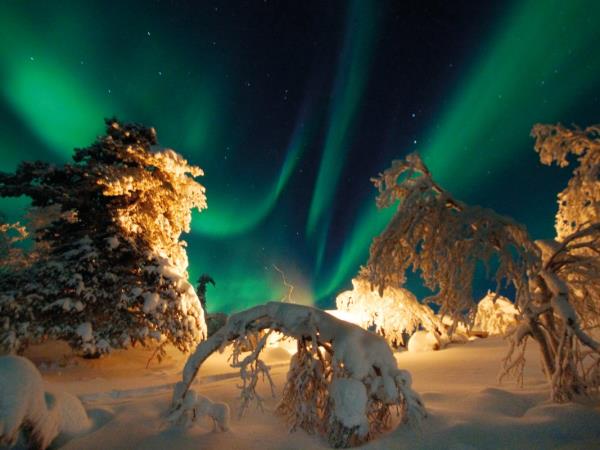 5 days
ex flights
Magical snow vacation in northern Lapland at reasonable cost
Small group
2023: 17 Dec, 18 Dec, 19 Dec, 20 Dec, 21 Dec, 22 Dec, 23 Dec, 24 Dec, 25 Dec, 26 Dec, 27 Dec, 28 Dec, 29 Dec, 30 Dec, 31 Dec, 2024: 1 Jan, 2 Jan, 3 Jan, 4 Jan, 5 Jan, 6 Jan
About our Lapland vacations
Winter activity vacations in Lapland
Frosty snowbound landscapes provide an atmospheric backdrop for winter activity vacations in Lapland. As a measure of how well-organised these trips are, cold weather clothing is provided to minimise what you need to bring. Your days might be spent visiting Sámi reindeer farms, learning how to snowshoe, or fishing through a hole in the ice, and you'll keep an eye out for the Northern Lights each night. Everyone has their favourite activity, but for many it's an evening in a wilderness lodge waiting for the aurora borealis to appear, or an afternoon mushing a husky-drawn sledge along.
Family vacations in Lapland
Honestly, we have tried, but it is
really
difficult to picture a more exciting place for
family vacations
than Lapland. Kids of all ages and parents (and grandparents!) will love the Narnia landscapes of winter. Younger children have the chance to meet Father Christmas and sleep in an ice hotel, and there are endless opportunities to toboggan or build snowmen. Older kids, meanwhile, can enjoy cross country skiing and snowshoeing. Families can tap into their inner Ray Mears in summer, tracking wildlife through the forests, kayaking on wide rivers, and learning how to forage and build fires.
Northern Lights
The Vikings thought them dancing maidens. Finnish legend has them as sparks falling from the tail of an Arctic fox. Due to its long Arctic nights and near-zero light pollution, Lapland is one of the best places to witness the aurora borealis – better known as the
Northern Lights
– as they flicker across the sky. No two appearances are the same and there's never a guarantee of seeing nature's great light show. But if you want to maximise your chances, travel between September and March, and join a trip that sets aside an evening in the wilderness specifically for seeing them.
Finnish Lapland
The best
Finnish Lapland vacations
treat Rovaniemi as just a stepping stone to the wilderness. Most trips see you joining a small group to explore pristine national parks such as Oulanka, prime Northern Lights viewing territory, or Riisitunturi, where you can meet Sámi reindeer herding families between bouts of cross country skiing and husky sledding. Yes, Father Christmas is found in these parts, but
Finnish Lapland
is about as far from twee as you can get. And don't forget the best-kept secret: summer vacations, with long days for hiking, biking and canoeing your heart out.
Swedish Lapland
Swedish Lapland
is inextricably linked to
allemansrätten:
the 'right to roam'. Taking you practically as far north as Greenland, the services of expert guides are required throughout. That's not only to navigate the wilderness, but to change up your route and activities depending on shifts in the weather, introduce you to Sámi reindeer herders and husky mushers, show you how to pluck a fish from a hole in an icy lake, or track moose by their hoof prints.
Vacations in Swedish Lapland
generally run in winter, when the nights are darkest and the snow is deepest on the ground.
Types of tours & vacations in Lapland
Winter vacations
are all about the packing – by which we mean packing snow together for snowball fights and packing loads of fun activities into every day including snowmobiling, ice fishing and husky sledding. But not packing lots of heavy coats and boots; these are provided for you. It doesn't require any stretch of the imagination to picture Lapland as a favourite for
family vacations
, with ice hotels, reindeer farms and Father Christmas all helping to create magic memories. And whether you're going in winter or summer, the wilderness and sense of freedom in Lapland is ideal for
adventure vacations
.