For years, Malawi's Liwonde National Park was the only place in the county for a 'proper' safari, and while you could see large herds of elephants and hippos, there was no Big Five to rival similar parks in neighbouring Zambia or Tanzania. In fact, most people weren't drawn to Malawi by the wildlife at all, preferring to focus their time in and around the country's magnificent lake, or head for the hiking trails of Mount Mulanje and the Zomba Plateau.
Over the past decade, however, things have changed dramatically, thanks to strenuous efforts on the part of NGOs including
African Parks
, aided by the country's government. Both Liwonde National Park and the Majete Wildlife Reserve are now home to the Big Five, and other excellent options for wildlife watching include the rolling grasslands of Nyika National Park and the marshes and forest of the Kuti Wildlife Reserve. Even better, these parks and reserves are virtually undiscovered by tourists and only have a couple of lodges operating in each; a visit can feel like a real expedition.
Where to go on a safari in Malawi
Most vacations to Malawi include Liwonde National Park, and with good reason. Long-established, it has a range of accommodation to suit all budgets and offers both traditional 4x4 game drives as well as river safaris. The park is dominated by the Shire River, a mighty swathe of water that flows from Lake Malawi to the Zambezi. Boating along the river is best done in the morning or evening, when you're almost certain to see hippos and crocodiles, as well as elephants coming down to the river to drink, and an array of water birds, including fish eagles.
Game drives reveal sable and roan antelopes, zebras and elands, as well as black rhino and lions. Head out onto the plains at night and you could spot bushbabies, jackals, hyenas and even leopard, which were reintroduced to the park in 2017. October to January is the best time for twitchers, when migratory birds, including Böhm's bee-eater, flock here in large numbers.
Majete Wildlife Reserve, a rugged wilderness on the banks of the Shire River, has seen its fortunes completely turned around over the past 15 years and now has Big Five status. There are over 3,000 animals here, including elephants, leopards, lions, black rhinos and buffaloes, many of which have been transported from other parks in Southern Africa. Both game drives and walking safaris are available, and the park feels unspoiled and serene, a welcome change from some of the other busy parks in neighbouring regions. It's less than two hours drive from Blantyre, so day trips are doable, but there are a couple of excellent accommodation options here if you do want to spend the night.
Head up north and you'll find the enchanting hills and grasslands of Nyika National Park. Malawi's oldest reserve, it sits at 2,500m above sea level and could be mistaken for the Scottish Highlands, especially in the chilly mists of the morning, were it not for the zebras, antelopes, hyenas and warthogs that wander the landscape – not to mention the leopards that stalk the plains at night.
It's not all about the mammals though. Birdwatchers will love it here, too. There are over 400 species, including the mountain yellow warbler, mountain marsh widowbirds and wattled crane. You can explore the park on foot, by mountain bike or in a 4x4, and there are a couple of good lodges and a campsite.
Other wildlife watching options in Malawi include Kuti Wildlife Reserve. A 2,000 hectare expanse of forest, grasslands, wetlands and marshes, it's owned by the local community and is home to giraffe, zebra, wildebeest and several kinds of antelope, which you can get up close to on foot, by bike or in a vehicle.
The Zomba Plateau, meanwhile, is primarily walking country, but it's hugely rewarding for birders, thanks to ancient woodlands full of chriping species such as Red-rumped Swallow, Augur Buzzard, Evergreen Forest Warbler, and the endemic Yellow-throated Apalis.
Our top Malawi Vacation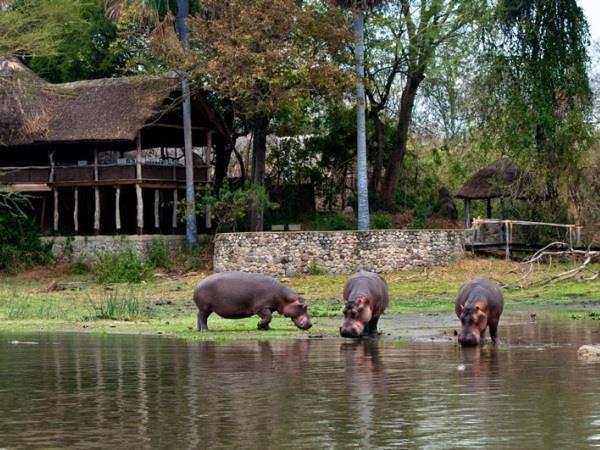 A luxury guided trip introducing you to magnificent Malawi
From
£

4275
13 days
ex flights
Tailor made:
This trip can be tailor made throughout the year to suit your requirements
If you'd like to chat about Malawi or need help finding a vacation to suit you we're very happy to help.

Malawi's parks and reserves may be low on visitor numbers, but they offer a decent range of safari accommodation that's a little more low-key than in other parts of southern Africa – you won't find grand pianos or chandeliers in high-end lodges here. The emphasis is on the quality of the game viewing, the authentic bush experience and the expert levels of guiding, and camps tend to be small, with those in remote parks offering space for just a handful of visitors.
There are also simple campsites for those on a budget, and
small group tours
will sometimes involve wild camping, where you'll help with everything from putting up the tents to lighting the fire, to preparing the evening meal.
HOW TO GO ON SAFARI IN MALAWI
Walking safaris, which are possible in most of Malawi's parks and reserves, are an immersive way to discover the country's pristine wildernesses, helping you to home in on the tiny details of the bush, and also get close to some pretty impressive beasts. As well as delivering the big thrills, a great guide will draw your attention to insects and birds, for a rounded insight into the country's wildlife, and he or she should be able to tell you more about local conservation issues.
Game drives are the most popular option offered by camps and lodges, with the same quality guiding as a bush walk, and offer an added level of security if you're nervous about being out and about on foot or on a bike. Boating on the Shire River is a unique way to appreciate wildlife, with the chance to spot hippos, fish eagles, elephants, crocs and much more as you go.
Our operators offer either guided small group vacations or tailor made packages, some of which are self drive, allowing you to explore the country at your own pace. If you've a good deal of time on your hands, you could consider a multi-county expedition, perhaps taking in the parks of Zambia, too, taking things even further into Zimbabwe, or even going on a multi country odyssey from Cairo to Cape Town, passing through Malawi along the way.
There are no direct flights from Europe or North America to Malawi, so you'll have to change planes in Kenya, South Africa or Ethiopia.