Responsible wildlife tourism in Mexico
Nearly a fifth of Mexico's native species
are in trouble, giving it one of the largest numbers of endangered animals of any country in the world. Much of this threat is attributed to logging and farming, but the tourism industry also plays its part. Accelerated urbanisation around the Yucatan and California peninsulas has led to poor waste management, with sewage and plastics ending up in marine environments.
Currently, the Gulf of Mexico has one of the
highest concentrations of microplastics in the world
and Holbox island's tourists bring in an estimated 326 tonnes of rubbish per month. The continual arrival of cruise ships to Cozumel, Mexico's number one cruise destination, is resulting in widespread coral damage. Even well-meaning tourists have had a heavy hand in wildlife welfare, with irresponsible tours causing animals distress by allowing visitors to get too close to the wildlife.
Don't worry: here are things you can do to help as a visitor. Read on to find out how to travel responsibly in Mexico.
What is being done
Biosphere reserves and national parks are Mexico's main means of combatting the encroachment of urban development and saving its endangered wildlife. These cover just 13 percent of its land, targeting specific species or habitats that are in need of conservation, such as the overwintering sites of the monarch butterfly. In total, almost 57,000 hectares of forest have now been secured as a protected biosphere for overwintering monarchs, and 23 percent of Mexico's marine area is under protection.
Choose local guides
When it comes to booking a vacation, choose a tour operator that assists the environmental agencies and conservation groups working to protect these habitats, and which supports the community by hiring guides from the area and using locally owned hotels and restaurants during the tour. This benefits travelers, who can take advantage of their guide's expertise, but also provides job opportunities for the local people who see more value in conserving the butterfly sites that tourists come to see. By choosing a responsible wildlife tour, and by giving more thought to our actions, we can help make wildlife tourism in Mexico more sustainable.
Sail on small ship cruises
There are many
benefits to choosing a small ship cruise
over a big cruise ship, particularly when it comes to wildlife cruises. Small, remote coves and beaches that would otherwise be inaccessible to larger boats can be easily explored, providing more opportunities to get closer to the wildlife that lives there. Smaller groups are less intrusive, causing a smaller disturbance to whales and sea lions, while also minimising the impact on the environment, such as the fragile coral reefs below.
Look, don't touch
In most cases, tours should avoid feeding, touching or getting too close to the local wildlife. The only exception is grey whales, as there is currently
no evidence to suggest that touching them causes any harm
. However, tours should always keep visitor numbers low and encounters should be initiated by the whales. It's an incredible experience when a mother introduces her enormous calf to a boat of onlookers, and much more enjoyable than a crowded sea of boats trying to get a closer look.
When booking a turtle conservation vacation in Mexico, check how the work will benefit the turtle population in the area. Don't be afraid to ask you tour operator questions. Avoid tours that take visitors to sanctuaries where turtles are kept in tanks and only visit
turtle hatcheries that follow best practices for wildlife handling
.
Leave no trace
While some
Mexican cities have already voted to introduce a ban
on a range of single use plastic items, including straws and bags, plastics are still not widely recycled in Mexico. They're hugely damaging to marine life, which becomes entangled in it or confuses it for food. Where possible, avoid single use plastic during your stay and refill a reusable bottle with filtered water provided by your tour operator (do not drink water from the tap), or buy water in large containers.
What not to buy
It might be tempting to bring home mementos from an exciting trip but, when it comes to wildlife, photos and memories are best. While some products, such as ivory, are known to be harmful, there are plenty of other souvenirs on sale that are
putting wildlife at risk
. Mexico has strict rules on the export of its native animals and plants, such as cacti and orchids, which may be rare.
It's important to question where an item has come from, particularly leather – has it been made from the skin of an endangered animal? Avoid jewellery made from any kind of colourful feathers and don't buy anything labelled 'tortoiseshell', as it can be hard to tell products made from real tortoiseshell from plastic imitations. Similarly, dried coral and seashells might be on sale in local markets, but they are unlikely to be sourced sustainably.
More Mexico wildlife articles
Spectacularly diverse scenery makes Mexico sensational for wildlife spotting.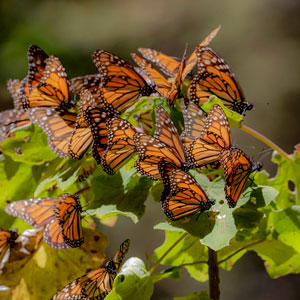 Read about the millions of monarch butterflies that travel 2,500km to Mexico every winter.
Grey whale watching in Baja is one of the world's most intimate wildlife encounters.