Climbing Mount Toubkal in winter
For most of the year, Mount Toubkal is one of many mountains worldwide that are all more or less the same to climb. Although it's the highest point in the Arab world, it's a tough rather than a tricky trek, rewarding climbers with the warm welcome of the Berber people who work as your excellent guides and that populate its slopes. But come winter, it becomes the gateway to exciting mountaineering adventures and the perfect opportunity to get to grips with crampons and ice axes.
A prominent mountain peak in southwestern Morocco, 63km south of Marrakesh, Mount Toubkal is non-technical, meaning anyone with a good level of fitness can walk their way to the top. There's no actual climbing involved at all and because of this the trails are busy almost all year round. In fact, so little skill is needed that an average 500 runners take part in the Toubkal Marathon each October. Make no mistake, it's still brutal to run, but aside from its steep slopes and some headache inducing altitudes, there aren't any standout challenges – from spring to autumn that is.
"It's a very different trip and it has a very different feel to it in winter," explains Trehan Francis from our adventure vacation specialists Exodus, who completed the
Toubkal winter climb
in 2017. "It's the ideal trip for beginners when it comes to that sort of technical thing. They go through it all with you. It's not that steep, so it's more just getting you used to the equipment – practicing using the ice axes to try and stop yourself safely, making sure you know how to use crampons safely, going through all the gear you might need when you're at the top."
Even snow won't deter the keen hikers who come from around Europe to climb North Africa's highest peak; you might even spot skiers as they whistle past you downhill. But what really sets this winter trip apart is the possibility of an additional, optional peak, where fewer tourists tread. Although a lower altitude, neighbouring Ouanoukrim mountain is steeper, slightly more challenging and therefore a more technical climb. Safe in the hands of your experienced local guides, however, this nerves-inducing adventurous add-on becomes the highlight of the vacation.

"The second climb is something that a lot of other tours don't offer and that a lot of people don't know about," points out Trehan Francis. "A lot of the group left thinking, yeah we came here for Toubkal and that was amazing, but the second climb we did – Ouanoukrim – and the guys that we did it with, made the trip."
What does climbing Mount Toubkal in winter entail?

For the Mount Toubkal climb, I would say GET FIT.

– Pam Harris on an Exodus Toubkal trekking vacation
This is a trip for confident trekkers and, while no winter walking skills are required, travelers need to know that this is going to be tough. Some sections will be steep and rough, and high altitudes of up to 4,167m make
altitude sickness
a risk. Snow and ice make progress scenic but slow, and then there are the 5am starts in the cold and the dark, when hot water and self-motivation are in short supply. The result is a more demanding, but more rewarding experience. As Trehan Francis puts it: "It's one of those trips where you're doing it and you think, why am I doing it? And then you come out and think, oh that was amazing!"
Equipment
"The big difference between the summer and the winter trip is the accommodation and the route you take," says Trehan Francis from Exodus. The typical summer trek takes a zigzag approach to the ascent, skirting boulders and volcanic scree on a serpentine path that takes at least two days to complete. Whereas in the winter, you take a more straightforward route: straight up. "Because you can," explains Trehan Francis, "it depends on the route conditions, but when I went there was plenty of snow and we used crampons and ice axes the whole way through." He adds, "Obviously you're taking two steps forward and one step back, with the snow pushing you down, so it takes you about the same amount of time."

Ice axes and crampons are normally necessary during all winter departures and high, exposed sections near the summit may also require ropes to guarantee a safe ascent. Previous winter climbing experience will help you pick up the skills faster, but the trip is designed to accommodate beginners. "You're taken out for the afternoon to learn how to use the ice axes and the crampons properly," says Trehan Francis. "It's a bit of fun as well. I think very few people who were in my group had actually done anything like that before and everyone was completely comfortable when we got up there to do it themselves."
Accommodation
In the summer, Toubkal trekkers camp outside but, during the winter, accommodation comes in the form of a shared refuge, used by other travelers and large walking groups. "They're very basic and it is almost like camping," says Trehan Francis from Exodus. "You're definitely roughing it still. But at night, when you come back from the walks, you can sit by the fireplace and enjoy some really good food. It has very much a community, laid-back vibe to it." Flip flops, for the showers, and earplugs will ease your stay.
"Be prepared to rough it out in the mountain refuge – the conditions there are challenging, with guests sharing a room with around 30 people at a time, and with very few toilets and less than hygienic conditions. But it was all absolutely worth it. A brilliant trip!" – Anita Howard on an Exodus Toubkal trekking vacation
Our top Mount Toubkal Vacation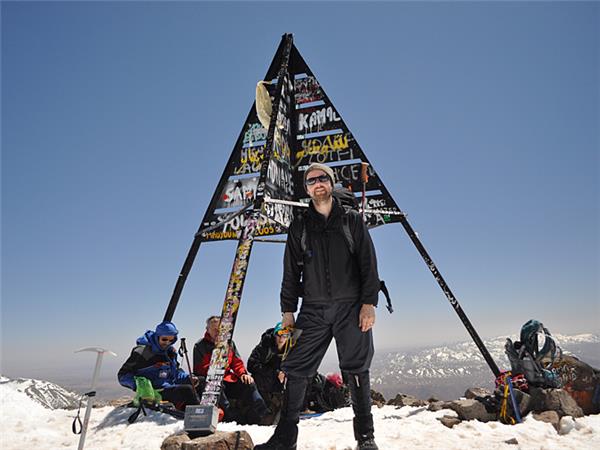 Venture into the heart of the High Atlas
From
US $

1149

to

US $

1199
8 days
ex flights
Small group travel:
2023: 8 Oct, 5 Nov
2024: 14 Jan, 11 Feb, 10 Mar, 31 Mar, 6 Oct, 20 Oct, 3 Nov
If you'd like to chat about Mount Toubkal or need help finding a vacation to suit you we're very happy to help.

"All scenery was superb, summit days being special and rewarding. But the memorable part will be the excellency of our guide Mohammed and his team, and the contact with the Berber way of life." – Otto Pereira on an Exodus Toubkal trekking vacation

Unlike many mountain ranges, the High Atlas region is home to thriving local communities, scattered everywhere among the valleys. These hamlets make their living mainly form farming or tourism – most mountain guides will be from the area and can offer trekkers an invaluable insight into local life. Climbing motivation also comes in the form of tasty, traditional Moroccan dishes, cooked up by local chefs who accompany your trek. "The food was amazing throughout," says Trehan Francis from Exodus. "Tajines and local food – really warm, hearty meals that everyone was surprised by."

Much of Morocco's rural population live in poverty and levels of education, especially for women, are very low. In remote mountain communities this is compounded by conservative attitudes that mean most girls are not even taught to read or write, let alone train as skilled mountain leaders. Cultural barriers still dictate what constitutes traditional women's work yet, despite this, Exodus is working to help women overcome these hurdles and meet the high safety standards required to work with them as guides.
Toubkal winter climbing trips run from October to April, although there may not be any departure dates during December, the coldest month of the year. Temperatures in the mountains tend to average 10°C during the day, but any warmth disappears as soon as the sun drops behind the mountains and the numbers fall to freezing or below overnight. The warmer months, February to April, mean easier early mornings and maybe even daytime highs of 20°C, but it's a trade-off for mountain snow scenes. Cold, crisp days reward with the clearest views. Prepare for poor conditions – heavy snow and storms are to be expected, but are usually short lived.
Trehan Francis from Exodus advises on the best time to go for snow: "To get the real winter experience you would probably need to go between December and February, just to get snow up there. October and November departures, depending on the weather, can still be quite dry, so there might only be snow at the peak. I went in February and it was completely covered in snow the moment you got up to the mountain line, it was just amazing."