Walking vacations in
Northern Ireland guide
Northern Ireland has always held immense appeal for walkers, from the Mourne Mountains to the hills and glens of Antrim, and the majestic Causeway Coast. Yet tourism has only picked up relatively recently, with the Good Friday Agreement of 1998 bringing an end to the violent Troubles. Peace has created space for new perceptions to form about Northern Irelandís culture. Then there is Brexit. Northern Ireland voted to remain in the EU, and the threat of a new Ďhard borderí for customs controls is causing significant friction. Itís hoped that cool heads will prevail and tensions unwind.

Thatís why we recommend walking alongside a local guide, someone passionate about showing you around and giving you a fresh take on life here.

Responsible walking vacations to Northern Ireland, as well as supporting locally owned hotels and restaurants, and helping preserve paths and habitats, will give you a deeper understanding of the countryís past, present and hopefully bright future.
Discover more in our walking vacations in Northern Ireland travel guide.
Our Northern Ireland walking Vacations
Is a walking vacation in Northern Ireland for you?
Go on a walking vacation in Northern Ireland ifÖ
Ö you like to escape the guidebook. Enthusiastic local guides will turn new pages for you on Northern Irelandís history, culture and landscapes.
Ö you enjoy the pleasures of local food. Eating locally is second nature in Northern Ireland, with small local brands on supermarket shelves and miniscule food mileage.
Ö you prefer to avoid long drives from A to B. This isnít a large country, so if youíre on the coast youíre never far from the mountains, and vice versa.
Donít go on a walking vacation in Northern Ireland ifÖ
youíre not up for the craic. One of the greatest joys of Northern Ireland is getting into a friendly chat with a stranger, about pretty much any subject under the sun. Öyouíre averse to a little rain. The weather can change rapidly, especially up in the mountains. Rule of thumb: always bring waterproofs, even in summer. Ö you havenít read up on the history. The Troubles ended in the 1990s but past and current politics still cause tension, so itís important to be sensitive.
Our top Northern Ireland walking Vacation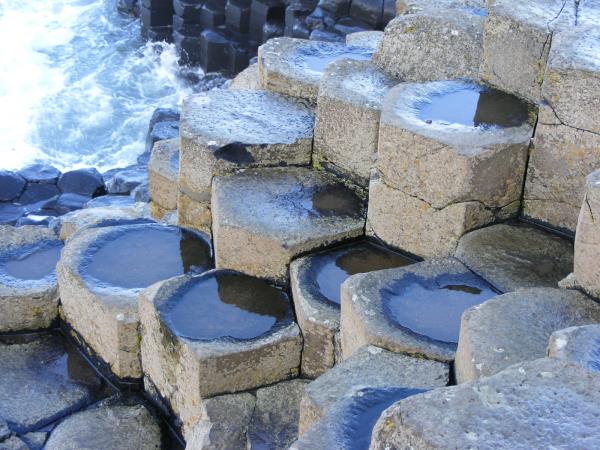 Self guided walking tour of the Causeway Coast Way
From
£

550
6 days
ex flights
Tailor made:
This vacation can be booked from the 1st March to 31st October each year.
If you'd like to chat about Northern Ireland walking or need help finding a vacation to suit you we're very happy to help.

What do walking vacations in
Northern Ireland entail?
Small group or tailor made?
Most Northern Ireland walking vacations are tailor made. On a self guided trip, such as a long-distance trek along the Ulster Way or the Causeway Coast, you will be provided with all the maps and route notes that you need, and trails tend to be well-marked. Youíll often find that other guests at your accommodation are walking too, so you can either join up with them or make your own way around as you please.
Some tailor made trips are guided. In this case, your vacation company will work with you to find out what kind of walks and landscapes youíre after, and any other activities you might like to do during your stay. You could combine the Mourne Mountains and Antrim Hills, with routes selected according to your fitness level, or a R&R day in Belfast, for example.
Guided small group vacations are available too, if you prefer to walk in the company of others and follow a pre-determined itinerary. These are a great idea especially for anyone traveling alone, or new to walking vacations and looking to break themselves in gently.
Centre-based or long-distance routes?
There is a good mix of long-distance, point-to-point vacations, and center-based trips (where you have daily walks but return to the same accommodation every night). When walking point-to-point, such as along the
Ulster Way
, youíll stay in a guest house every night with breakfast provided. Your luggage will be transferred by car.
Wherever possible, our responsible walking vacation partners aim to use smaller, locally owned hotels and guest houses Ė places that canít accommodate big coach groups. You can expect a warm, convivial atmosphere that you probably wouldnít get in a chain hotel, and your stay will have direct financial benefits to the communities youíre staying with. There are many pockets of poverty still in Northern Ireland Ė often in rural areas. Tourism can make a big difference when money is spent in the right way Ė another good reason to treat yourself to a meal in a local restaurant any chance you get. As if you needed one.
How fit do I need to be?
Walking vacations range from four days to 10 Ė although in the case of the latter, a handful of rest days will be included, as well as sightseeing days in cities such as Belfast and Derry. With long-distance walking vacations youíll need to cover a set amount of ground daily: around 21km on the Ulster Way, or 15km on average along the Causeway Coast.

Both the Antrim Hills and the Mourne Mountains are very accessible, with a huge range of routes for all comers. But beware the temptation to follow the Mourne Wall, unless youíve got a hot tub and massage waiting for you back at your hotel. Itís a cracking walk, but it will knock the stuffing out of you. If youíre a regular hill walker, and can comfortably keep going for 5-6 hours a day, then you should have little difficulty in Northern Ireland.
Getting there & getting around
Most walking vacations begin with a transfer out to the coast or into the mountains from the capital, Belfast. There are plenty of cheap flights, but low-cost air travel is a high cost to the environment. Taking the ferry across from Liverpool is a much more eco-friendly and relaxing way to travel. There are day and night crossings available, and it takes just eight hours.

Northern Ireland is not a large country, so you can get from A to B very quickly. No long transfers to the trailhead here. Walking vacations will include all the transport you need once youíve arrived in Belfast, including ferry tickets over to Rathlin Island from the Antrim Coast if thatís on your itinerary, or a day sightseeing in the city.
Best time to go on a Northern Ireland walking vacation
The best time to go on a Northern Ireland walking vacation is from spring until autumn, so March to October. This is a rainy country and the weather is notoriously changeable. But such vagaries only add to the poetry in Northern Irelandís landscapes, where a beam of sunlight can burst through a grey cloud and illuminate the scenery with ethereal beauty at any time.
We recommend avoiding the cities in the two weeks leading up to the 12th July Ė otherwise known as marching season. While itís rare to see violence nowadays, as Unionists (or Orangemen) celebrate the Battle of the Boyne, the atmosphere in some neighbourhoods can be tense. Out in the mountains and hills, however, itís all tranquillity as usual.
More about Northern Ireland walking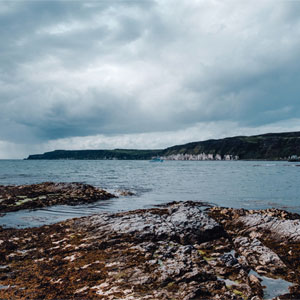 Walking in Northern Ireland youíre never far from the mountains or coast, or a jaw-dropping view.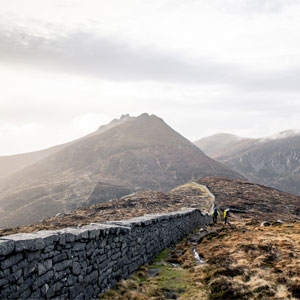 The Mourne Mountains just south of Belfast are the finest walking destination in Northern Ireland.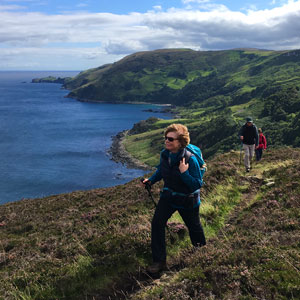 Our Giantís Causeway walking vacations give you more chance of spotting wildlife than crowds.