Walking vacations in the
Mourne Mountains
During the 18th and 19th centuries, smugglers would load their illegal cargo such as tobacco, wine and spirits onto ponies, and then 'spirit' it away over the mountain passes to dodge tax collectors and coastguards. The Brandy Pad walking route follows an old track commonly used by the smugglers in the Mourne Mountains, which was carved out by the hooves of these heavily loaded ponies.
Ranked the best destination in the country for hiking by Walk Northern Ireland, the
Mourne Mountains
lie just 50km south of Belfast in County Down. Beloved by the author C.S. Lewis, it's likely they were an inspiration for
Narnia
. The peaks are crowned with granite tors, while small towns and villages such as Newcastle are scattered among the foothills. They are divided into the Eastern 'High' Mournes, and the Western 'Low' Mournes, with Slieve Donard (853m) one of the most popular and accessible mountains – a 2.5-hour walk up from Newcastle on the coast.
"There's a huge choice of routes and views here. Many follow old smuggler trails – smuggling was popular here historically because of the mountains' proximity to the sea. Slieve Bearnagh is a favourite of mine, with a stunning rock face." Andrew Magowan, co-founder of our Northern Ireland walking vacations partner The Inside Trek, returned from London to live in the Mourne Mountains, and is passionate about the potential for getting out and about among these dramatic peaks.
"Walking has always been a reason to come to Northern Ireland. One of the beauties of being back here for me is that I'm close to the hills and the coast. But really, you can get everywhere in the country in under two hours – that's one of Northern Ireland's main assets. For me, the most interesting thing nowadays is not so much peak bagging, but circling the bowls in the middle of the mountains."
Our Northern Ireland walking Vacations
It might not be on the scale of the one in Game of Thrones, but the Mourne Wall is nonetheless an impressive feat of construction. Built from granite by skilled labourers, it stands 2.5m high and 1m wide, connecting the summits of 15 mountains, including Slieve Donard.
"The wall is what makes the Mournes unique," says Andrew. "It was built by the water board in the early 1900s. There's a reservoir in the middle of the Mournes feeding Belfast, and one reason for the wall was to keep livestock out of it. Probably it also served as a public works initiative to provide jobs. As for the construction, they couldn't have picked a harder route if they tried. It follows the high ground for 35km or so and it took about 20 years to build. There is one exceptionally challenging walk to follow it all the way, which I tried once but couldn't quite complete. It takes in 60 peaks and there's not really a flat bit in it. And for the most part, the wall is still standing strong. It makes for some stunning views where you see it heading straight up one of these peaks."
It takes around nine hours to walk the wall depending on the route you take, and probably another nine days for your legs to recover from it. For those without thighs like piston engines, however, there are many other
walking routes in the Mourne Mountains
to be enjoyed, with expert local guides such as Andrew happy to show them off.
Our top Northern Ireland walking Vacation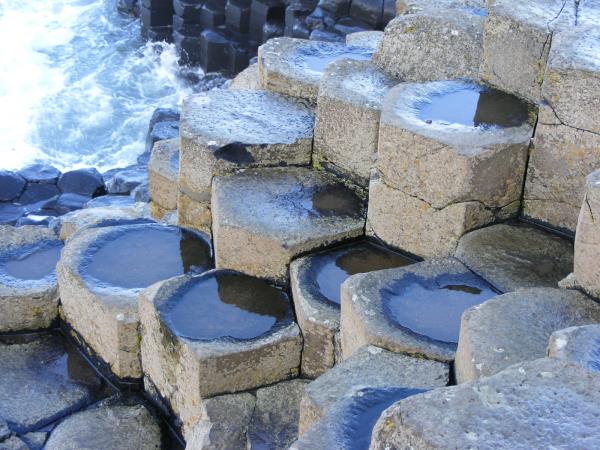 Self guided walking tour of the Causeway Coast Way
From
£

620
6 days
ex flights
Tailor made:
This vacation can be booked from the 1st March to 31st October each year.
If you'd like to chat about Northern Ireland walking or need help finding a vacation to suit you we're very happy to help.

Slieve Donard was hit by tragedy in early 2021, when it was engulfed in a huge gorse fire that took over 100 firefighters several days to bring under control. Large expanses of heather and a Site of Special Scientific Interest were badly burned, and habitat for wildlife, including hares, deer, raptors and many ground-nesting birds, has been severely damaged. Well-known walking routes such as the Bloody Bridge and Glen River walk were also affected. The peat in upland areas such as this stores a lot of carbon, and it could take years to recover.

While this one was particularly serious, fires are occurring more regularly in the Mourne Mountains – as they are in many parts of the UK. Climate change is driving longer stints of dry weather, so vegetation can become like a tinder box. Blazes such as this don't just scorch the landscape and endanger firefighters, they prevent walkers from exploring, which puts a strain on local communities that in some cases depend on tourism.

Some fires are started deliberately to burn vegetation. Others, sadly, are caused through carelessness, whether it's a discarded cigarette butt or an unattended disposable barbecue. "Donard can be easily reached from the center of Newcastle," says Andrew. "And while that accessibility is great, it does mean that you get people coming up who are inexperienced, or unprepared if the weather turns, which is not unknown. And unfortunately they will do silly things sometimes. Hopefully this fire will bring greater awareness of correct behaviours."

Responsible walking vacations in the Mourne Mountains are led by experienced and local guides. They'll be on hand to ensure that you're safe up in the peaks, and fill you in on the region's nature and culture. But they'll also help you stick to the trail to avoid damaging any sensitive landscapes.
Best time for walking in
the Mourne Mountains
As with elsewhere in Northern Ireland, the best time of year for walking in the Mourne Mountains is usually between late spring and autumn, April to October, when you're going to enjoy the driest and warmest weather. A dedicated bus service for walkers runs six days a week between May and August, which some groups may take advantage of. The temperature drops the further up into the mountains you get, and there is also a greater chance of sunburn as you're exposed to the elements, so you'll want to dress appropriately. But you also need to take into account the fact that the weather conditions can rapidly change – another reason why having a local guide alongside you is so useful.
In late June, the three-day Mourne International Walking Festival takes place. Popular lowland trails get very busy, while pubs and restaurants in Newcastle are crowded with walkers sharing their day's adventures. And in mid-September, the Wee Binnian Walking Festival sees volunteer guides organising treks of varying difficulty throughout the Mournes and Cooley Mountains. It's a great way to learn about the region's history and folklore while supporting a local walking club.
More about Northern Ireland walking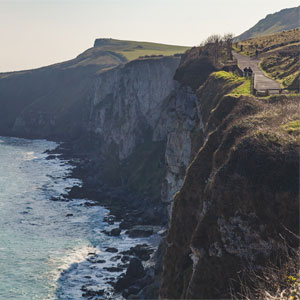 What do Northern Ireland walking vacations entail, and the benefits of having a local guide.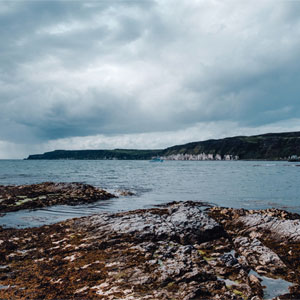 Walking in Northern Ireland you're never far from the mountains or coast, or a jaw-dropping view.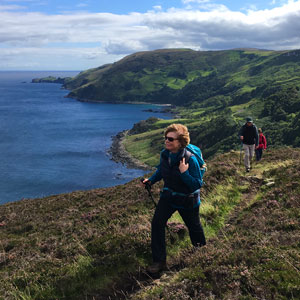 Our Giant's Causeway walking vacations give you more chance of spotting wildlife than crowds.