BEST TIME TO VISIT NORTHERN IRELAND

The sun does shine in Northern Ireland, honestly. Why do you think Van Morrison always wears his sunglasses?

Van Morrison pretty much sums up Northern Irish weather in his much celebrated song, Warm Love. He is going to 'lay and laugh in the sun' one minute and 'sit by the fire and dry out our wet clothes' the next. The average temperature in summer is 17°C, and it rains most months, too. OK, most weeks. Head up to the Antrim coast in any season and you will feel as if you have entered Astral Weeks though, with landscapes that are hypnotic and iconic all in one.
When to go to Northern Ireland, month by month guide
School summer vacations start a few weeks earlier in Northern Ireland than in England, around the end of June, so be prepared for more crowds at busy tourist spots such as the Giant's Causeway. April and May are lovely in Northern Ireland, with rural areas alive with spring life, from birds to lambs and calves. The best time to visit Rathlin Island is between April and July for nesting birds but, in particular, its large numbers of puffins. The Seabird Centre is open every day from Easter or around the end of March until mid September. Check out the Bushmills Salmon and Whiskey Festival which takes place in June. The 12th July fortnight is known as 'marching season' in Northern Ireland and is a controversial period when Unionists or 'Orangemen' mark the Battle of the Boyne. Historically it has been a time of violence, but now it is more of a nuisance really as streets are closed, bonfires are lit and the atmosphere can be a little bit edgy. Most local people escape the cities during the two-week built up to 12th July. The traditional West Belfast Féile an Phobail (Festival of the People) takes place in August every year, with lots of cultural events which have traditionally promoted Irish culture. Autumn is glorious around the Glens of Antrim, with the trees turning. Check out the region's Ghosts in the Glens Storytelling Festival in late October to coincide with Halloween. Hillsborough Oyster Festival, County Down, usually takes place around the beginning September. There is another earlier Oyster Festival in Carlingford, just over the border on the shores of Carlingford Lough, which takes place in August. The narrow gauge train from Bushmills to the Giant's Causeway runs daily through July and August, and at weekends in September and October. St George's Market in Belfast city center is a lively spot at weekends with food and craft stalls, and also local musicians playing. In November and December they run delightful twilight markets. The build up to Christmas is lovely throughout Belfast, with plenty of festive events.
THINGS TO DO IN NORTHERN IRELAND
Things to do in Northern Ireland…
Walking in Northern Ireland is a revelation, as many trails are very quiet compared with other parts of the UK. Crowds flock to the Giant's Causeway, for example, but few realise that you can also walk for a couple of days along the 55km Causeway Coast Way, taking in the magnificent Antrim coast, long strands and tiny fishing villages, the bird haven of Rathlin Island and the magnificent Giant's Causeway itself on a self guided walking vacation. The Glens of Antrim are another glorious walking spot, just one of many highlights along the country's long distance Ulster Way walking trail.
Eat, drink and be merry, with Northern Ireland boasting fine food and, not surprisingly great drink. Don't miss out on a trip to Bushmills Distillery with the town hosting a Salmon and Whiskey Festival in June. Seek out a pint of Guinness in a traditional pub, such as Mary McBride's in the small coastal village of Cushendun. This village is in the heart of the Antrim Coast and Glens Area of Outstanding Natural Beauty. Belfast has a celebrated culinary scene, and the country has some great seafood festivals too, such as the Oyster Festival in Hillsborough in September.
Go on a railway vacation in Ireland as train travel from the North and throughout the island is very efficient. On a tailor made railway vacation you will have everything booked for you, transfers organised to hotels and an array of recommended activities.
Things not to do in Northern Ireland…
Don't assume that Northern Ireland is dangerous. Violent episodes are rare nowadays although the two week build up to 12th July marching season can be tricky. You'll see Unionist flags flying all over traditionally Protestant areas at this time; do be sensitive when questioning people about political or religious issues during this period. Although integration between Catholic and Protestant communities is much more par for the course these days, it is still a sensitive area for some people. If you are visiting the famous political murals, for example, remember that these are still serious expressions of political opinion, sometimes aggressive ones, and not just tourist attractions or museum pieces. Northern Irish people are generally optimistic about maintaining peace in their country, but the wounds of the past are still healing for many.
Don't be shy. The Northern Irish love to talk, tell and share stories. It is part of their way to just start a conversation out of nowhere.
Don't forget your passport, even if arriving from another part of the UK. UK citizens do not require a passport to enter Ireland, north or south, but you will need some form of photo ID such as a driving licence.
Don't join the car brigade. Northern Irish people famously love their cars, but there are great train and bus networks, and we have plenty of tailor made, self guided vacations where all the logistics are organised for you, too. So you can sit back and let it all be done for you, be it traveling throughout the island by train, or just focusing on the Causeway Coast.
If you'd like to chat about Northern Ireland or need help finding a vacation to suit you we're very happy to help.

NORTHERN IRELAND TRAVEL ADVICE
Tips on where to go
Paul Day from our Northern Ireland walking vacations specialist, Let's Go Walking:
"What I think about the Causeway Coast is that you have got everything. You've got Rathlin Island which is very special; you've got the Causeway Coast, the Giant's Causeway itself and then the Glens of Antrim, which are absolutely stunning – all in such a tiny area. If you are limited on time, it is wonderful, it really is. And the views over to the Mull of Kintyre are gorgeous on a clear day too."
Robert Kidd from our supplier, McKinlay Kidd:
"Tourism in Northern Ireland is still very undeveloped. The Giant's Causeway is the major draw while the coastline of Antrim is fabulous – Murlough Bay and Cushendun are particular favourites. And County Down, the area around Strangford Lough especially is hardly touched by visitors from outside Northern Ireland itself. I am also a fan of Rathlin Island off the Antrim coast."
Belfast and around
Paul Day from our supplier, Let's Go Walking:
"Spend at least a day in Belfast, if not two! The Titanic Experience is fantastic, and I love the Botanic Gardens. I don't know why people don't go to Belfast more! I also love Strangford Lough, it's just fantastic. And really close to Belfast. There are seals everywhere along the shoreline. The Cuan pub is a top place too, and very friendly there. Then you can cross over the Lough on the Portaferry ferry. It's gorgeous."
Seasons to avoid
Paul Day from our Northern Ireland walking vacations specialist, Let's Go Walking:
"Don't go there for the weather obviously; in fact, by the end of September I would suggest you don't really want to be there. The Antrim Glens in particular get pretty misty at that time of year."
"We avoid sending guests during the 'marching season' around 12th July, only because if you are walking it isn't quiet. But also a lot of people have traditionally escaped the cities during that time of year and gone to Portrush, which is on the Causeway Coast, so it gets busy. I would also avoid the North West 200 motorbike race which takes place over a week on the Causeway Coast during May. Avoid that like the plague, especially the bit between Ballintoy and Ballycastle. It's not relaxing at all! Another thing to avoid is the Northern Ireland Air Show which takes place during the first week of September in Portrush on the Causeway Coast."
Food & drink tips
Paul Day from our Northern Ireland walking vacations specialist, Let's Go Walking:
"The food in Bushmills is great. Not just the distillery but the town as a whole. There is a really nice pub there called Finn MacCool's, after the 'giant' of the Causeway. I also like the atmosphere at The Smugglers Inn at the Causeway. Go to the Crown Bar in Belfast! I love it there."
Cultural advice
Paul Day from our Northern Ireland walking vacations specialist, Let's Go Walking:
"Don't be frightened of Northern Ireland. The people are extremely friendly and the accommodation is good quality. The people really want you to come, which is unusual sometimes these days."
Geography tips
Catherine Mack, Belfast born and raised travel writer at Responsible Travel:
"Don't be confused that sometimes local people call it Northern Ireland and others call it Ireland. Some people identify with being Northern Irish and others as Irish. It's not really a biggie anymore. But if you want to play safe, stick to saying Northern Ireland. If you go to Derry, however, calling it Londonderry has traditionally been considered a bit of a 'Unionist' flag flying statement. It has famously become known as Stroke City as a compromise, ie. Derry/Londonderry. To be honest, I always call it Derry and never had a problem. Great city too, by the way with fabulous walking tours."
At Responsible Travel, we think the best people to advise our travelers are often... other travelers. They always return from our tours with packing tips, weather reports, ideas about what to do - and opinions about what not to.

We have selected some of the most useful Northern Ireland vacation tips that our guests have provided over the years to help you make the very most of your vacation – and the space inside your suitcase.

"Belfast has some of the best restaurants I've ever been to at such a reasonable price. Both the Barking Dog and the Ginger house do not disappoint."

"Coming from west to east, we had no idea of the tides and as we dropped to sea level, also walking along the rocks towards the beach (which can only be walked at low tide), it was apparent that the tide was coming in and that also was a bit scary as progress was slow due to the wet and slippery rocks… Know the tides and just enjoy it all. It was wonderful" – Diana Howie on a walking in Northern Ireland vacation

"Allow for more time in each area... It was all memorable as the scenery was dramatic, the accommodation was extremely good & the people were very friendly." – Linda Harris

"The hike from the Giant's Causeway to Ballintoy was spectacular."

More Northern Ireland articles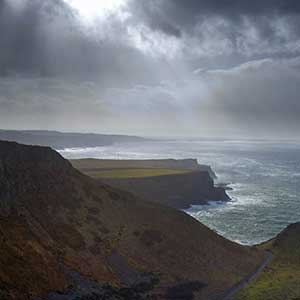 This small, gorgeous country has got so much more to offer than Hollywood hype.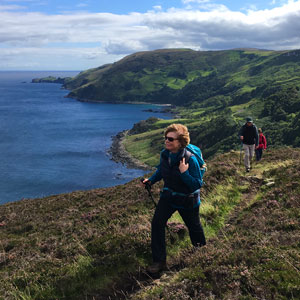 Most visitors to the Causeway Coast miss out by not staying more than a few hours.