Giant's Causeway walking vacations
Arguably Northern Ireland's best-known landmark, the Giant's Causeway attracts visitors from across the world – many with oversized expectations of this small but spectacular rock formation.

"I know some people come because they've heard about it and when they actually see it their reaction is, 'Oh, that's it?' You know, it's half a mile long. 'Is that all there is?'" says Linda. "But once they get down and get onto the stones and see the basalt columns, they absolutely love it. It's unique."
There are many reasons why walking is the best way to see what is actually just one of many highlights of a
vacation in County Antrim
. "We actually walk right along the Causeway coast and go down into the Giant's Causeway from the other end," says Linda. "It's a beautiful walk; it's right on the edge of the cliffs along the coast there." It's a view that most people, who drive or are bussed in from Belfast, will miss.
"The Antrim Coast road is, I think, one of the top coastal routes in the world," says Linda, "and it is absolutely beautiful." It follows Northern Ireland's northern shores; visiting the nine Glens of Antrim, skirting the wild and windswept cliff edge at Fair Head, where you can look out to sea and see Scotland, and passes nearby Murlough, which was one of many locations on this coast used for filming Game of Thrones. As a photographer, Linda loves this part of the tour in particular.
"It's a fascinating route, although they'd never be able to build it now," says Linda, "because at each promontory of rock that came out of the sea, they blew off the front of it to build the foundation of the road, so the road reaches right up to the end of all these cliffs that have been cut off." It's one of few man-made changes to the environment – even the Causeway visitor center, one of very few along the coast, took years to be approved.
"My personal view is I'd love to see it kept natural, you have the basics so you can get there and do your walk, but you don't need a big all-singing-all-dancing building stuck in the middle of it." As such, Linda advises that walkers here need to be used to walking regularly and on rough ground. Paths are stony and natural, in many places developed only by sheep, with styles a regular feature "It's rough country walking," she says, "but at a pace that suits the whole group."
If you'd like to chat about Northern Ireland or need help finding a vacation to suit you we're very happy to help.

When to go to the Giant's Causeway

Bring your rain gear. Whatever the weather, whatever the forecast, bring your rain gear.

When asked about the best time to go on a walking vacation in Northern Ireland, Linda laughs. "You just don't know. You really don't!" Linda explains how, in early January, she found herself walking along the Causeway coast under clear blue skies with views that were simply stunning, the sunsets even more so. "And yet, two weeks later I'm there and it's snowing and horrendous," she says.
Walking vacations tend to run from May to September, but Linda cautions that visitors could book to travel in July or August and it could rain, or that it could be 18-20°C in spring. "It's very, very changeable," she says. "It's Ireland!" Some might see the weather as a downside, but Linda says that's all part of being there. "People tend to say, 'Oh, it's raining, it's great, it's just what I expected!'" After all, it's the mild, wet weather that makes Ireland so green and pleasant in the first place.
More Northern Ireland articles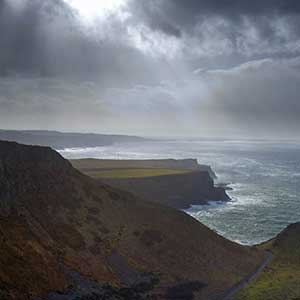 This small, gorgeous country has got so much more to offer than Hollywood hype.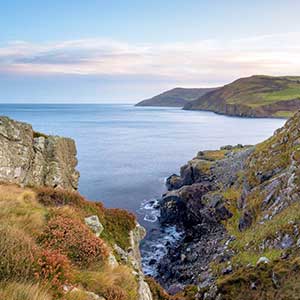 The weather is unpredictable at any time of year, but spring is lovely in the countryside.