Cycling on Portugal's Atlantic Coast
Wild and windswept are the two words that best describe Portugal's western coast. Its long shoreline, which extends over 560km, is the defining feature of a country that is only 200km wide. Often overlooked by visitors in favour of the sun-soaked beaches of the Algarve, the Atlantic Coast is a rugged playground for adventurers and nature lovers. For cyclists, it offers a sensational seaside trail through salty sand dunes, scenic fishing villages and along sun dappled forest paths, between the two colourful cities of Porto and Lisbon.
If you envisage pedalling your way through Portugal powered only by pastries and port, you'll be pleased to hear that the Portuguese take a lot of pride in their cuisine. Unsurprisingly, in a region heavily influenced by the sea, fish features highly on the menu – it's said there are 365 recipes for cured codfish alone – but you can also choose from roasted barrosã steak, smoked sausage, caldo verde (green soup) and delicious pasteis de nata to keep you fuelled for the ride. Regular cake stops at local cafés suit the laid-back feel of cycling Portugal's Atlantic coast, while your evenings are free to further explore the local restaurants.
Our Portugal cycling Vacations
What does cycling on Portugal's Atlantic Coast entail?
Cycling tours follow the Atlantic Coast from north to south, departing from Porto and finishing in Lisbon, a journey of just over 310km. Classified as road cycling, the leisurely route follows mostly cycle paths and tarmac roads along fairly flat terrain, with some longer, hilly days. You'll cover an average of 52km a day, with an emphasis on social cycling and plenty of stops for pastries and sea dips. There's even the option to upgrade to an e-bike.

Small group tours make light work of two-wheeled travel, taking care of the logistics and leaving you more time to enjoy the views. You'll be provided with luggage transfers and en suite hotel accommodation along the way, as well as generous breakfasts to keep you well fuelled. Cycle hire is included, however you can check whether you can fly your own bike out if you prefer. Trips usually last for eight days, and your first day of cycling is likely to be a gentle ride, allowing your leaders to gauge the average speed of the group and set the peloton's pace for the rest of the week. You can also enjoy the benefit of a support vehicle, which you can ride in if you run out of steam.
Alternatively, you can choose to do a tailor made, self-guided tour. Self guided cycling vacations offer the freedom to progress at your own pace and make any additional stops, while being supported with a fully planned route, maps and GPS, bike, luggage transfers, breakfast and accommodation. This style of trip is made-to-measure, giving you the best options for travel at any time of the year, and a friendly guide will always be on the other end of the phone if needed.
Forecasts of seemingly endless sunshine make vacations in Portugal appealing at any time of the year. Trips tend to run from April to October, with spring and autumn being especially well-suited to cycling vacations. The gusty Atlantic breeze provides some well-needed respite from the scorching heat in the summer, although temperatures can still reach the high 20°Cs, while those northerly winds offer a welcome boost to your progress.
Our top Portugal cycling Vacation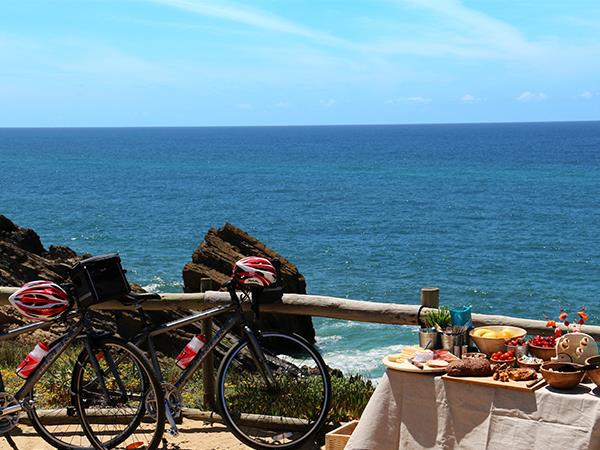 Family Cycling Vacations in Portugal | Self-Guided
From
€

845

to

€

1068
8 days
ex flights
Tailor made:
This trip can be tailor made throughout the year to suit your requirements
If you'd like to chat about Portugal cycling or need help finding a vacation to suit you we're very happy to help.

Aveiro Lagoon
Sprawling out along the São Jacinto Nature Reserve is one of the largest coastal marshlands remaining in Europe. The lush landscape of Aveiro Lagoon drifts between green pools, saltpans, brilliant beaches and undulating sand dunes. Its meandering waters and islands are a haven for diving ducks, waterfowl and wildlife. Peer between the long grass and creepers for long enough and you'll spy insects glimmering in the undergrowth and small mammals making their homes among the flowers.
Figuera da Foz
Figueira da Foz was once the most important seaside resort in Portugal, its Art Deco architecture a lasting memory of its heyday during the early 20th century. It's still the favourite beach town in central Portugal, its popularity cemented by its spectacular stretch of sand, known locally as the Rainha das Praias, or 'Queen of Beaches'. The hill climb to the town pays for itself with immediate panoramas of the Mondego River mouth, the gleaming white tower of the Cape Mondego lighthouse and Figueira da Foz just beyond.
Nazaré
A village where fisherwomen wear traditional clogs and seven colourful layers of skirts and the daily catch is still hauled off brightly painted boats to dry in the sun, Nazaré is a little place with a big reputation. For surf seekers, it needs little introduction. The colossal waves that batter the coast have become a magnet for world-class surfers, trying their luck against these raging walls of water. To the surprise of many, it's sleepy Nazaré, where these monsters lurk offshore, that holds the record for the biggest wave ever surfed – 30m high!
City sightseeing
Sandwiched between two stunning cities, Porto and Lisbon, a cycling vacation on Portugal's Atlantic coast allows you time to dip your toes into a little urban culture, too. The historic city of Porto, after which the whole country came to be named, is a treasure trove of UNESCO protected monuments and sites. One of the city's best-known gems is its ruby-coloured fortified wine, port, made from the grapes that grow on the banks of the neighbouring Douro River. There are dozens of port cellars across the city, filled with vast barrels of ageing wine, and some tours include a guided visit and port tasting. In Lisbon, your journey's end, you'll discover ancient ruins and captivating churches tucked among the city's seven hills. After a week of cycling, you have a good excuse to explore the streets not on a bike, but by riding Lisbon's iconic yellow trams.
Most of your vacation will be spent cycling; tours don't linger long in Porto before you hit the road, but you'll get to spend a full day sightseeing independently in
Lisbon
. If you want to add a little more city to your cycle trip, we recommend extending your vacation by a day or two.
More about Portugal cycling