Portugal cycling vacations routes
---
OUR TOP PLACES TO PEDAL IN PORTUGAL
Snorkel to see seahorses in Ria Formosa National Park or be mesmerised by its flamboyance of flamingos. Cycle all the way to the eastern frontier, hop on a quick ferry into Spain and zipline back across the border. Pedal through ancient Roman towns and Moorish villages in the Guadiana Valley which takes you all the way down to the Algarve – the coast that is pretty much covered by the Ecovia do Litoral Cycling Trail. And then there is the north, vastly unknown apart from Porto, which isn't to be missed either. Perhaps it is because it lived under a dictatorship for much of the 20th century, but Portugal oozes freedom and laissez faire now. And there is no better way to really feel that than on a bike.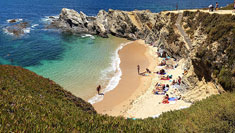 Alentejo
How can so few people know this region? It is most famous for its eponymous natural park which is the largest coastal park in Europe. Covering 100km, from Porto Covo down to to Burgau in the Algarve, cycle your way through one natural beauty after another, including cork forests, rice fields and olive and orange groves. With wild Atlantic beaches and idyllic villages such as Porto Covo and Zambujeira do Mar.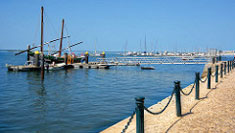 Ecovia do Litoral Cycling Trail
Leave your preconceptions of the Algarve behind, and pack shorts and swimming gear in your pannier. Because this Ecovia do Litoral cycle trail proffers 214km of stunning cycling. It clings to the coast and links Cabo de São Vicente in the west to Vila Real de San António on Spanish border. Enjoy traditional fishing towns such as Olhao or Salemo, plus Europe's westernmost point, Cabo de São Vicente.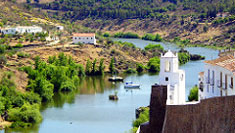 Guadiana Valley Natural Park
Another unknown Alentejo gem, the eponymous river has forged a stunning wildflower-filled valley perfect for both cycling and kayaking. Swapping pedals for paddles is highly recommended. Mertola is the perfect base for exploring dating back to Roman times but also boasts Moorish architectural influences. Bird lovers flock to Guadiana for black storks and blue magpies.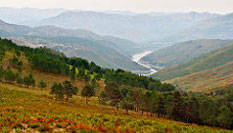 Peneda Gerês National Park
Cycle through tranquil forests, along river paths and past villages in a landscape where life feels unchanged by time. With some of the oldest towns and villages in Portugal, such as Ponte de Lima, traditional granite houses date back to 12th century. Or Soajo, on the Lima River, famous for its ancient stone granaries and waterfront cycle trails. Take a Porto cycle tour while you are here.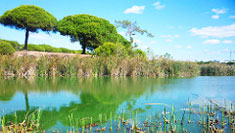 Ria Formosa Natural Park
A wetland wonderland, with protection from the wilder Atlantic influences weather provided by five beautiful barrier islands, and peninsulas such as Cacela and Ancao, all proffering calm, soulful cycling. A paradise for birdwatchers, looking out for flamingos, egrets and storks. And snorkellers for loads of seahorses. There are boardwalks for cycling, or take a boat to one of the islands from Faro or Olhao.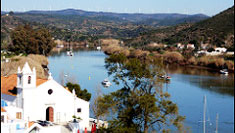 Spanish border
There are few places where you will feel the free movement of people within Europe more literally than by cycling out to Alcoutim in the east of the Algarve. Here you can take a 20-minute ferry ride across the River Guadiana, the natural border with Spain. And for true freedom, take the world's only cross-border zipline back to Portugal. Can't see Boris doing that one…


Portugal cycling vacations travel advice
---
TIPS FROM OUR FRIENDS IN PORTUGAL



Angie McQueen from our Algarve cycling experts, Algarve Bike Vacations:
What not to miss
---
"Don't miss exploring the cobbled streets of the traditional towns Tavira, Estoi and Vila Real de Santo Antonio, or crossing the border by ferry to Ayamonte. And always keep your swimming costume at the ready for an impromptu dive into the water."
Sun tips
---
"It's deceptively easy to burn when you're spending hours in the saddle each day, so be sure to pack a high factor, good quality sun cream. Make sure T-shirts are long enough to cover your lower back and pack a lip balm with SPF to prevent lips from chapping. Wearing a peaked cycling helmet when on the road – or a large sun hat when off – will protect the delicate skin of your face and keep the sun out of your eyes."
Advice on cycling gear
---
"When you're out on the road all day, the key thing is to make sure you're comfortable. Shorts (padded if preferred), trousers or tracksuit bottoms are all great choices, particularly if they're breathable too. Where possible, try to avoid awkward seams that may cause chafing or otherwise irritate your skin. In terms of footwear, trainers and Hush Puppies are highly recommended, as are sandals for trips to warmer climes."
What to eat & where
---
"Seafood is abundant here. Feast upon juicy tempura prawns or sizzling lobster, the choice is yours. And try some caldeirada, a traditional fish stew. We'd recommend the town of Olhão, which remains the hub of Portugal's fishing industry."
Bert Smeman, from our supplier Cycling Vacations Portugal, has lived in Portugal for three decades after moving from Holland in the 1980s, and is still dazzled by the friendliness of people – and the wonderful food. He shares his Portugal cycling vacations travel advice: "What stands out is what my clients say about how very friendly the Portuguese are. I had a pilot stay and he had visited about every country on the planet for comparison! About the food, I remember from 1985 when I had just arrived in Portugal, how even simple things like tomatoes tasted totally different from what I was used to in Holland. And still, after so many years, simple chicken piri piri can be a treat from heaven. Plus grilled fish like dourada, cataplana (Portuguese paella) or arroz de marisco (shellfish risotto)."
Best time to go tips
---
Ricardo Estevao from our supplier, Aventuractiva: "The best time to visit the Alentejo region is from the second half of March to the beginning of June and then from September to the beginning of November. July and August because is just too hot, it becomes really crowed and expensive."
Portugal cycling vacations travel advice
---
TIPS FROM OUR TRAVELLERS
At Responsible Travel, we think the best people to advise our travelers are often... other travelers. They always return from our tours with packing tips, weather reports, ideas about what to do - and opinions about what not to.

We have selected some of the most useful Portugal cycling travel tips that our guests have provided over the years to help you make the very most of your vacation - and the space inside your suitcase.
"My most memorable part of the vacation in Portugal was cycling along the high cliffs of Alentejo by the sea with 60 km winds at my back, even though one needed to be mindful with the wind on cycling so close to the edge of the cliff on a sandy track! The 10 percent grade for seemingly endless kms from Alejur to Monchique was a challenge that I felt really good about having accomplished in my 80th year. It made me feel blessed for the health and strength that I have. Feb cycling can be chilly and wet so dress accordingly, even though we were lucky not to have rain during the cycling part." – Arnold Nickel on a cycling vacation in Alentejo
"Arriving in Carrapateria, the beaches were beautiful!! All the rides had wonderful scenery, lovely small towns to explore and the rides were challenging yet fun and gave us a sense of accomplishment at the end of the day…For those travelers taking the same tour, and going to the Thermal Springs, booking ahead for any spa treatments is strongly advised. Apparently the spa is booked days in advance." – Benjamin Cartwright on a self guided Portugal cycling vacation
"All the arranged overnight accommodation was first class particularly with the locations…The end of Sept was a good time to go, not too hot for cycling but you can still enjoy the beach and swimming." – Jane Finegan
"Make sure you know the difference between the routes. One is mostly coastal and the day's distances and climbs are short. The other includes inland detours and mountains, and the distances are greater. The coastal route is suitable for anyone, while the route that includes inland hills is better suited for folks who have done some riding. Also, you are given a GPS as well as cue sheets. Use both." – Greg Liebman on a self guided cycling tour in Algarve