BEST TIME TO VISIT RANTHAMBORE NATIONAL PARK

Rain is very important for wildlife watching in Ranthambore. Too much of it and sightings are more sporadic. October, for instance, after the monsoons, is a tricky time to spot tigers.

During the monsoon months – which is also mating season for the animals – of July to September the park is closed. The best time to go to Ranthambore for wildlife watching is just before the rains, from April to June. Be aware that it can get very hot now – 40°C – but the scarcity of water encourages animals out into the open. January to March is also a great time to visit as temperatures are more comfortable and tiger sightings are on the increase. Ranthambore can also be foggy and freezing at the start of the year.
Sanjay Oberoi, general manager at our tour supplier Bespoke India Travel:
"If tigers are the focus for a traveler, it is best to avoid early October as the park has lots of water that stops the cats coming out. Last year, however, Responsible Travel clients were having super success, but in the past folk have had to be lucky to spot animals in the rainy season. Perhaps increased sightings are thanks to the park's conservation efforts and the increasing tiger population."
RANTHAMBORE NATIONAL PARK MONTH BY MONTH
The majority of people on tiger safaris in Ranthambore, by far, are Indians themselves. So, Indian public vacations and festivals are times to avoid, as they book up far in advance. Big ones include 26th January for Republic Day and Diwali which falls in October or November.
Ranthambore is often shrouded in fog and freezing temperatures during December, January and February.
If you can tolerate the heat, Ranthambore National Park, late in the dry season, is amazing for animal action. February to March is great but early April is even better, although it's usually unbearably hot.
The VERY best months for tiger spotting are April, May and June. Being summer, the temperature soars up to 40 degrees and above and water is scarce. Tigers come out into the open, especially to the remaining water sources, but of course this time of year is way too hot for a lot of folk.
Delhi and the Golden Triangle are best visited during February and March, October and November for tolerable temperatures, but you will get the crowds at popular sites.
It is like Ranthambore, and the whole of Rajasthan, is weeping with relief when the monsoon rains come in July, lasting through August and September. Roads can flood however, and the park is closed during the monsoon months of July, August and September.
Read more about the best time to visit India's Golden Triangle
Our Ranthambore National Park Vacations
Ranthambore National Park Weather Chart
Our top Ranthambore National Park Vacation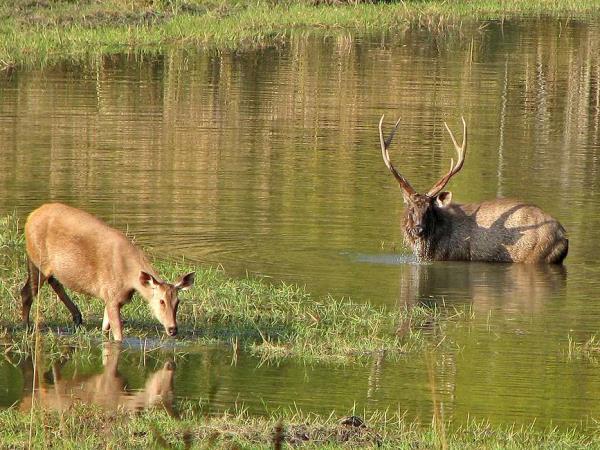 Brilliant experiences including Tigers and Temples
From
£

1199

to

£

1299
11 days
ex flights
Tailor made:
This trip can be tailor made throughout the year to suit your requirements
If you'd like to chat about Ranthambore National Park or need help finding a vacation to suit you we're very happy to help.

RANTHAMBORE NATIONAL PARK ADVICE
Ranthambore recommendations
Sanjay Oberoi, general manager at our tour supplier Bespoke India Travel, reveals more about Ranthambore: "Ranthambore National Park is one of the world's most densely populated areas for tigers. It's well placed within Rajasthan's popular Golden Triangle circuit and easily accessible from Agra and Jaipur. Accommodation around Ranthambore is excellent, ranging from budget to top-end safari lodges. There aren't any lodges in the park. The government authorities regulate visitor movement within the park very well which allows for a good safari experience. We recommend sharing a Jeep with other travelers and a qualified naturalist."
Additional excursions
Sanjay Oberoi: "While at Ranthambore you can also explore on foot. There's a great hike up to the old temple of Shri Ganesha. This is a very interesting walk as the temple is still located within the buffer zone of the park. Apart from hiking it's also possible to find out more about traditional crafts and meet local craftspeople. These social projects are conducted by NGOs, such as Dastkar. Also, the Chambal River is not too far away from Ranthambore and a half day excursion opens up opportunities to spot gharials – fish-eating crocs – and even the endangered dolphins of the River Ganges."
Close encounters
Belinda Wright, OBE, is the Executive Director of Wildlife Protection Society of India (WPSI):
"India is about the only place in the world where you are likely to see tigers in the wild, and only in a few tiger reserves where these secretive big cats are now fairly used to tourists in vehicles. Some of the tigers have become surprisingly bold and these reserves are now popular destinations for huge numbers of tourists both from within India and abroad. Despite this, you must always remember that these are wild predators and that it is an extraordinary privilege to see these glorious and extremely rare big cats in the wild. Allow at least three or four days to increase your chances."
Time out from tigers
Sophie Hartman, owner of our central India tour supplier Chinkara Journeys:
"I think that name 'tiger watching' should be banned. Don't go with tigers as your sole focus, there is so much to see in India's national parks and spending the whole of your safari charging around the park on a hunt for a tiger is such a wasted opportunity. Ask your guide and driver to stop for ten minutes by a lake or stream, listen to the sounds of the jungle, watch the birds, enjoy the beauty of the light coming through the forest. SO much more fun than just thumping along in a jeep."
Indian expectations
Guy Marks, co-director at award-winning responsible tourism supplier, Tribes Travel gives advice for tiger safaris: "Don't expect this to be like an African safari experience. The way the parks are run, the quality of guiding and the seeming lack of a need to be silent, all have a very unique Indian style".
Wildlife watching with kids
Belinda Wright, OBE, Executive Director, Wildlife Protection Society of India (WPSI):
"Children under five years of age are not allowed inside most tiger reserves. This is a wise rule as most of the parks use open safari vehicles and the noise of children can be both disturbing and curious to the big cats. For older children it can be a trip of a lifetime, but parents should make sure that their children are quiet and well behaved when they are in the tigers' territory."
Packing advice
Sophie Hartman, owner of our wildlife vacations supplier Chinkara Journeys:
"Pack light, you'll want to cram your suitcase with lovely things to bring home. A scarf is the most useful piece of kit, good for covering your head if you feel a bit stared at, your face and nose if you're in a dusty jeep and for drying face and hands after washing in sometimes grimy road side bathrooms."
TIPS FROM OUR TRAVELLERS IN RANTHAMBORE NATIONAL PARK
"The Taj Mahal was a real highlight as was the safari in Ranthambore National Park. The culture was amazing particularly when passing through villages and for example in Old Delhi. I loved the architecture in the Amber Fort - one part in particular where the ceiling appeared to be studded with gems. One guide on our safari took some photos of a tiger for me. We had sat at a water hole for quite some time that afternoon and when the tiger eventually came out of the bushes to drink, we got some amazing shots including a video." - Sue Brackenbury on a tailor made Golden Triangle with Ranthambore tour

"Seeing the Taj Mahal at sunrise, and seeing tigers on four out of five safaris, were both unbelievable experiences." - Sally Barber on a tailor made Golden Triangle with Ranthambore tour

We had sat at a water hole for quite some time that afternoon and when the tiger eventually came out of the bushes to drink, we got some amazing shots including a video

- Sue Brackenbury on a tailor made Golden Triangle with Ranthambore tour
More about Ranthambore National Park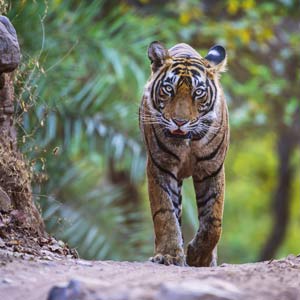 Discover what a trip to Ranthambore National Park entails as well as things to keep an eye out for whilst on safari. As one of the world's densest areas for Bengal tigers, and ideally situated within Rajasthan's Golden Triangle, Ranthambore is definitely not off the tourist trail and Jeep tours can get booked months in advance. Read our top tips on how to get a seat and combine tigers and the Taj Mahal as part of the same tour in our Ranthambore National Park travel guide.