Best time to visit the Sahara

If you can handle the heat, combine a visit to the Sahara from Chad with the country's famous Gerewol festival, held in late September.

For the most comfortable temperatures for your Sahara vacation, the best time to go is spring or autumn. This way, not only are you avoiding intense summer heat, but also the very chilly night time temperatures you'll get out in the open in December and January. If you want to go horse trekking, four-hoofed tours run from October to December. Morocco vacations which include time in the Sahara run throughout the year, but believe us, in the summer it will be hot – around 40°C by July. This is a dry heat, generally more bearable than humid heat, but you should protect your skin and eyes from the sun if you're out in the day at this time.
Sahara Desert, month by month
In May, June, July, August and late September the Sahara is very hot, so the best time to go with kids is during the Christmas or Easter break.
The Gerewol festival is held over two days in late September in Chad, in the Sahel, just before the Sahara. Often called a 'male beauty pageant' it's the only time in the year that the different clans of Woodabe people all gather together in one place. Men don elaborate costumes, women watch and giggle. It's quite a spectacle.
In October, Algeria's date harvest begins, and the temperature comes back down to a more sensible mid 30°Cs. If you want to go horse riding in the Sahara, riding vacations tend to run from mid October until late December. After this, some stables move their horses over to their 'summer homes' on the coast.
The temperature can fall below freezing in the winter in the Sahara at night and still climb considerably in the day, so be sure to pack lots of layers if you're planning to camp overnight.
The Sahara is so large that weather within it can affect the surrounding continent – as it did in February 2019. Tongues of hot air licked up across Europe causing the hottest February in the UK for 178 years.
In Spring, the Sahara's heat can cause strong winds – known as the Khamsin in Egypt and the Sirocco in the Mediterranean. You might experience the effects of these on your way into the desert.
In April, there's a slightly higher chance of sandstorms than in other months, but these don't just come out of the blue, your tour operator will check the forecast, prepare and keep you perfectly safe.
Between May and September, some tours of the Sahara don't operate – as it's simply too hot. In the summer months temperatures can get to the high 40°Cs in the desert, so hot that even wildlife doesn't venture out in the daytime.
Merzouga, Morocco Weather Chart
Things to do in the Sahara
Things to do in the Sahara
Leave any Ozymandias aspirations at home and don't leave a mark on the desert. Most desert camps will be meticulous about packing up without a trace – even burning camel dung on the fire. When traveling by 4WD, go with an experienced local guide who will stick to known tracks and minimise erosion on the journey.
Download a map of constellations. There are more stars in the sky than there are grains of sand in the desert and you have the best chance of seeing as many of them as possible on an open air Bedouincamp in the Sahara, where good weather and absence of light pollution makes meteor-spotting conditions close to perfect.
Pack warm clothes for the evening, and in general wear long, loose fitting clothing that are comfortable and cool, and cover you up – both for sun protection and to be respectful to local Muslim culture in conservative countries like Morocco.
Things not to do in the Sahara
Photograph people without permission. Ask politely before you take any photos and listen to the advice of your guide. Fight the sway. When you're on a camel, you'll be quick to notice they've got an extraordinary, swaying gait. You might be tempted to sit up as straight as you can, but ditch the dressage. The most comfortable way to ride a camel is to sway with it (but not so much that you fall off). Lean in, like you're on a motorbike – your back will thank you. Think climbing a dune will be easy. Big mistake: you'll exhaust yourself on the shifting sand as you work your way up an erg. Take it slow.
Our top trip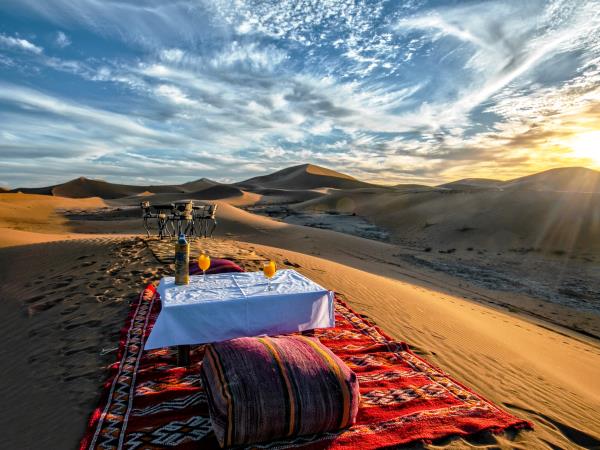 Marrakech and Sahara - stay in a Riad, sleep under the stars
From £975 to £1075 7 days ex flights
Tailor made:
This trip can be tailor made throughout the year to suit your requirements
If you'd like to chat about Sahara Desert or need help finding a vacation to suit you we're very happy to help.

Sahara Desert vacation advice
Rachel Blech, director our specialist Morocco tour operator SheherazadVentures:
Sahara with kids
"If you are thinking of adventuring to the Sahara Desert with your family, then you are in for some great adventures and fabulous discoveries – kasbahs, dunes, nomads, oases etc… However, we suggest you avoid traveling between the months of May and late September when the desert is extremely hot and uncomfortable. It can be over 45°C. This means for UK vacation makers with kids, the best time is during the half-term, winter or spring breaks. We welcome children aged from five years upwards on our desert tours – this is because we are concerned about dehydration of very young children and also the long journey necessary to reach the Sahara."
Cultural considerations in the Sahara
"Remember – some people will be able to speak a little English that they have learned, though most will communicate in basic French and Arabic. Although school is free and obligatory, there are many people (especially women) in rural areas who still cannot read or write. Do not assume you are always being understood. We encourage visitors to the Sahara to bring second hand toys, simple games, unwanted clothes/shoes, school supplies such as notebooks and pens, colouring books, art materials which we distribute via local school teachers."
Jim O'Brien, director of our specialist tour operator Native Eye:
Is the Sahara for you?
"Traveling in the Sahara isn't for everyone. One needs to be able to withstand some discomfort, long drives over often difficult terrain, and sand and dust getting in everything. Facilities are rudimentary – although we make people as comfortable as they can be – and so it's not for someone who wants luxury. But the landscapes are incredible, and ever changing, and there's something very special about heading off into such a remote area – again, that sense of exploration."
Visiting the Sahara in Chad
"Chad's a fantastic destination. It has some incredible scenery and receives so few tourists that a trip here really feels like an expedition, and true exploration. It's this that is really one of the highlights – traveling for days on end without seeing any other westerners, traversing vast areas of sand dunes, and setting up camp each night in a pristine location, far away from anything resembling a town or settlement. The Guelta d'Archei is definitely one of the highlights – the spectacle of five or six hundred camels coming to water, their bellows echoing off the walls of the gorge, is something you're unlikely to forget."
Traveling to Mauritania and Western Sahara
"As for Mauritania, I would say that the security situation in many parts of the country, including the most interesting areas for visitors, has improved considerably in recent years, a fact unfortunately not reflected in the FCO advice. The FCO tend to be very quick to put negative advice in place, less quick (in fact usually very slow) to rescind it, particularly in places that don't have much of a tourist industry. We've been running several trips a year here since 2015 and are confident that we can run trips here safely – of course, always monitoring what is happening in the country through our local team and contacts."
Advice from our travelers
At Responsible Travel, we think the best people to advise our travelers are often... other travelers. They always return from our tours with packing tips, weather reports, ideas about what to do - and opinions about what not to.

We have selected some of the most useful Sahara travel tips that our guests have provided over the years to help you make the very most of your vacation - and the space inside your suitcase.

We definitely recommend a night of wild-camping and camel-trekking. Watching the sun set from the top of Erg Chegaga was a highlight of the vacation.

"The best vacation I've ever been on. Life altering and gave me a new found perspective on life... Remember warm clothes for the desert at night and brush up on your French/Arabic (have a phrasebook)." – Erin Tilley

"Take enough cash to give everyone a tip. It doesn't amount to a great deal in total but is expected." – Penny Ayre

"The trip to the desert was an adventure that everyone should experience once in their lifetime... Be aware of how far you will need to travel to get to the desert and be prepared for the vastness and the basic facilities." – Mark Lillington

"Take more warm clothes. We were surprised how cold it was in the Todra valley." – Charlie Johnson

The trip to the desert was an adventure that everyone should experience once in their lifetime...

"We definitely recommend a night of wild-camping and camel-trekking. Watching the sun set from the top of Erg Chegaga was a highlight of the vacation. Our camel-handlers managed to rustle up a 3-course meal for us from fresh ingredients in the middle of nowhere - amazing!" – Eleanor Jones

"Be prepared. We had too many summer clothes. Warm, casual and loose fitting garments with a pair of comfortable walking shoes are essential." – John Nicholson

"Don't be shy of speaking to the locals if you get the chance; for them tourists are a novelty and we found them extremely welcoming. A polite "Assalam Aleikhum" or "Bonjour" is always well received." – Philip Tepper on Algeria vacations, desert and history
More Sahara Desert articles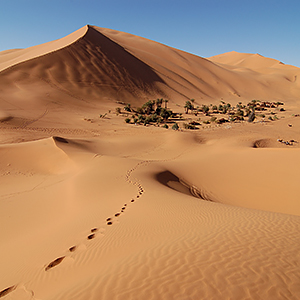 The Sahara Desert will surprise you. Get to know this misunderstood monster with our Sahara travel guide.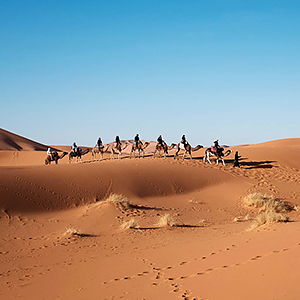 The Sahara is a playground for all sorts of adventurous activities – but this fragile environment should be treated with care.