Scotland traditional handicrafts vacations
Sustainability runs through handicrafts vacations from root to branch. The materials you use throughout are sourced from independent local suppliers. The dyes you make come from plants you'll pick yourself. And your meals are made from ingredients with as few food miles attached to them as possible. Even the bread is homemade.

The roots of sustainability can spread a long way in the Scottish Highlands. Rosie Hazleton, founder of our handicrafts vacation specialists Wild Rose Escapes, has managed to establish a formidable network of artisans, helping their businesses grow while ensuring she has experts to help run her woodland retreats.

She says: "Creating this network of craftspeople has come through this being a small community where it's easy to meet people – for example, when I run a stall at Christmas markets I get to know lots of other people. I've got a lady who teaches spinning that I met through a friend and a world-renowned needle felter who comes up from Yorkshire that I met at a craft fair. My groups often visit a friend's pottery where there's also a tea room, and Ali our spinner has a yarn shop on her croft and some of my guests will take a one-on-one class with her. So it's really all about building connections and sharing our talents."

Your trip will be low-impact environmentally, especially if you travel by train, it will also be immensely beneficial for the wider community.
Unique souvenirs
Rosie's dye-to-spin vacations are set on the croft she and her partner, Alex, manage in Crochail Forest near Glen Affric. They take a holistic approach, making your own skein of wool to use. You'll watch their Shetland sheep being sheared, wash the wool, and forage the woods for plants to make natural dyes while the wool is drying around the outdoor fire. Then you'll card the wool, spin it by hand and dye it to create your own unique textiles. Everything you take home you'll have made entirely yourself. But what you carry back in your canvas bag (printed using flowers and leaves under Rosie's guidance) will be far from the only mementos of your trip.

"Our handicrafts courses and retreats get a lot of word-of-mouth publicity and people come back year on year," says Rosie. "There's a real resurgence of interest because people do love making and doing practical things, and we get a mix of young and older people. They want to do things that unwind and relax them, that are good for mental health while on vacation, and they have an interest in knowing where things come from."

The pleasure of learning a new skill and the sense of wellbeing you'll experience while doing it will be just as precious as souvenirs.
Unwinding with wool
"What amazes me," says Rosie, "is just how much people relax here. We have a maximum of seven people in a group and everyone without fail gels and supports each other. A lot of our guests will also have some form of handicraft interest already, such as embroidery or quilting. We encourage people to bring up their own projects and we all sit around the fire in the evenings talking them over and sharing talents."

Handicrafts vacations in the Highlands are pleasantly unhurried affairs. Whether you're printing silk scarves, needle felting or creating wall hangings, everyone is encouraged to work at their own pace. And much of your time will be spent outdoors: working around the fire, wandering the forest, or walking in nearby Glen Affric, considered to be one of the most beautiful glens in Scotland.

"These trips don't only appeal to people interested in handicrafts," Rosie affirms. "They're about getting plenty of fresh air and getting back to nature. We can also offer yoga on our craft retreats to help people unwind physically and mentally."
Our top trip
Photography tour of Orkney, Hoy and John O'Groats
From
£

2800
8 days
ex flights
Small group travel:
2024: 6 Oct
If you'd like to chat about Scotland special interest or need help finding a vacation to suit you we're very happy to help.

What's involved in a Scotland traditional handicrafts vacation?
Handicrafts vacations typically run between May and September around Inverness (station pick-ups and drop-offs are provided). Groups of around six to eight on residential courses stay close by, usually in a cosy Highland house with all meals provided using local and homegrown food. Specialist and limited diets can be catered to, and you can expect mostly vegetarian cuisine.

Tutors are sought out not only for their skills but also for their ability to create a light and supportive atmosphere. But you're bound to learn plenty from the other members of your group, and sharing your own knowledge and experience of other crafts will be very welcome.

Between projects, or even while you're at work, you might explore Glen Affric or the majestic Plodda Falls and learn about traditional Highland culture through stories and music shared by your hosts and tutors. Kathy Lovatt visited with Responsible Travel in 2016, and said: "In the evenings we learned some of the songs women used to sing while working. It was a full circle of fleece to felt, enriched by hearing about the old crofting way of life."
Handicrafts vacations on Skye
The Isle of Skye, in the Inner Hebrides, is another magnificent destination for traditional crafts vacations in Scotland. Here over the course of nine days or so, you can explore the island's history and cultural heritage, along with its rich traditions in craftsmanship, especially around textiles. Your days will be filled with interesting activities and excursions designed to forge connections with local makers and artisans, helping you to develop your own knowledge and abilities.

You might learn how to dye yarn with local plants, how to weave with wool using bicycle-powered looms, how to make your own buttons, and how to knit traditional fisherman's ganseys. In addition, you'll discover crafting culture, and stories of Skye that have been passed down generations with one of the island's preeminent storytellers.

Traditional crafts vacations on Skye benefit from itineraries crafted by operators that have put a huge amount of effort into developing relationships with local suppliers and artisans. They also provide opportunities to admire Skye's renowned marine wildlife from dolphins to whales, and its whisky distilling heritage.
More Scotland special interest articles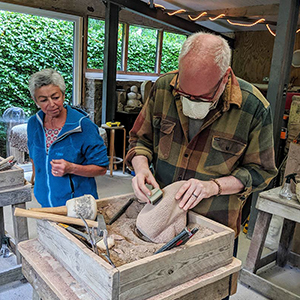 Scotland special interest vacations allow for creative connections with local people and landscapes.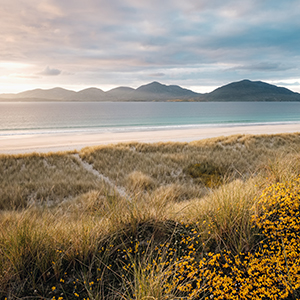 Learn where you can go on a Scotland special interest vacation.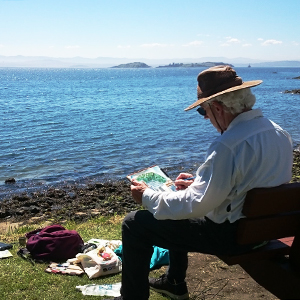 From painting to textiles, our Scotland art vacations allow you to enjoy deeper connections with landscapes, culture, and wildlife.