Finland self drive vacations
Finland's wild open spaces and quiet roads make it perfectly suited to road trips. Europe's seventh-largest country stretches from the Baltic Sea in the south to the Arctic Circle in the north and it's sprinkled liberally with lakes, forests and national parks, all linked by an excellent network of good quality roads. What's more, there's hardly any traffic to tangle with, making it a breeze to drive between family-run guest houses, remote log cabins and wilderness hotels.

Self drive vacations in Finland aren't about just sitting back and taking in the (admittedly gorgeous) scenery from your window, though. They're about throwing yourself into the landscape head first - kayaking on pristine waters, walking through thick pine trees in search of bears and wolves, or driving a team of huskies in the far north. Your vacation company will arrange a tailor made itinerary, complete with detailed maps and handpicked accommodation, so the only thing you'll need to worry about is watching out for elk and reindeer crossing.
Our Self drive & fly drive Vacations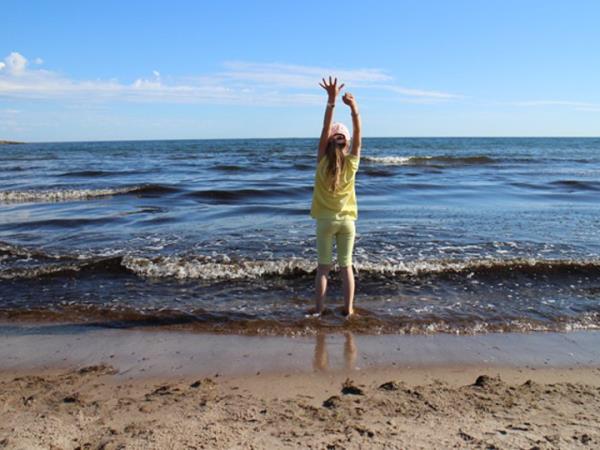 Active summer vacation in Moominworld, Åland and Helsinki
From
€

3700

to

€

4900
10 days
ex flights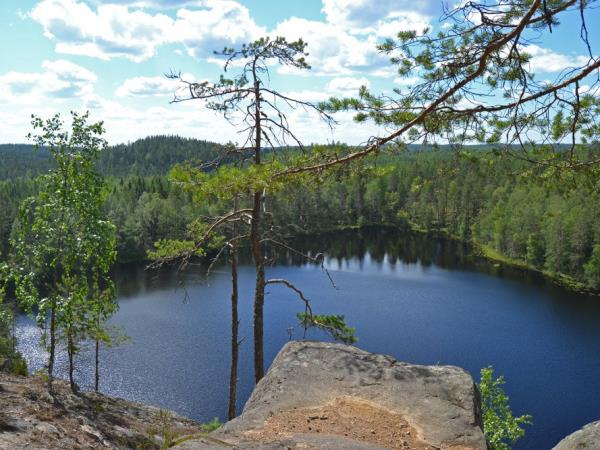 Space and silence of the National Parks in lakeland Finland
From
€

1440

to

€

1700
9 days
ex flights
What does a self drive vacation in Finland entail?
Our Finland self drive vacations are tailor made trips and last between seven and ten days. Finland's size means you're unlikely to see all the sights during a short vacation, so you'll probably concentrate on a particular region - the Wild Taiga, or Finnish Lakeland, for example, though this is fully customisable and you're welcome to change the duration of your vacation or vary your route as you see fit. Your operator will be a mine of information on things to do and see along your route, but there's plenty of flexibility to make your own discoveries, too. The only thing to consider is that your accommodation is pre-booked, so you'll need to ensure that you get to your next destination each day in time to check in for the night.
Practicalities
You can choose to pick up your modern, air conditioned car after touching down at the airport or collect it a couple of days later, allowing you to explore your arrival city before hitting the road - which works well if you're kicking things off in Helsinki. You can choose between doing a circular route or flying in and out of different airports. If exploring the Wild Taiga region, for example, you could start and finish in the bayside metropolis of Oulu; or fly into the lakeside city of Kuopio and out of Rovaniemi, the capital of Lapland.

However you design your route you'll receive a detailed information pack full of maps, driving directions and parking tips, as well as sightseeing, eating and drinking suggestions, though you're of course free to ignore these and go it your own way. There's 24-hour help on hand, including a breakdown service, should you need it.
Depending on your itinerary, you'll cover around 40km to 300km a day, usually with one or two rest days thrown in, when there's no driving involved whatsoever. Finland's roads are smooth and well-marked, and once you're outside the main cities, traffic is light and attractions well-connected. In rural areas you'll find that the roads are empty, with nothing to keep you company but the midnight sun and those gorgeous views.
There are no road tolls, but speed cameras aplenty. You should also watch out for elk and reindeer, which can run out in front of your car unexpectedly, especially in the Wild Taiga region. Slow down if you see one as there are sure to be others nearby. In winter, you need to make sure you have an engine heater and snow tyres, preferably with studs, all of which will be organised by your operator.
All accommodation is booked in advance, and you'll get to stay in a variety of digs, from cosy family run guesthouses and hotels, to remote off-grid cabins in the woods, to lakeside cottages complete with saunas, wood-burning stoves and rowing boats.
Where to go on your self drive vacation in Finland
When it comes to self drive vacations in Finland it's go wild or go home. The
Wild Taiga
region, in the far northeast alongside the Russian border is a great place to start. Green gems include Hossa National Park, which has a plethora of pine-covered, heathland hiking trails and shimmering lakes and rivers, as well as a Stone Age rock art site. Oulanka National Park, meanwhile, hosts ancient pine forests, sandy valleys and vast wetlands.
Another popular location for self drives is Finnish Lakeland, a maze of rivers, canals and lakes, where clear, calm waters reflect the skies and trees and long sunny days are spent swimming, canoeing, fishing and hiking.
Alternatively, you could stick close to Helsinki, doing a circular route and exploring the beautiful landscapes near the capital. Take the car ferry to Åland, visit whimsical Moominland and wander the atmospheric streets of the old Finnish capital, Turku.
Our top Self drive & fly drive Vacation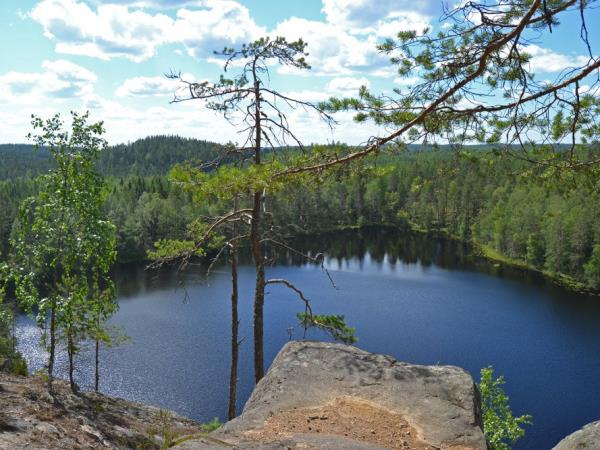 Space and silence of the National Parks in lakeland Finland
From
€

1440

to

€

1700
9 days
ex flights
Tailor made:
This trip can be tailor made throughout the year to suit your requirements
If you'd like to chat about Self drive & fly drive or need help finding a vacation to suit you we're very happy to help.

What to do on your self drive vacation in Finland
Self drive vacations in Finland let you explore some of the country's top beauty spots, either on foot, on a bike, in a kayak or with a team of huskies. Most trips incorporate some wildlife watching too, whether that involves spotting otters and beavers waterside, or searching for bear, wolf, lynx and wolverine, all of which inhabit the forests of the Wild Taiga region and Finnish Lakeland. Your operator can arrange local guides, so that you'll learn about Finland wildlife from the experts.
Guided tours can also get you acquainted with Finland's rich history and culture and you could find yourself on a walking tour through ancient villages and World War Two battle sites on the Russian border; getting to grips with cultural curiosities in the small town of Kuhmo - the heart of Finland's minority Karelian culture; or living the high life in the elegant city of Tampere, two hours northwest of vibrant capital Helsinki.
Self drive vacations are a wonderful introduction to Finland for
families
. Wild Taiga is fantastic if you want to detox from all things digital and just let your little ones frolic freely. Hossa National Park is all about staying in log cabins, canoeing across glassy lakes and getting feral in forests; and the city of Santa Claus, Rovaniemi, is a popular winter destination but offers plenty to do even in the summer. Down south you could opt for a round trip of western Finland starting and ending in Helsinki, staying seaside and lakeside, as well as doing theme parks Finnish-style at magical Moominland.
The best time to go on Finland self drive vacations tends to be early May to early September. The weather is warm and dry, road conditions are perfect for driving and it's also the optimum time to see wildlife. Bear watching is great as this is mating season, and migrating water birds, wolves and other wildlife are also active during these months. The late summer is the time for an abundance of berries, so you can fill your belly with healthy snacks as you walk!

While you can arrange a tailor made self drive trip year round, there can be snow and ice on the roads from September to April, and as late as May in Lapland, making driving a serious business, and requiring serious winter kit. Ask your operator for further details.
More about Self drive & fly drive