Andy Scase, from our supplier Rediscover the World, shares his advice for fly drive vacations:
Local laws
"Take time to get used to the car before heading out on the highway and remember that some laws are slightly different, such as use of headlights, who has priority, what to do in case of a breakdown and documents you must carry at all times. Take real care at roundabouts, particularly if you are used to driving on left. Observe local road users but don't assume their actions are always legal; however, this will allow you to anticipate actions that may not be common at home. All the legal requirements will be in the car courtesy of the rental agency but it is always wise to do your homework, know what must be in the vehicle and ask the representative to show them to you."
Using a driver
"There are huge advantages to having a driver in Morocco - your driver will know the roads and how to drive safely on them; and how much time certain routes will take in reality rather than using Google Maps. You will also get to see so much more, not just because you are not concentrating on driving but from conversations with your driver about the places you pass through and the people you may meet - this is particularly true in Morocco because your driver will bridge any cultural divides, allowing truly magical interactions with local people."
When to drive in southern Europe
"In the Med we recommend any time from mid March through to early November, but consider mid July to mid August carefully as some roads along the coasts can be quite busy and certain ferry routes can have long queues. During this period we recommend island hopping, using our services to pre-book tickets as foot passengers, and then include private transfers where required."
Our Self drive & fly drive Vacations
Health & safety on self drive vacations
HEALTH
Make sure you always have a few bottles of water in the car, especially if you're driving in a hot climate or well off the beaten track. You could also bring along a water filtration bottle which turns water from almost any source into clean drinking water.
Take plenty of snacks with you and keep supplies handy. Shops can be few and far between in remote areas, so you should always be prepared - they also come in handy if you break down; or if you find a beautiful spot to stop for a picnic.
Driving in a hot climate? Remember to slather on the sunscreen and put on some shades. The windows may keep insects at bay but they don't fully protect us from UVA rays.
Remember to pack sea sickness tablets if you are prone to motion sickness, especially if traveling in mountainous regions.
Comprehensive travel insurance is essential, covering all activities you are expecting to participate in, as well as emergency repatriation.
SAFETY
Make sure you know about any major differences in traffic regulations in the country you will be driving in – your vacation company will advise you on this.
Check out the road safety record of the country you're traveling to and drive accordingly. For example, Morocco and Cuba both have poor road safety records, with potholes common and donkey carts, wandering animals, people and bicycles liable to veer in front of you at any time.
Avoid driving outside of the towns at night. In many countries (such as Namibia, Nicaragua and Morocco) the roads are not lit and vehicles are in danger of colliding with roaming wildlife or even people walking in or next to the road.
Don't forget to fill up the tank regularly. In many countries there can be long distances between petrol stations and the last thing you want is to end up stranded. If you're traveling in very remote areas it could be worth filling up a Jerry can of fuel and keeping it in the car with you.
It goes without saying that you need to check your car thoroughly on arrival to make sure it's in good nick, but you should also check that it has all of the kit you need: a SatNav, for example, as well as an emergency breakdown kit and a first aid box. Always have the necessary emergency numbers to hand as well as that of your tour operator.
Check out what phone coverage is like before heading off on your vacation, and make sure your phone is fully charged every day. In more remote areas – in parts of Southern Africa or South and Central America, for example – it's worth carrying a satellite phone in case of emergencies.
Always check the weather forecast, especially if you are driving off season of in areas where flash floods, hurricanes or lightning storms are a possibility. The World Meteorological Organisation is excellent.
Few interior roads in Iceland have bridges over rivers. When fording a river in a vehicle look for designated fording points, marked with a letter V. Roads suitable only for 4WD vehicles are F-numbered. Try to travel with other vehicles, and carry emergency supplies, blankets and car tool kit. Check details on current road conditions and closures via the Icelandic Road Administration website.
Police roadblocks are a reality of traveling in several of our fly drive destinations, including Morocco, Namibia and South Africa. Always slow down and greet the local coppers with a smile.
Comfort
Choose a hire car that best suits your needs. Take into consideration the amount of luggage you'll have, whether you'll need a 4WD for any rough roads, and what size car you are used to driving at home. Also take the weather into account. There's no point going for a convertible if it's going to be raining for two weeks.

Vintage American cars may seem like the classic way to get around Cuba, but in reality, they are 60 years old – and it shows. For self drive vacations, you'll be much happier in a car with air conditioning, with windows that wind down, and that is much less likely to break down halfway round the island. A modern car is also much better for the environment. It may not be as glamorous, but you'll be much more comfortable; save the vintage car for a city tour, for example.

You'll usually find toilets in petrol stations though these vary in quality from country to county. They often lack toilet paper so make sure to have a couple of rolls handy. This will also be useful if you're traveling in remote areas (the wilds of Namibia for example) and you have to go to the loo in the bush.
Our top Self drive & fly drive Vacation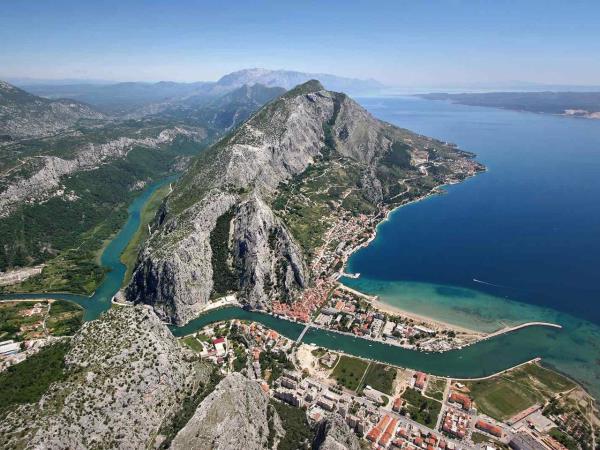 A self drive discovery tour of beautiful Croatia
From
£

1045

to

£

1575
15 days
ex flights
Tailor made:
This trip can be tailormade throughout the year and can be adapted to suit your interests, budget and requirements as necessary
If you'd like to chat about Self drive & fly drive or need help finding a vacation to suit you we're very happy to help.

Self drive tips from our vacation reviews
At Responsible Travel, we think the best people to advise our travelers are often other travelers. They always return from our tours with packing tips, weather reports, ideas about what to do – and opinions about what not to.

We have selected some of the most useful fly drive vacation advice that our guests have provided over the years to help you make the very most of your vacation – and the space inside your suitcase.

Driving in Cape Town was tricky but outside was good roads and little traffic. There is crime against hire cars so take care.

– Roger Pritchard, self drive vacation in South Africa
"Take a portable GPS! The directions were good as far as they went, but the Greeks seem to be very sparing with their signposts, it took us some time to find our way in and out of Ioannina (having stopped to eat and go to the bank) in both directions! We booked a guided walk at Meteora and that was definitely worth doing rather than just arriving at the monasteries by car." – Penny Thomson, self drive vacation in Northern Greece

"There's so much to see and do but the main sights of each of the towns are easily doable in a day so moving on from place to place is good and the road links are easy. One of our party took a really good maps app on his phone that really helped in finding parking and the fine directions to each hotel. Also, unless you want to go further afield whilst in the Dubrovnik area, give the car back to the rental company as early as possible and take the bus. Traffic and parking are horrendous and expensive and the local bus services are fully geared to moving people in and out efficiently and cheaply." – Andy Brading, Croatia self drive vacation

"If you self-drive you MUST get a GPS satellite navigation system. Road signs are few and far between and driving anywhere other than along the Interamericana Highway (route 1) would be incredibly difficult using maps. Book one in advance and make a saving on renting one locally and check that it works before you set off from the rental company. We had to change the first one we were given." – Paul Smith, Costa Rica self drive vacation
More about Self drive & fly drive