Self drive vacations in Tasmania
If you want to discover as much of this wild and wonderful Australian island as possible, in a completely hassle free way, a self drive vacation is the only way to go. Tasmania may look small on a map and, at 364km north to south, 306km east to west it is not much bigger than the island of Ireland. However, with 19 national parks, remote peninsulas, mountains and rainforest trails, if Tasmania had a middle name it would be 'freedom'. You need to take your time to explore it properly, and having a car allows you to do just that.
Our Self drive & fly drive Vacations
The recommended two week driving route
While some vacations start in Hobart, the capital, for a two week exploration of north, west and central Tasmania, we recommend flying into Launceston, the island's second largest city and a 45 minute flight from Melbourne. To take in the east and south west, you will need to add another week, and are highly recommended to do so. Many people make the mistake of thinking there won't be enough to do for three weeks, but Tasmania is almost Tardis-like, with its giant
Wilderness World Heritage Area
making up 20 per cent of the whole island.
From Launceston, using a
tailor made itinerary
you can follow a route similar to the one in the map below, spending a couple of days in many of the places. Remember – you will want to be out of the car a lot more than you will want to be in it. With a tailor made self-drive tour of Tasmania you can arrange your itinerary to include whatever interests you most.
Driving north
After enjoying some of Launceston's sites and surroundings, you can drive up the north coast, passing through the Tamar Valley Wine Route to Narawntapu National Park. This is a landscape of wombats and wallabies, bush walking and beach combing with a wide array of stunning coastal walks.

Take an inland diversion of just a couple of hours' drive to Great Western Tiers mountain range. There are escarpments rising up as high as 1,200m near the River Mersey, where rural farms and traditional holdings are still very much part of life, especially around the River Meander Valley. A great spot to leave the car behind here is Warner's Track, where you can hike through dry eucalypt and myrtle forests up to Adam's Peak.
The coast is calling once again as you head up to the northwest, passing through Leven's Canyon for a hike or a gawk, with a final destination at Stanley and the Northwest Peninsula for a couple of days. During this time you can do the coastal, pounding Southern Ocean thing, the wildlife and wanderlust thing in Tarkine Rainforest or the sailing and seafood thing in Stanley.
If you think that Cradle Mountain sounds like the sort of place you want to settle into for a couple of days, you'd be right. Here you get two beauties for the price of one as the 1,545m peak is part of the larger Cradle Mt. Lake St Clair National Park, the latter being a glacial gem. This region has an alpine feel to it, with temperate rain, beech and eucalypt forests to trek through, such as on the three-hour Crater Lake Walk.
Driving west
Strahan is a western wilderness with a wild history. With its former convict settlement just offshore on Sarah Island, Strahan is also home to one of the most famous environmental battles in history: the fight to stop the construction of the Franklin River dam. Western Tasmania is certainly not a place to just keep driving through. Get out and learn about the history, take a seaplane over the rainforest, a canopy walk, or a boat trip out to see fairy penguins on Bonnet Island.
Driving through the Central Highlands
Here, you'll cross more eco zones in 300km than most other places in the world. You will want to get up early to enjoy this one as the Central Highlands' magnificent mountain terrain is not to be raced through – for both safety reasons and spectacular scenery reasons. Spend a night at Derwent Bridge, for example, where you can stay in an ecolodge extraordinaire – a restored hydroelectric building that sits on stilts in the middle of Lake St. Clair. Tasmania has eco gems everywhere.
Hobart
With a delightful array of B&Bs and boutique hotels, you can chill out in this capital city taking in some of its historic and cultural sites. Time your arrival for the Saturday Salamanca Market, a Hobart institution; take a boat trip out on the bay or along the River Derwent to the Museum of Old and New Art. Think Tate Modern of the Southern Hemisphere.
One week extension of the south
Do consider taking an extra week to explore the southern tip and east coast of Tasmania, especially if coastal landscapes are your chosen medicine for the soul. Southwest National Park is Tasmania's largest park, yet it receives very few visitors as it is pretty far out there. It merges with Harz Mountains National Park and you can take both in from Tahune Airwalk canopy with views that will make your heart skip more than one beat. If you are driving this far south, then Cockle Creek is a must, the island's closest point to Antarctica.
Island idylls
There are over 300 islands off Tasmania and on a road trip you can experience a few of the most idyllic ones, especially if venturing to the south and east coast. Take a car ferry across to beautiful Bruny, which is actually two islands, North and South Bruny, joined by an isthmus. South Bruny National Park is an Important Bird Area and famous for the forty-spotted pardalote. You may spot more than forty fairy penguins on the isthmus too, if you are lucky.
Another island idyll is Maria Island, further up the east coast with stop offs at the Tasman Peninsula along the way. Maria is car free and so the best way to discover it is taking a four day guided walk, sleeping in beach camps, seeing wildlife from wallabies to wombats, possums to endangered parrots. There is cultural heritage to explore here, too.
Our top Self drive & fly drive Vacation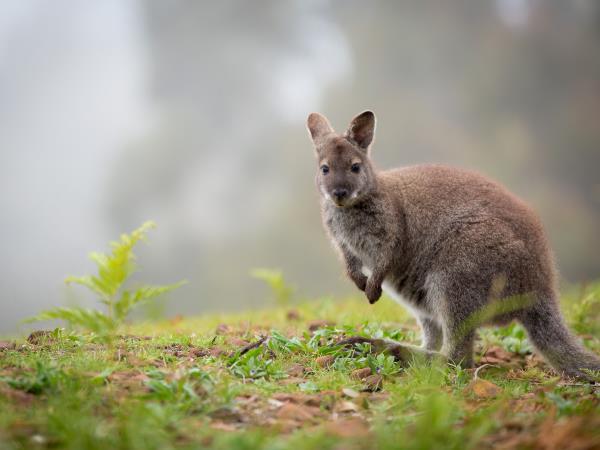 Self-drive staying in Tasmania's most charming B&Bs
From
AU $

1495

to

AU $

6000
10 days
ex flights
Tailor made:
This trip can be tailor made throughout the year to suit your requirements
If you'd like to chat about Self drive & fly drive or need help finding a vacation to suit you we're very happy to help.

Tasmania has some of the cleanest air in the world, although sadly there are very few hybrid or electric cars to hire at time of writing. There are plans to expand the network of electric charging points though, so watch this space. In the meantime, you will have the typical choice of cars to rent, although they are usually automatic rather than manual, and you will be driving on the left hand side of the road. There are plenty of country roads with no dual carriageway, which can come as a shock to many US travelers but not to habitués of UK B-roads.

Make sure that you are always topped up with fuel, as most petrol stations close after six and on Sundays too. Tasmania is small, but the joy of it is that you are on a main road one minute and in the back of beyond the next, without a petrol station for miles. So do be prepared as Tasmania is not a 24/7 tourism sort of place. Thankfully.

The legal limit for blood alcohol in Tasmania is 50mg per 100ml of blood – less than that of the UK. So, if you are having tasting session at a winery, do be careful; it may be best not to drink at all if you are behind the wheel. The speed limits in Tasmania are 50km/hour in built up areas, 100km/hour on rural roads and 110km/hour on highways. Some mountain roads are windy and narrow so take it easy, especially as you may meet logging trucks along the way and they take up quite a lot of road.
Roadkill in Tasmania
Another weird Tassie fact is that more animals are killed on its roads than anywhere else in the world. Given that some of them are rare species, including the Tasmanian devil, this is a major concern for conservationists. One issue is that a small animal may be killed by a car, and then a bigger animal comes out to feast on the carrion only then to be in danger of being hit, too.

Report roadkill using the Roadkill TAS smartphone app so that they can be rescued if necessary. Do park somewhere safe though before inspecting roadkill or filling in the form; your safety should always come first.
Accommodation on self drive vacations in Tasmania
Tasmanians angels, rather than devils; that's what we think of the island hosts that are scattered throughout this special place. They are proud of their island, its natural and cultural heritage, the local produce, the wine and the wilderness. Every place has its own special quality be it a small family run hotel, country or coastal cabins, hiking hut or and homely bed and breakfast. Your hosts are often some of the most environmentally aware people you could imagine, growing their own produce, superb cooks, hiking guides or birding experts. Read more about them all in more detail in our
Tasmania accommodation guide
.
More about Self drive & fly drive